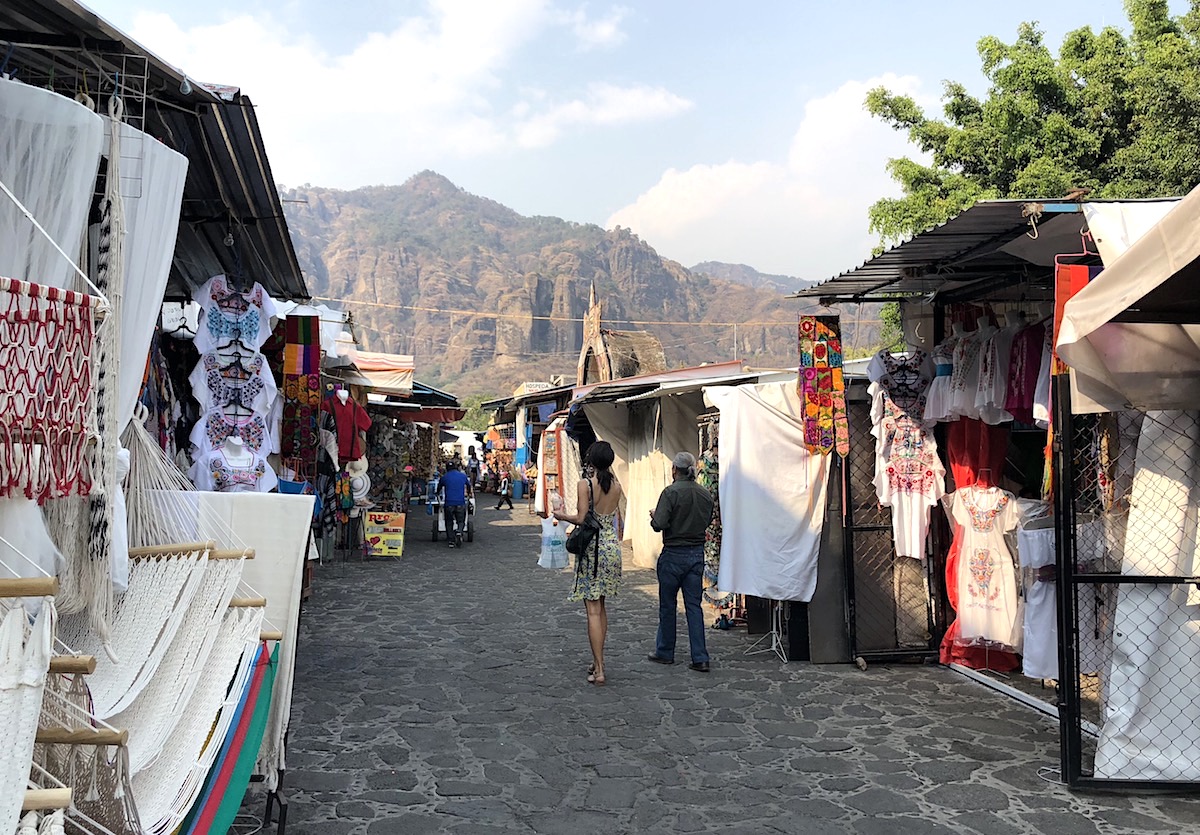 Tepoztlan, Where Spirituality, Art, and Tourism Collide
Posted on
15 August, 2018
By Avalon Bauman
A graceful middle-aged woman with a straight back and bohemian blouse descends the stairs at El Amate Bio-Disciplinary Center in Tepoztlan. She is going to give us a tour.
"There are places in the world that attract very interesting people, very eclectic people", she tells us as we follow her up the stairs, through a kitchen, to a rooftop patio, and back down to the main floor.
Lucero Aguilar is the manager of the center which was originally designed by the famous spiritual therapist Cherif Chalakani and that later came to be managed by the American/Himalayan singing bowl shop owner Geoffrey Torkington. Lucero, originally from Mexico City, came to the center as a student seven years ago, and eventually, when offered the chance to run the place, she accepted.
Now Lucero is the hostess of the workshops and courses related to yoga, massage, and other holistic therapies held at El Amate. She doesn't normally teach at the center, she tells us."I prefer to be a student". A massage therapy course is underway in the atrium, and, as we pass, the wooden door slowly closes, the white sheets and massage tables disappear, and we are left to chat about the town in the pleasant silence of a sun-spotted kitchen area.
We asked Lucero what she thought originally attracted the very first spiritual tourists to Tepoztlan. It's a hard question, but she gives it a stab. "Maybe it's the mountains". Indeed, the looming sandstone cliffs, at this hour, are blanketed in a misty shroud and dominate the village ambiance. The town feels small beneath the hills, but Tepoztlan, with a population of 35,000 and growing, is not as small as it once was.
The Mystic Mountain Temple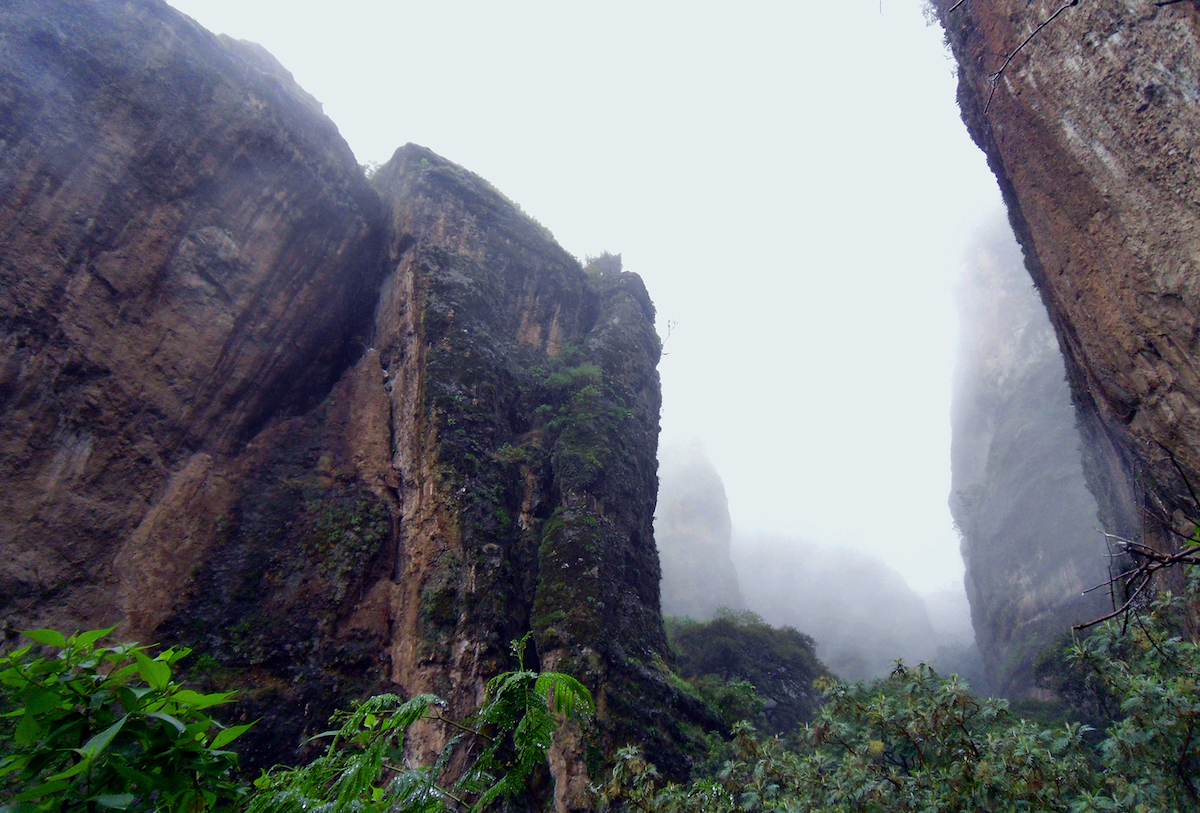 Since the 1960's, Tepoztlan has attracted tourists flocking from all over the world to seek out spiritual experiences, and as the town grew in fame, the offerings to tourists expanded. Nowadays it is possible to experience any number of mystic attractions, whether you prefer Aztec gods, new-age crystals, pre-hispanic vegan food or psychedelic drug-journeys.
However, the biggest and most important tourist attraction is, and has always been, the pyramid El Tepozteco, a small temple dedicated to eponymous Tepoztecatl, God of Pulque, and tucked into the folds of the mountains. From below, it looks like it would be quite a hike to reach it.
It is, in fact, a hike to reach. It requires a 1,200 foot, 45-minute climb up slippery rocks and winding muddy trails. Despite the challenging climb, it doesn't stop families, children, or grandmothers from attempting the feat, and on a weekend one may find hundreds of people on the trail.
Temazcales and Luxury Hotels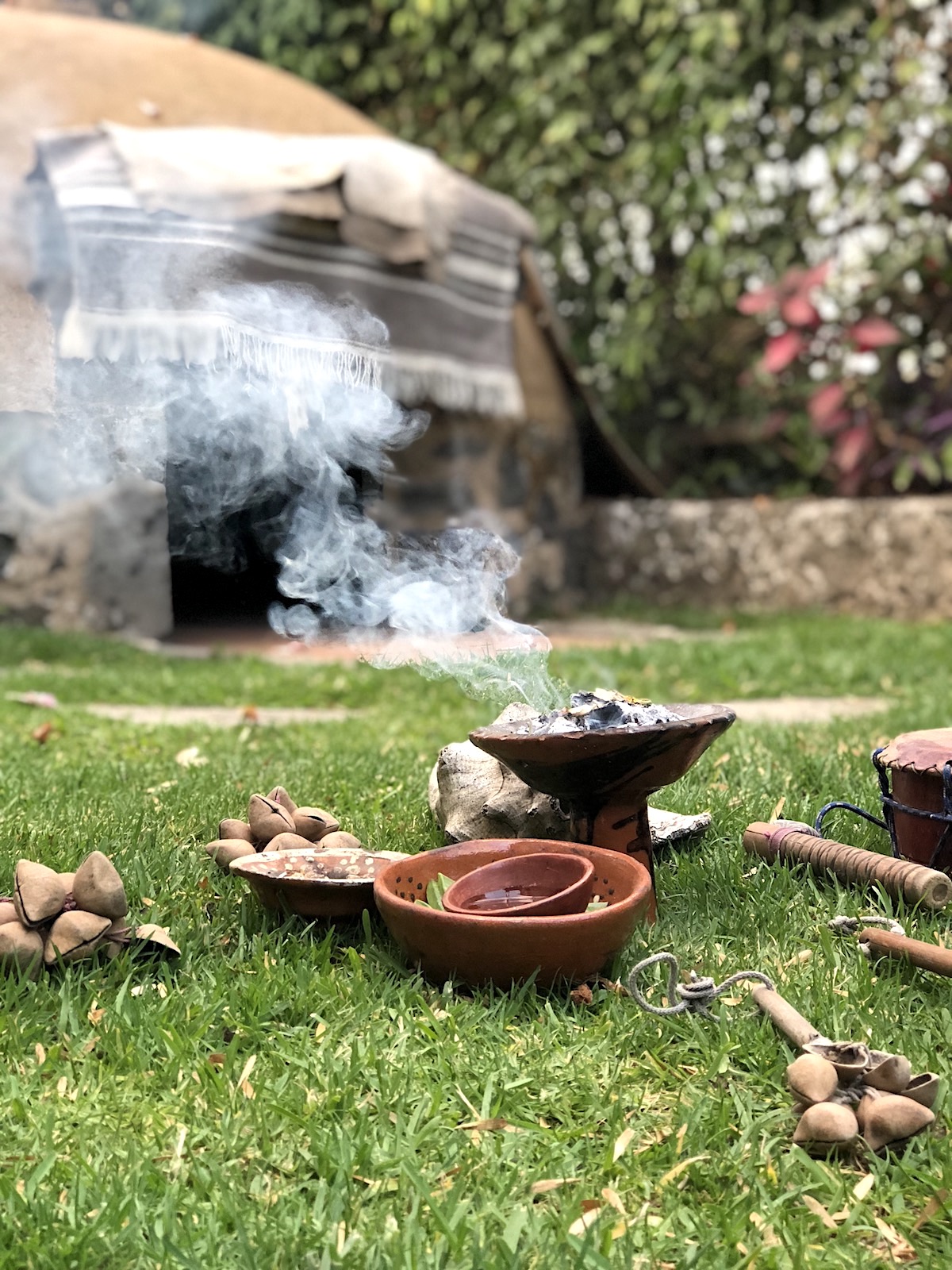 Anyone passing through Tepoztlan's center will notice signs for a Temazcal ceremony, another popular spiritual experience.
A temazcal is an igloo-like sweat lodge filled with hot stones. When drenched in water, the hot stones heat up the enclosure in a steamy sauna-like experience. Several companies offer elaborate, hours-long ceremonies that help you connect with generations of ancestors, pray, purify your body and soul, and offer you the chance to overcome a number of fears like fear of enclosure, darkness, and heat.
Other vendors, it seems, offer the temazcal more like a spa service, in a combo pack with 30-minute or 1-hour massages. In this strange microcosm of spiritual capitalism, supply meets demand. Some people come to Tepoztlan for self-discovery and to face their fears, while others want a steam bath and a back rub.
Lucero confirms that there are several types of tourists. Specifically, there are three categories. "There are those who come to see the mountain and the pyramid, those who are specifically looking for the temazcales, massages, holistic therapies and then there are those looking to be hippies for a weekend."
Only 70 km from Mexico City, Tepoztlan serves as a perfect weekend escape from the hustle and bustle of big city life. There are a number of luxury accommodation options for the chilango or extranjero with a bigger budget that offer the comforts of luxury accommodations but keeping Tepoztlan's signature "mystic" atmosphere.
At Hostal de La Luz, a 5-star resort just 20 minutes outside of Tepoztlan, guests will find fluffy beds, assorted luxury temazcales, massages, and yoga. The adjacent restaurant, Shambhala, even features a door imported from the Hindu temple of Pashaguati. Whatever your taste, in Tepoztlan local businesses have made sure that there's no need to forsake earthly comforts to seek out enlightenment.
Hiking El Tepozteco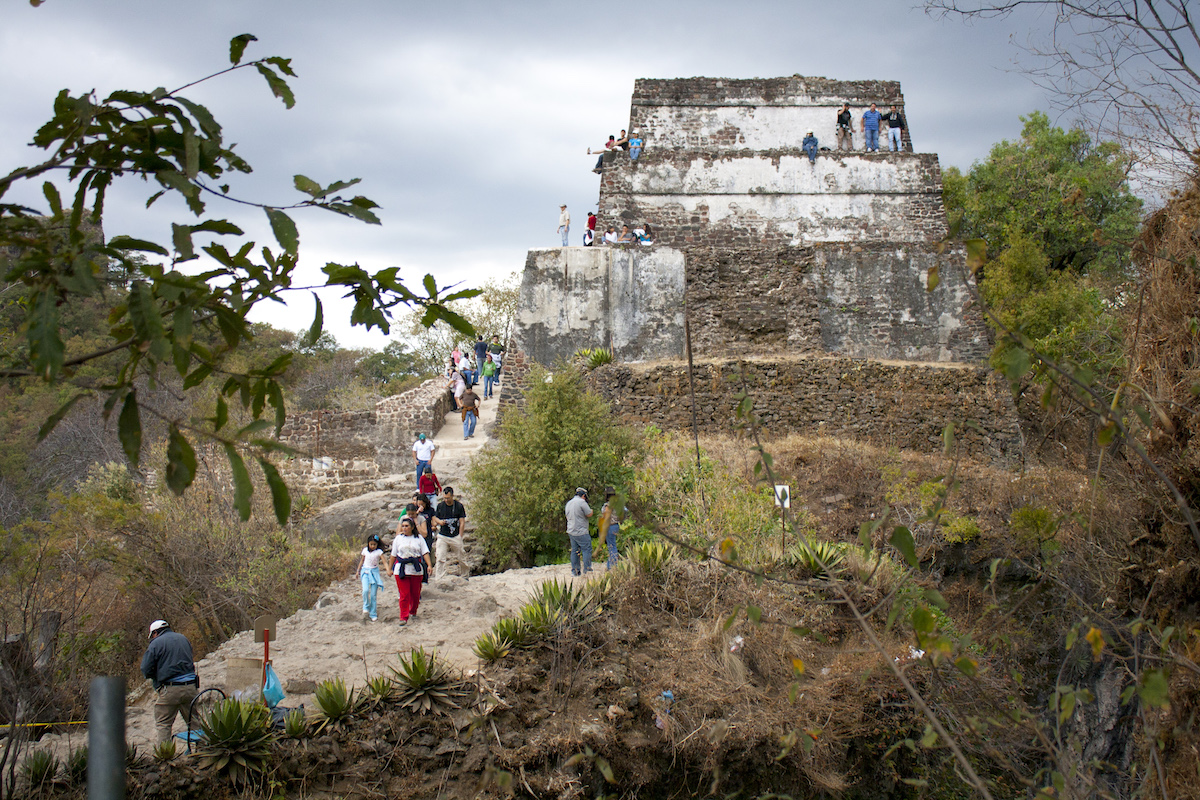 We wrap up our conversation at El Amate and decide to explore the town in search of spiritual experiences. We start with a hike to the Tepozteco and quickly find ourselves amongst throngs of tourists, some with giant micheladas in hand, others climbing into the trees to pose for photos, collectively ascending en masse to the temple at the top of the trail.
I imagine what the trail might have been like in the 1940's, before the highway was constructed from Mexico city, before all the tourists. In an empty valley, El Tepozteco, a pre-hispanic temple hidden in the mountains overlooking a small village, might have sent shivers down my spine.
On this a Saturday afternoon in 2018, however, the only physical reaction the hike gets out of me is a grumbling stomach. So, we descend into town in search of food.
Taste of the Gods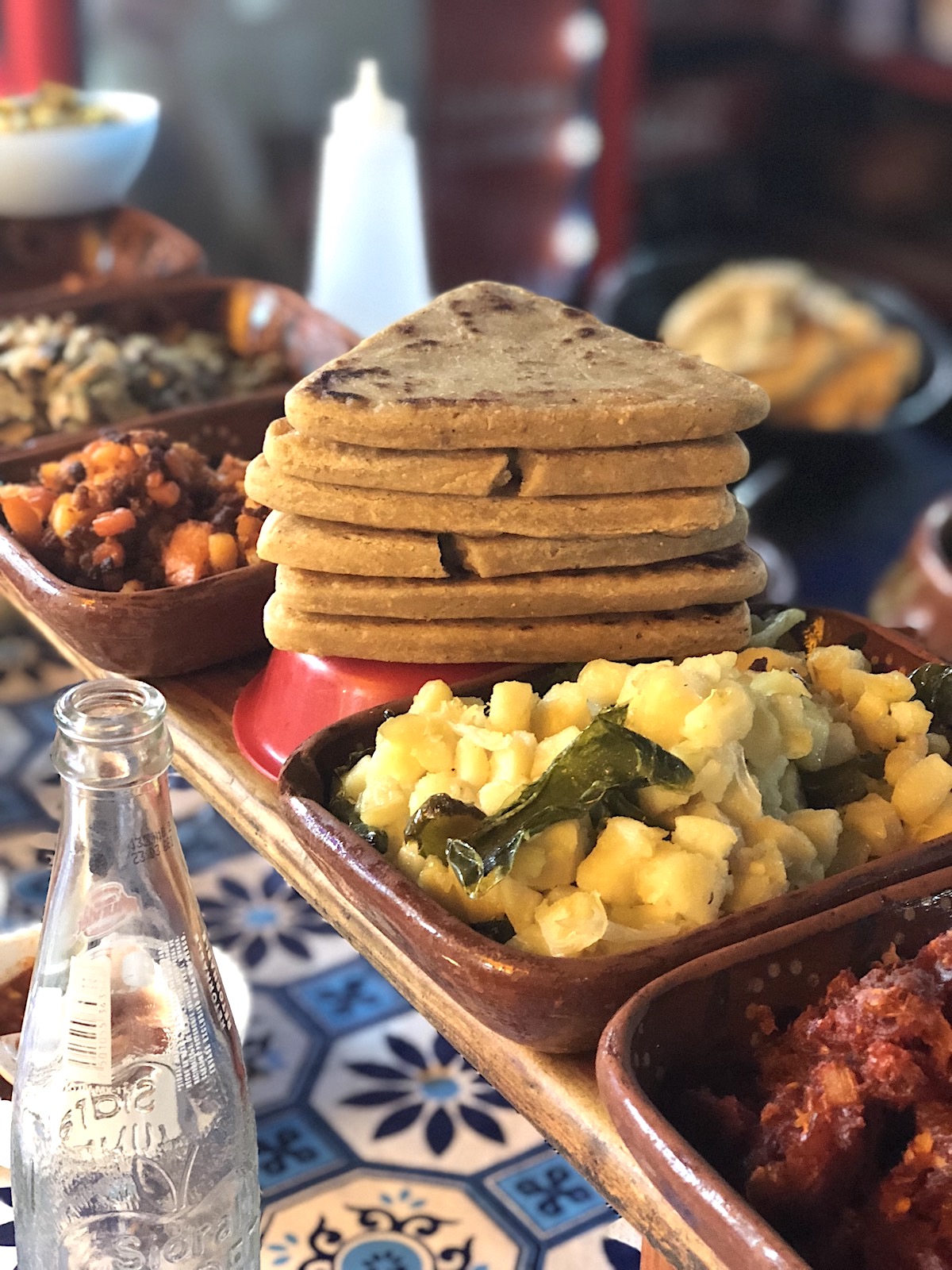 Tepoztlan it turns out has food not just for the body, but for the soul.
Tepoznieves, a locally famous ice cream chain, has a large outdoor menu offering "Ice Cream of Gods" with flavors like Prayer to the Wind, Tepozteco's Kiss, Eclipse, and Temple of Silence. I opt for Offering to the Dead, made of orange, pumpkin and cempasúchil flowers. It's, well, heavenly.
Several blocks away, in the central market next to the main square, we find a prehispanic food stall displaying an astounding collection of exotic fritters and vegetables. "These are recipes passed down from generation to generation," the shopkeeper tells us. The food is entirely vegan and made with highly local ingredients, of course. These dishes have been eaten by indigenous families since before the arrival of the Spanish. Miraculously, the recipes survive hundreds of years later, through conquest, development, and globalization.
We order a seed-and-quinoa ball drenched in mole, a yucca-grasshopper patty with Casahuate mushrooms bathed in a peanut sauce and, for dessert, a cranberry-quinoa-plantain fritter in a walnut and pomegranate cream sauce. These ancient foods look like you could find them in a trendy vegan restaurant in the US. Perhaps culinary history also repeats itself.
When Spirituality and Tourism Collide
The spiritual tourism industry has affected Tepoztlan, creating a melting pot of ancient and imported rituals, indigenous and imported people. It reveals itself in everything from the food to the hotels to the people you see in the streets. One of our last questions for Lucero was about the impact spiritual retreats have on people attending courses at El Amate and in Tepoztlan.
"I'm sure many people have left here with their life changed," she said. "Beyond any new age label, people seek their personal development. Having this kind of experience definitely changes your life."
Avalon is a freelance writer and digital marketer based in Latin America since 2015. You can find her in places like Medellín, Mexico City, and occasionally in northern California. Catch her at www.avalonbauman.com.