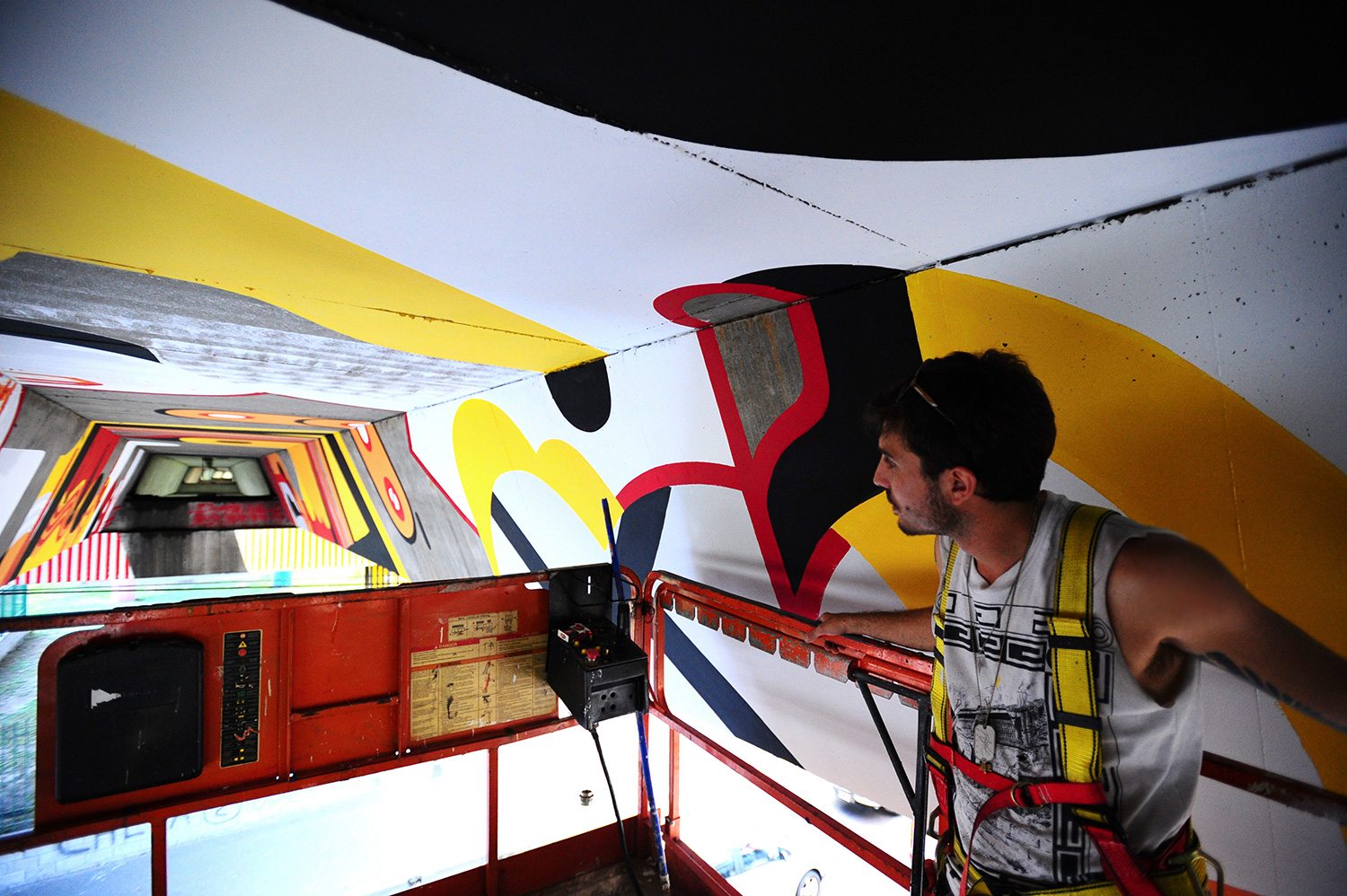 P3DRO Perelman and the Creative Scene of Buenos Aires
Buenos Aires is widely recognized as a city with a strong creative scene. Many authors, artists, dancers and thinkers have called this place home. People move here in search of inspiration for their next novel or the next song. I had the pleasure of interviewing Pedro Perelman, aka P3DRO, a Buenos Aires-based multifaceted artist that recently did one of the biggest installations in the city. We talked about his creative career and the artistic scene of the city.
This is an introduction for a larger article on Buenos Aires street art and its history we are working on for Hayo's first print issue, to be announced soon 😉
Pedro, I understand you're a multimedia artist. Not only are you a designer and street artist, but you're also a musician. How did you get started in this creative career?
All these disciplines interested me since childhood. As a kid, I liked drawing, it was always my favorite hobby.  As a teenager, I had my rock & roll years, playing guitar and forming bands. My parents encouraged me a lot, especially giving me materials to experiment, but they never sent me to study arts, so it could remain just a form of 'playing'.
You became a member of FASE in the early days. Can you explain what is FASE and why was it created?
I joined FASE when everything began and I am the youngest of the group. FASE is a collective of multidisciplinary artists, Defi Gagliardo, Leandro Waisbord (TEC), Martin Tibabuzo and me. We met at the University of Buenos Aires studying Graphic Design, late 90's – early 2000. Since then we worked as a group in the editorial project Fase Superfanzine as a study of broadcasting and motion graphics, and then as artists making installations, interventions, performances, and exhibitions. At the same time, we had the project FASE MUSIC SENDER, in which we performed with live music and visuals.
In your opinion, how would you describe the creative scene of Buenos Aires and where do you see it heading towards?
I think the scene of Buenos Aires has grown a lot. The styles are diversified and mixed, and many artists connected with each other, generating a wave of a higher [creative] energy. And no doubt the potential is very high, there are many talented artists in Argentina. I believe there's more missing from the institutions or from the art market for the scene not only to grow, but to develop as in other countries worldwide.
How do you think your art is influenced by the lifestyle of the city? Do you express a reflection of it in your paintings or is it pure fiction?
I think that cities always influence artists who work in the public space. In my language as an artist, I include many elements that are traditionally porteños, or from the port, or topics having to do with how we live in this city.
Do you maintain a narrative throughout your paintings or each piece stands on its own?
I think I have narratives over periods of time. Maybe I obsess with a topic for a while and I work on it until I feel I've exhausted it or I get bored. I always find in my paintings something man-machine related. Something about the action and reflection of the structured and hardworking human, and the creative and organic robot. It's like a game of roles, perhaps it is also the way I see some sides of human beings. Fishermen, builders, musical robots, also some psychedelic and geometric abstraction.
What are some of your favorite spaces to showcase your work? 
Actually I think that each space offers different things, so I don't think I have a special preference. The challenge is to understand the context and acting in the most harmonious way possible with it. The bridge, which was my last mural work, was a very large scale and complex challenge, so I believe that learning to adapt to each of these spaces is a big learning for every artist.
If you had to choose one artistic platform (music, design, engraving, street art), which one would that be and why?
In my case, music and painting are quite mixed in my head. I hear colors, textures, shapes, and I paint thinking musical concepts such as full / empty, tension, cadences, and harmonies. I think I could not decide on just one. When I'm painting a picture and the inspiration disappears, I go to my home studio to make music and there I find what I'm missing to finish the painting.
Where or when do you feel more inspired?
Wherever and whenever. Undoubtedly the night inspires me a lot, but I think I am more specific and clear in the morning (when I get to be). Surely when I travel there's an extra attention and sensibility, so it's also good to have a notebook in such cases.
What role does music play in your life?
Music for me is fundamental. Almost like something biological. It can generate strong mood swings. And most of all, when I'm making music, experimenting with instruments, it seems very intense and relaxing. It's a great exercise for the mind, I try to practice every day. And I imagine myself in the future, older, with my instruments and machines, playing as a child.
What do you listen to when your painting?
My musical tastes are very broad. Generally when I paint I prefer to hear music that's not very invasive, that can join me in the process but not occupy my head completely. I like to create a climate, so I opt for more experimental stuff. Lately, I've been listening to Stimming, and Frivolous a lot. But I could paint listening to jazz or classical music.
If you could choose one neighborhood in Buenos Aires to live in because of its amazing creative energy, which one would that be?
Well, I always lived in Palermo. I love my neighborhood despite the major changes it has suffered for the last 20 years. It remains very inspiring for me. It also greatly affects my way of being, it's very intense, loud, alive. Undoubtedly, I wouldn't move much. In general, I like the extremes, so the other option would be somewhere outside the capital, very quiet.
What's a good tip for a muralist newb?
I think the dedication and effort, and also respect for the place you intervene. And experiment, always.
What can we expect from you in the upcoming months?
Surely the coming months I'll spend a lot of time locked in my studio, preparing an exhibition. Working on some wooden sculptures, new fabrics, murals, new music, possible trips. Play, always play
Photos: Pedro Perelman's website.