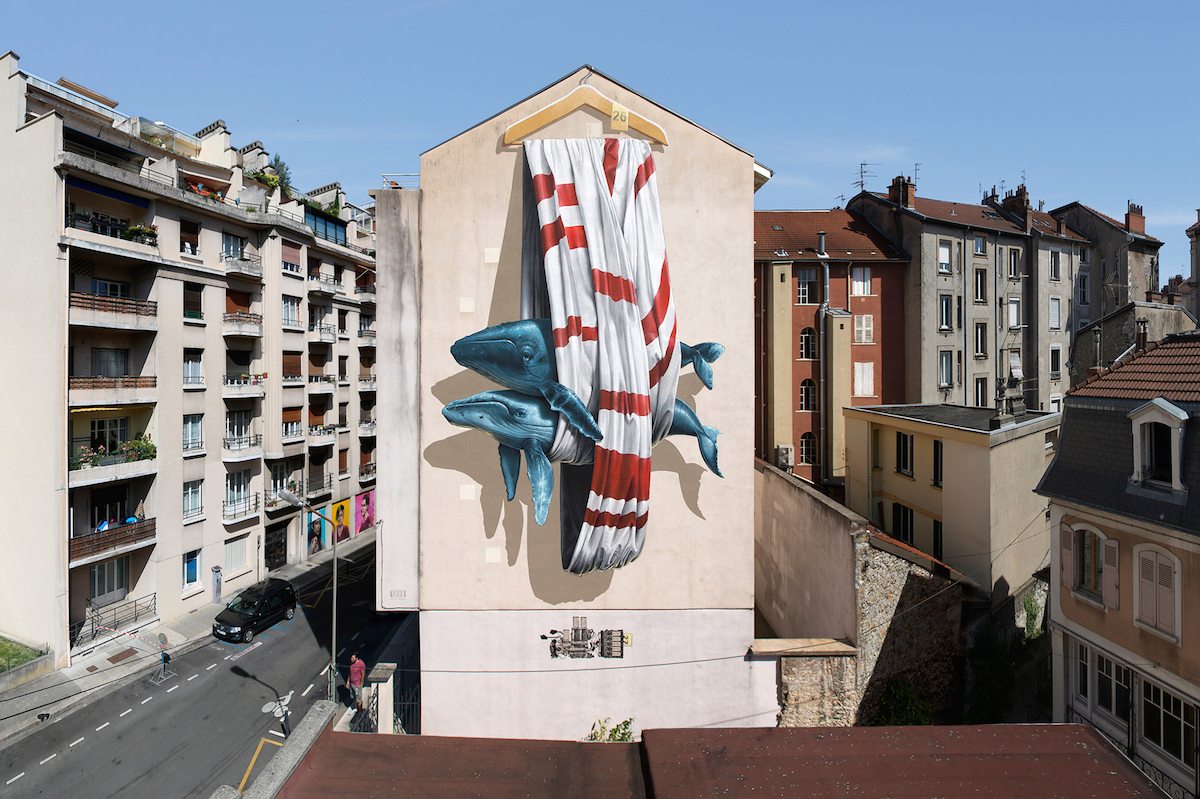 10 of the Most Amazing European Street Artists to Discover and Follow
Posted on
23 November, 2016
The streets are increasingly becoming witnesses of the creativity of hundreds if not thousands of artists around the world. Spaces that were once ignored by pedestrians, are now being highlighted by the work of incredible visual storytellers. Europe is home to some of the most iconic and recognized artists and murals and this list has some of our favorite and most influential street artists that Europe has to offer. The artists hail from all over the map to bring you a diverse collection of artworks to feast your eyes upon.
Millo | Italy
One of our favorite street artists, Millo creates large-scale murals that feature characters exploring their urban settings. His iconic images showcase black and white lines with dashes of color to highlight parts of the story he's looking to convey, which are normally multi-dimensional with a few story lines. Millo is probably one of the most recognized Italian artists and more of his work can be seen on his Facebook page.
Hopare | France
Originally named Alexander Monteiro, Hopare uses bold colors and striking geometric shapes to create his gorgeous murals. His work is designed to immediately catch your eye and evoke emotion through his lines and brush strokes. Alexander is a graphic designer based in paris and has done multiple works not only in the public sphere but also for private exhibitions. Follow the locations of his newest pieces of work through his Instagram account. Photos from the artist's website.
SMUG | Scotland
Scotland may only be a small portion of the what we know as the UK, but in no way does that mean it runs short on big talent. SMUG, as the Scottish artist is known, specializes in hyper-realistic giant portraits with a knack for capturing playful human elements. While some of his work has slightly larger-than-life qualities, SMUG's latest work catches the eye in a mesmerizing way. Photos taken from the artist's Facebook page where you can follow more of his work.
Amara | Sweden
Sweden has a very strict policy on urban art of any kind 'tainting' its city walls and buildings. So what can a striving Swedish artist do when the possibility for murals being erected is slim to none? Move to a more pro-art country, like London, for example. Amara has taken London by storm, and she shows no signs of slowing down. Her artwork is vibrant, bold, and thought-provoking. It's recognizable for its tribal faces and rich patterns with bold outlines. More of her work can be appreciated on her Instagram page.
Vhils | Portugal
Vhils, or Alexandre Farto, is one of Portugal's best-known artists and his work has reached far and wide corners around the world. His very particular and unique style is easy to identify which makes him an unquestionable representative of street art innovation. What is most interesting about his work is that he incorporates the wall into the design by carving the surface, adding eye-catching texture and depth to the pieces. This piece specifically was actually painted on a building that was supposed to be torn down, but the city couldn't itself to demolish such a beautiful work of art. Talk about #streetcred.
MadC | Germany
MadC, also known as Claudia Walde, is a graphic designer and graffiti artist based in Germany but travels around a fair bit. Of all the muralists and artists that can be found in Berlin, we chose MadC for her well-known and already cult work of 700 Walls, a 700 square-meter work along the train line between Berlin and Halle, the largest painting ever created by a single person and finished in only four months. The mural below is a 550sq m painting created by only her and finished in 7 days only in Leipzig, Germany. Like a boss. Follow her work on MadC's Instagram profile.
BLU | Italy
A resident of Bologna, Blu had been in the street art world since 1999 when he painted a series of illicit graffiti in the center and subusrbs of the city. Today his work includes rich intrinsic images with political and social commentary, not only showcasing the evolution of his technique but also taking important conversations to the streets and the public. Some of his work can be seen on his website.
NEVERCREW | Switzerland
A dynamic duo conformed by Christian Rebecchi & Pablo Togni, NEVERCREW has also incorporated in their work current social issues. Their work examines the 'human condition' and brings to light in a creative, dynamic and colorful way topics that make people uncomfortable. By exposing these issues, NEVERCREW is aiming to highlight the relationship between mankind and nature provoke thoughts and conversations about it. One of their most recent work is here in Vancouver (first photo). You can see all the other work they are doing on their Instagram profile.
Lonac | Croatia
A Zagreb-based artist best known for his photo-realistic pieces, Lonac incorporates the surroundings and wall configurations into his painting when he sees fit. His signature eye-catching pieces are usually influenced by the the skateboard culture, other graffiti writers, and also by current social issues. His work can be seen in both large-scale pieces or small platforms, using spray can and brushes to create them. The two images below can be found in Zagreb's MAC center. Photos copyright of Joanna Riquett.
Natalia Rak | Polonia
Through her pieces, Natalia portraits, mostly, women and creates a mystery and metaphor around their stories. New to the streets, she has created some images that are already iconic in the street art world. Before taking her art to the public sphere, Natalia used to do private shows and paint on canvases, although she still does it, she's been mostly recognized for her murals. More of her work and lifestyle on Instagram.
Interested in more street art? Check out these stories. If you liked this post, don't forget to like it, share it or comment it below. Thank you!