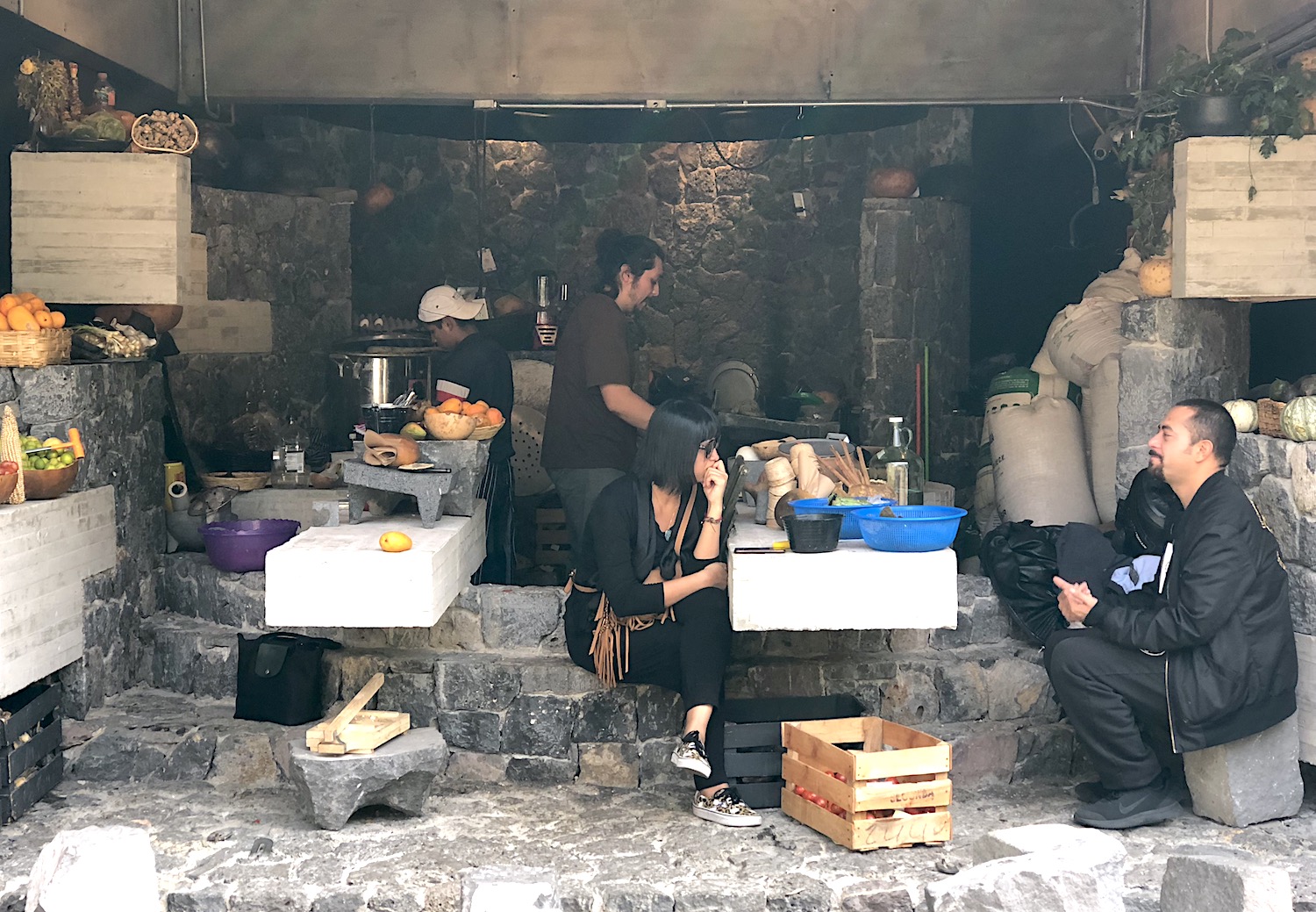 New [Unnamed] Corn Hole Opens Doors in Mexico City to Celebrate Folk Culture
Five years ago, Paulino Martínez, also partner and founder of Mexico City classics El Parnita and Páramo, had the idea of opening a concept restaurant and taquería that celebrated the life and traditions of Mexico's small pueblos but also that would highlight the entire process of tortilla making, from meeting corn farmers to grinding and making everything in-house.
It was a long process to bring that idea into reality, but it wasn't until he met Jesus Tornés, a cook and farm producer from Ayutla de Los Libres, Guerrero, that the idea started shaping up. Jesus and Paulino joined forces to conceptualize this restaurant, but Paulino knew that this time he wanted to do something different and special. They wanted a place that gathered stories, that celebrated the culture of Mexico, the one you don't hear in mainstream media, and that would use products and produce that they knew who and where was cultivated.
They embarked on a journey around the country, learning more about traditions, hospitality and food from the very people from these towns. Jesus has dedicated great part of his life to doing this. He's a historian by way of learning the stories from their point of origin and together with Paulino they understood this is what the big city was missing.
The Food
Along their travels, they gathered the stories and the concept of the restaurant started landing in what it is today. They started collecting the corn they use at the restaurant for everything they do. There is no menu, they only cook what's available that day, just as it happens when you go to someone's home in one of this little towns and they offer you the food they have handy.
I didn't understand at first what was the dynamic for sitting. There is no sitting arrangement like in a traditional restaurant, you can sit on rocks, or next to the kitchen counter or wherever you find a spot. Jesus saw my confusion and told me to sit wherever I wanted and then gave me a sweet mango criollo to suck on which I devoured. I understood right there that this was a place like no other.
He started talking about what the restaurant. "95% of the ingredients and vegetables we have here are traceable. We know exactly who planted them, where and how. It's important to use to support small producers but also to make sure everything is made with sustainability and care", he explained. Jesus's work with plantations and parcels has been focused on regenerating the field and recovering some of the old traditions for cultivating corn.
To that extent, he handed me a just-made tortilla and a sprinkle of salt. It was warm, soft, and crunchy and the first bite already showed an explosion of flavors. I told him I was from Colombia, he showed me a few ingredients that are similar from my country and immediately after prepared a delicious and fresh Agua de Panela (panela is unrefined whole cane sugar).
Tortillas kept coming out until our meal was served. I didn't order anything specific, he just gave some directions to the two other cooks, also from his town, and a beautiful breakfast appeared before me: scrambled eggs with organic vegetables, fried beans and a tetlela (a kind of cornbread tortilla) filled with cheese. I was there from 10:30 am until 1:30 pm, not because the food was slow but because we just kept talking and sharing stories.
When you come to Mexico City, hit this spot and get a feel for what authentic Mexican hospitality is like.
Expendio de Maíz: Av. Yucatán 83, Roma Norte.