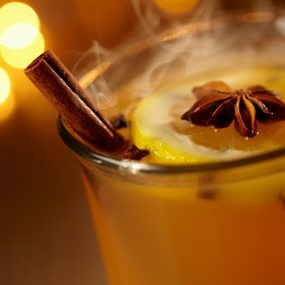 How to Make Your Own 'Hot Toddy' for the Holidays
Posted on
3 December, 2014
The Toddy is a cocktail of rum, whiskey or brandy, lemon and honey, and topped with hot water or tea.
Winter is officially here, and while we are running around preparing for the holidays and reaching for the vitamin C/Cold FX, or whatever-have-you remedy of the moment, I would like to take a moment to reflect on a cocktail that is age-old and witnessing a much needed revival. The Hot Toddy is a cocktail which for many of us drums up memories of our mothers or grandmothers concocting this steamy fool proof cold remedy at the first sign of a sniffle or sneeze. Ah, those were the days, before anyone said you shouldn't give whiskey to a child.
The Toddy dates back as one of the first cocktails ever to be recorded in print, and the first known recipe was simply,"water, rum or brandy, sugar and nutmeg," recorded in 1801 in The American Herbal by Samuel Sterns. Charles Dickens also makes reference to a 'whiskey toddy' in the Pickwick Papers, 1836.
However, there existed a man in this era that can be credited with giving many cocktails a more widespread appeal, rather than simply a cure for what ails you. If you want to go around name-dropping in cocktail bars, asking the bartender about 'Jerry Thomas' will likely get you an earful of cocktail history. That is, if you want to go down that road. For now, we will call him 'The Professor' and in his 1862 book, How to mix drinks he makes mention of the Hot Toddy, Apple Toddy and Sling.
Here is a recipe for a classic Hot Toddy and some variations: 
Original Hot Toddy
½ oz. Brandy, rum or both
1 teaspoon honey
½ oz. fresh lemon juice
Combine in a mug and fill with hot water or tea.
While this is a classic recipe, and delicious, there are many variations that have surfaced since including rum (a grogg) scotch or whisky. The following is one which uses whisky, and an easy-to-make apple honey syrup.  The whisky you choose is really up to you. Bourbon works nicely, Collingwood or Fourty Creek Canadian Whiskies make nice substitutions as well.
1 oz. Whisky
Tbsp Apple-Honey Syrup
Juice of ½ lemon.
Combine in a mug and finish with English Breakfast tea. Feel free to drink in the evening or on a particularly chilly morning.
Apple-Honey Syrup
2 Apples, quartered and stemmed
5 Cups water
1 Cinnamon Stick
½ c. Honey
In a pot, combine apples, cinnamon and water and bring to a boil. Reduce heat, cover and simmer for about 30 minutes, until apples are mushy and falling apart. Strain through a fine strainer, and place the apple liquid back in the pot. Add honey (should be equal parts to the apple-water) and stir until melted. Place in a jar to cool and refrigerate. Use within 1 week.
Cheers friends, to your health!