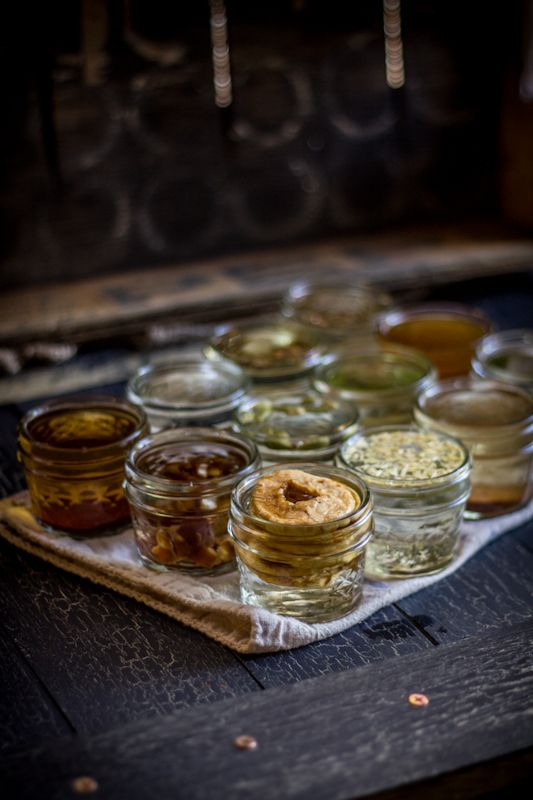 How To Make Homemade Bitters
Posted on
8 January, 2015
January, the month we nurse away our holiday hangovers, trade our Old Fashioned's for Vodka-sodas and Eggnogs for kale juice. Just because we are saying goodbye to rich holiday drinks, doesn't mean we have to give up on flavour.  A bottle of homemade bitters infusing on your shelf could be the perfect concocted recipe that inspires you to get you through your 'dry January' and new year resolutions. Once you've accomplished a month of ginger beers and cranberry-soda's, your crafted bitters will be waiting patiently for you to help you come back to your senses and enjoy a well-deserved cocktail.
Bitters is traditionally an alcoholic concoction of bitter herbs, roots or barks with anything from fruit to nuts to spices and botanicals which can be added to cocktails to add flavor and dimension. Originally they were used medicinally, some were marketed as "magnum elixir stomachicum" that were made strong and heavily flavoured. People quickly learned that by mixing bitters with alcohol the booze became more palatable. Lo and behold, the first 'cocktail' was born: sugar, water, bitters, booze. The Old Fashioned and Sazerac are great cocktails that are experiencing a revival, using Angostura and Peychauds, respectively.
You may have tried and Old Fashioned (or many!) over the holidays, but here we are going to take it to the next level and make our own bitters right at home so you can impress your guests and your tastebuds. Simply choose 1 item from each of the following categories, combine and let stand on your shelves for 1-6 weeks, shaking and tasting occasionally until it is ready, mix with your favorite spirit and enjoy.
You will need:
Bittering Agent
Aromatic/Flavouring Agent
High Proof Liquor
Mason jars for each
A way to label each (masking tape and a sharpie work great)
Small funnel
Cheesecloth or a coffee filter
Small, clean glass bottles for final product
The Bittering Agent – Here are some examples;  Angelica Root, black walnut leave, burdock root, cinchona bark, orris root, artichoke leaf,licorice root, quassia bark, and wormwood to name a few. The list goes on, but many bar-specialty and gourmet stores will now carry many of these ingredients and all thanks to keeners like you who want to try this at home.
Flavouring Agent –This is where you can let your creative juices flow, as anything will work. Use fresh or dried botanicals, flowers, nuts and seeds, cacao or coffee, orange or lemon rind, or any fruit of your choosing. Try this app Food Pairings to give you ideas that will pair well will traditional agents such as chocolate-coffee bitters or cedar and cherry.
Place each chosen botanical in a separate jar ( for dried ingredients use 1 part dried to 5 parts alcohol, for fresh ingredients use 1 part fresh to 2 parts dried). Cover the jar and label it clearly with the botanical and the date. Shake the jar once a day and wait for it to infuse. Taste and smell the tincture regularly, you will know when it is ready when it is clear what botanical is in the jar by taste and smell alone.
When you feel your tincture is ready; strain out the botanicals through the cheesecloth or coffee filter.
To blend, use a dropper, or syringe and begin to blend your different infusions together into the small glass bottles. Do whatever tastes good, a little bit of this, a lot more of that, its entirely up to you. You can also dilute or sweeten the bitters with a little distilled water or simple syrup, just keep in mind your bitters will be going into a cocktail  so it should be overall quite strong.
Have fun with this one, and enjoy that much deserved cocktail!