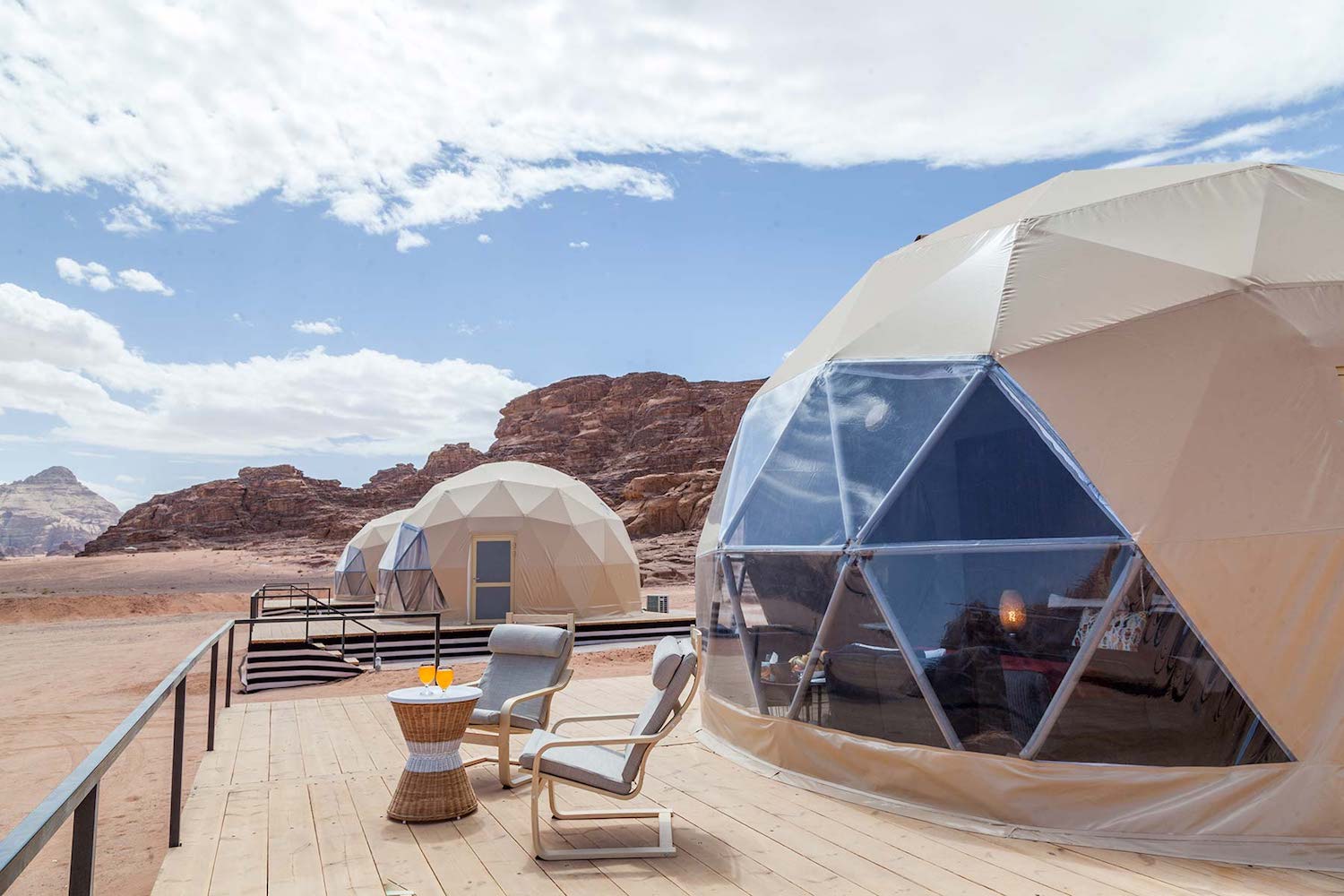 Jordan: Sun City Camp
The desert of Wadi Rum in Jordan has to be one of my favorite places on Earth. There's something about the desert that hipnotizes you and when you get to Wadi Rum you feel like you just landed in a different planet. Well, no wonders The Martian movie was shot here.
When the Jordan Tourism Board took a group of writers to the desert, I wasn't expecting to find one of the most fun, unique, luxury camps: The Sun City Camp offering serenity and spiritual soothing experience of living in the desert and enjoying the simple Bedouin life of the valley with its unmatched authentic charm and beauty.
The martian domes, which are the ones they are widely known for, literally look like spaceships casually placed in this crazy place combining luxury and authenticity. Sun City Camp is the first in the region to offer such domes and you can stargaze a million stars from your bed. It's magical.
The Royal Tents, which are the black ones you see in the photos, are also luxury tents, they don't offer stargazing but you can still enjoy the desert life from the comfort of a wasrm bed. Each room or tent has comfortable bathrooms with warm showers and beds with heaters to survive the cold nights.
While here, you can explore the area with the many activities they offer like Jeep tours, Camel rides, buggies drive, hot air ballon, hiking, trekking, climbing and, of course, you can also get a taste of the amazing Bedouine hospitality. Careful though, you might fall in love with one of those bedouine heartbreakers.
Something to try is the Zarb, a whole Lamb cooked under the sands of the desert, and it is always a main part of the regular dinner menu in Sun City Camp, they even make a show when the food is coming out of the sand with music, campfire, Jordanian tea, and a great vibe.
The great things: 
For the best desert experience, this is the place to stay. This super unique experience will be a highlight of your trip.
Bedouine hospitality
Bathrooms conditioned with all the comfort, luxury tents, warm and comfortable beds.
The not so great things: 
There's not much we can say. Sometimes the heater doesn't work for the showers but you're in the middle of the desert with no civilization nowhere close, shit happens.