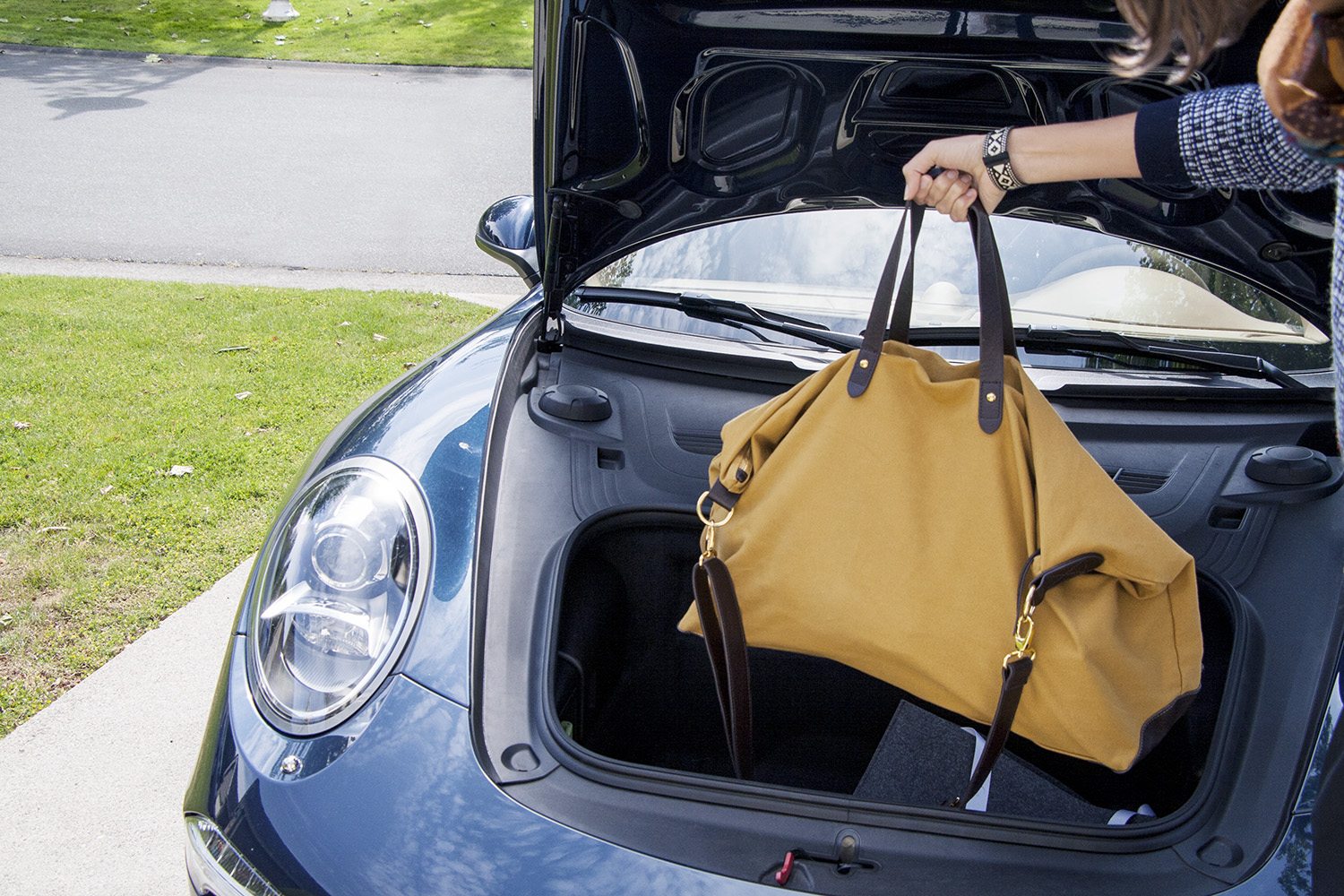 Cuyana's Weekender Bag Is The Perfect Travel Duffle
Cuyana is a Los Angeles-based company with a great sense of style. Their designs are geared towards a customer that understands that "fewer is better". Their simple, yet very elegant and functional design has conquered our hearts. This stylish canvas bag can accommodate as little or as much as you want. I know it's meant to be for weekend escapades, but I've used it for week-long trips in addition to my carry-on. The flexible and manageable shape it's super helpful when you have confined spaces to work with or if you need to tuck it in under the airplane seat.
The mustard color we chose it's perfect to mix and match with clothes and other bags so the overall look is always stylish. The durable cotton canvas exterior, reinforced leather handles and straps, and smooth, bi-directional zippers, make for a sophisticated yet practical product. We also love the attention details, like the orange interior and the hidden pockets that help keep things organized.
One of the things that made us choose Cuyana over other bags is their Lean Closet initiative. With every Cuyana purchase where you select "lean shipping" at checkout, they will send you a reusable bag to fill up with items that you are not using anymore. You mail the bag back to them (with the included shipping label) and through their non-profit partner, H.E.A.R.T., your donated clothing will be given directly to women who will be able to gain fresh starts. As an added bonus, for every donation you make, you will receive a $10 credit towards your next purchase. It's about doing more with less in our closets — and doing more for others who are in need.
If you want to check out the bag, head over to Cuyana's website and give it a go. They also have other products designed under the same premise. Simple, yet elegant.
Other products in these photographs: 
LACE by Jenny Wu Earrings. Read about the complex designs and interconnected elements that are part of Jenny Wu's 3D printed jewelry line.
Talaria Flats. Foldable, very comfortable, and made to match almost any outfit, they are also perfect for traveling.
Iza Jewelry rings. The Un Deux Trois ring set is handcrafted in solid sterling silver with individual yet complementary 22k gold plate accents.
Photos © Hayo Magazine