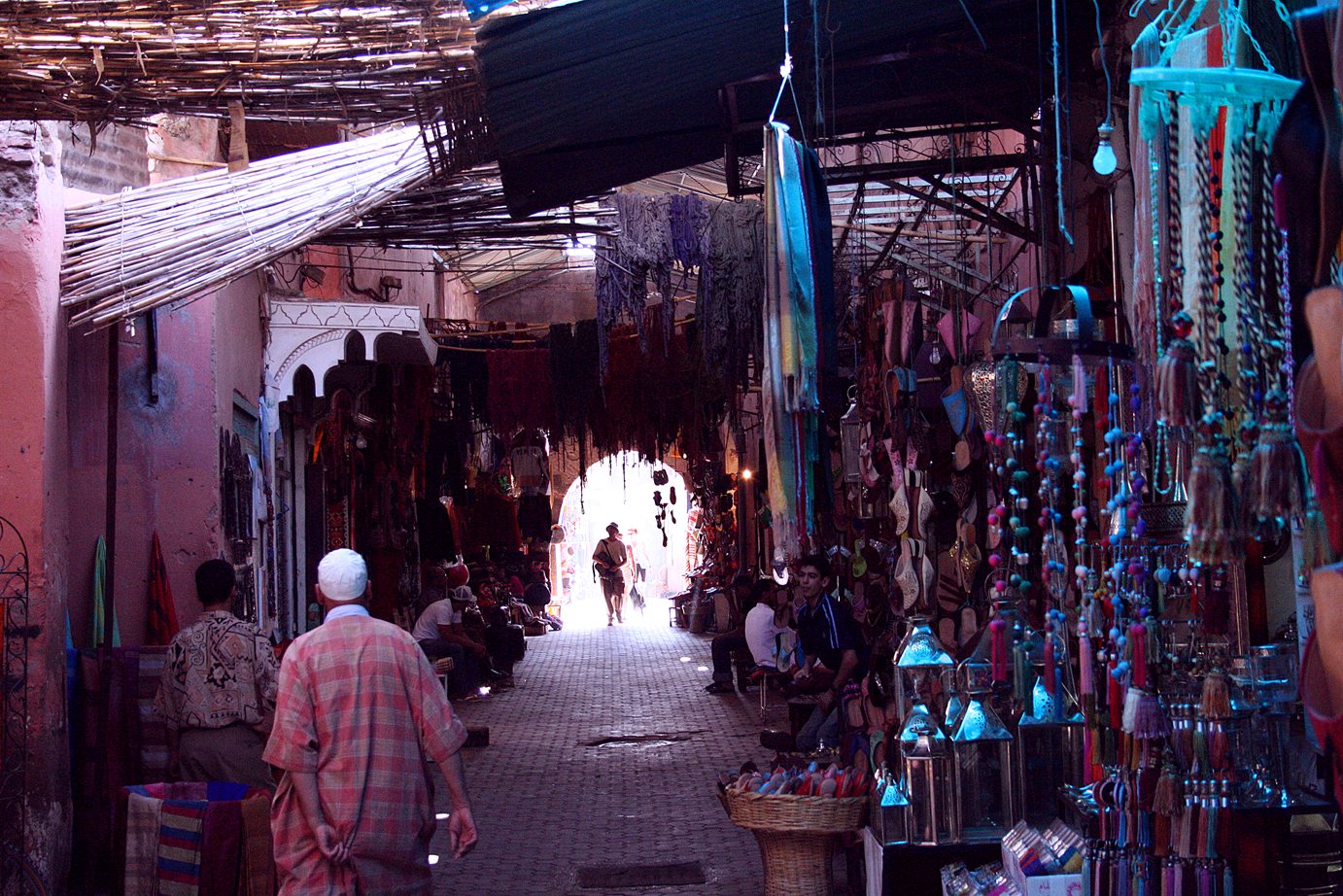 A Sensory Awakening in the City of Marrakech, Morocco
Posted on
10 August, 2016
There are few greater things in life than being able to explore a new far off place and have all senses opened to the experience. For me, Marrakech, Morocco was one such place. Travel reviews of the country's capital city often paint a cautionary picture, warning people to guard their pockets and to avoid giving in to hecklers and snake-charmers. However, when I arrived, the sights and sounds, smells and tastes hit me all at once in beautiful chaos.
My first exposure to the city was walking through the heart of the Jemaa-el-Fna, Marrakech's central medina or city square. Surrounding the square was a labyrinth of souqs -market lanes- spiraling out in all directions. My eyes were straining to take in all of my surroundings, to absorb this new foreign landscape as quickly and passionately as I could. Walking through row upon row of merchants pedaling ceiling-to-floor goods, it took all my willpower not to reach out and touch everything I saw.
The colors, patterns and delicate craftsmanship of the goods being sold were unlike anything I'd seen before. Everything from djellabas (traditional linen/cotton tunics), to handcrafted woodwork, to beautifully painted ceramic Tagine pots and decorative plates, to fresh cactus fruit harvested that morning, to the illuminated archways of shops selling thousands of lamps, all strung up in a melee of light. In the center square were endless lanes of carts selling freshly squeezed orange juice offering everyone who passed by the next best price to his neighbor.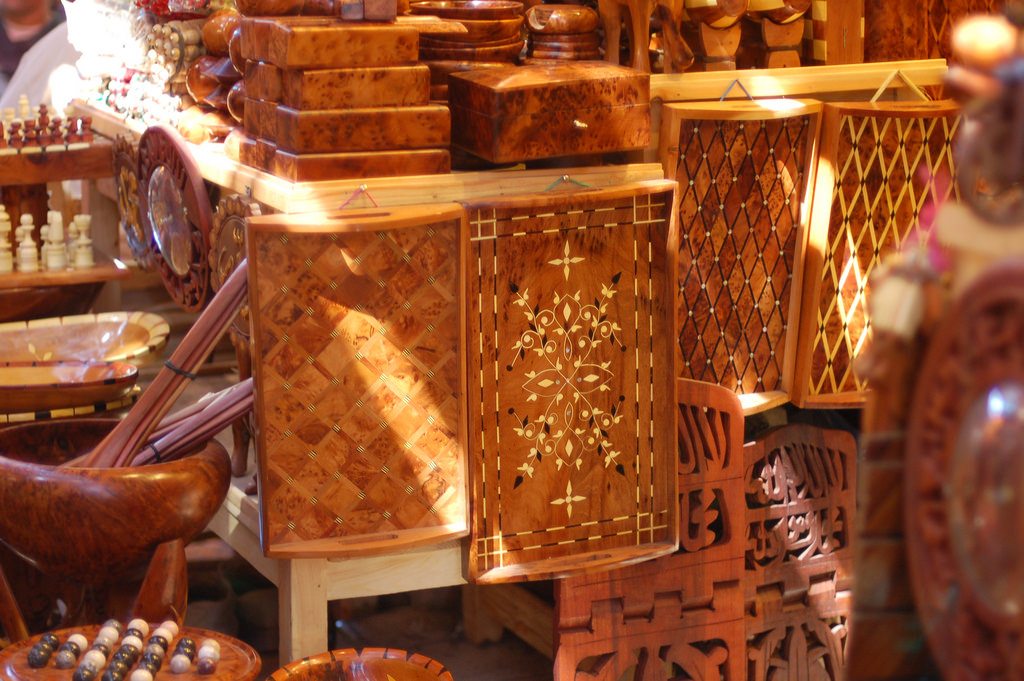 Photo: Dana McMahan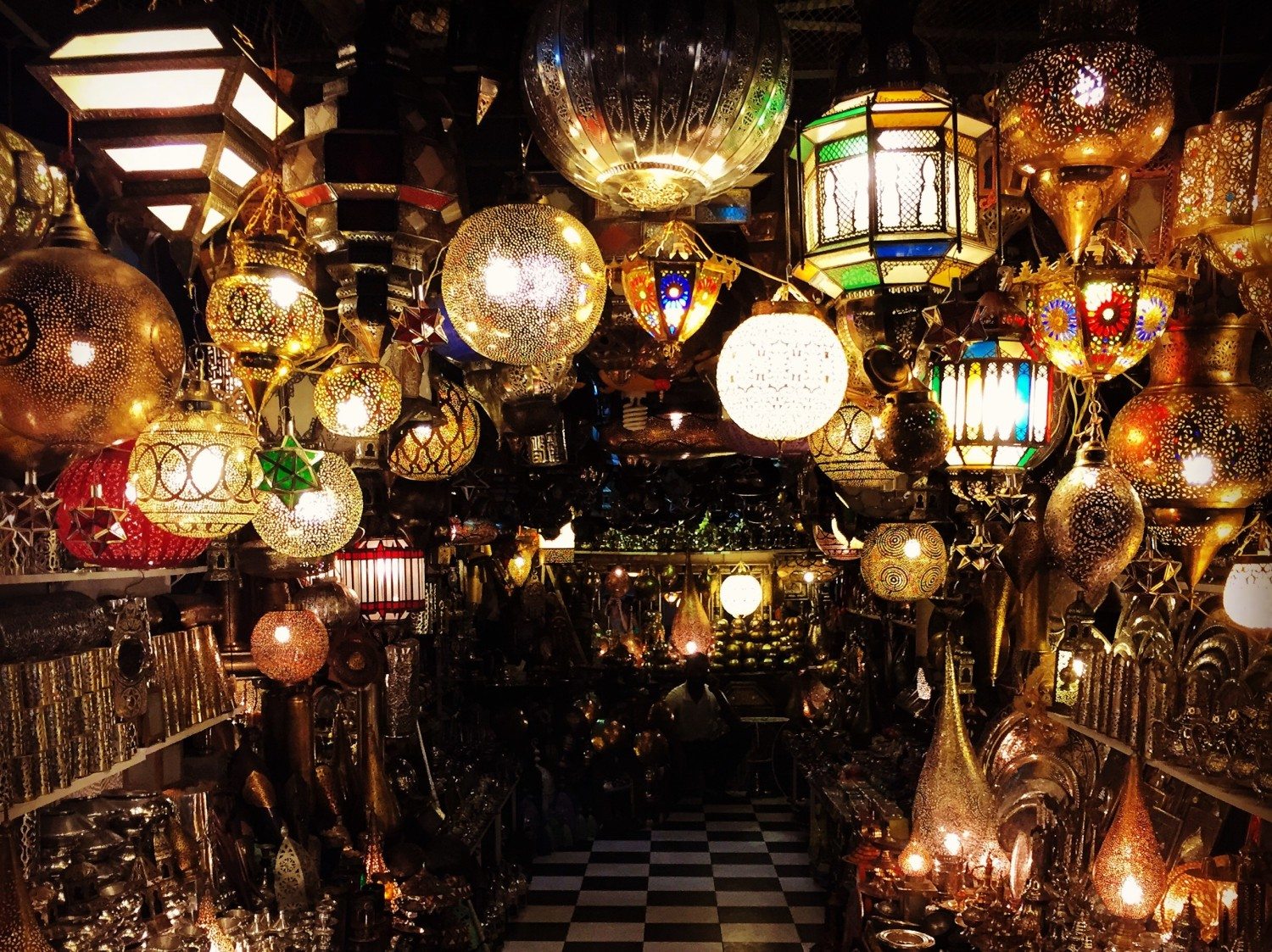 Photo: Rose Huet
Making my way along, I wound through a narrow mud-brick alley that had a curious mix of aesthetics. The lane looked decrepit and about to cave in on passersby, while sturdy doorways stood in the shape of giant keyholes of carved wood and rivets. I walked through the door of the Equity Point Hostel, stepping into another world. What greeted me were 16-foot ceilings, intricately designed mosaics covering the floors and pillars, an open courtyard with water fountains and orange trees, and a rooftop lounge that offered a stunning view of the city. The juxtaposition of dilapidated alley to grandeur and romance blew me away.
After settling in, I was told I absolutely needed to try a fresh pot of tagine -a traditional meat and vegetable stew-  and to wash it down with a Moroccan mint tea, so that night I set out in search of exactly that. I found a quaint little restaurant in the middle of the spice market and ordered myself a chicken tagine and mint tea. The aroma of spices and mint filling my nose made my mouth water and begged me to take a bite. Needless to say, it quickly became my number one choice for the rest of my time there.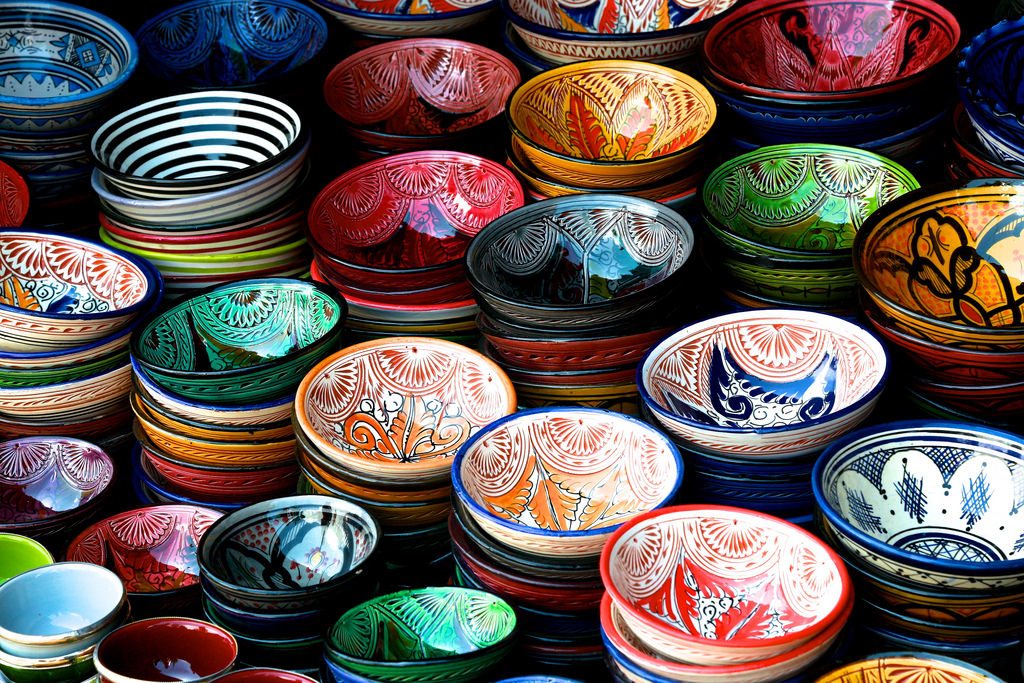 Photo: Natalie Carroll
As I acclimated to the city and its never-ending hustle, I felt more and more at home, which was due (in part) to my knowledge of one of the local languages, but was also the fact that the locals near my hostel began to recognize me and once that happened, I truly felt that endless hospitality I had read so much about. One generous carpet vendor, whose name (quite fittingly) was Amour, the French word for love, invited me for a mint tea to share stories about our homes, and each morning would give me fresh cactus fruit for nothing more than a 'Merhaba' (an Arabic thank you), a smile, and some pleasant small talk. The generosity of the Moroccan and Berber people alike was unmatched by any other place I've visited, and for this and every other moment I experienced, Marrakech has kept a piece of my heart.
Featured image:Vince Millet