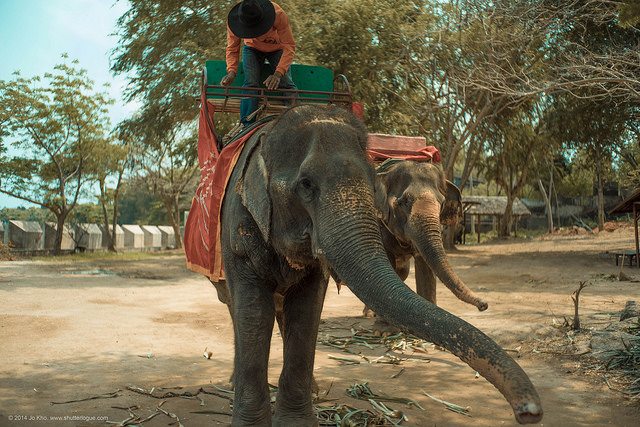 7 Unusual Methods of Public Transport in Asia
Posted on
28 August, 2014
Public transportation is any traveler's key to success. It allows you to move through the country, experience the people, and at times forces your personal bubble to be flat-out popped. Most countries have the obvious ways of getting around—taxis, buses, a tram or metro-line of some sort. And then there are countries who do things with a little more adventure and a little more flare. Some prefer soaking-wet boat rides, playing tough with trains, or riding on wild animals to get to their destination. If you travel to Southeast Asia, you simply must step out of your comfort zone and try one of these bizarre modes of public transport. You'll walk away with a great story and a small kick of adrenaline.
7 Unusual Ways to Travel Around Asia
By Lindsay Feitsma
Jeepney – Philippines

By Lindsay Feitsma

Left behind in the war, American jeeps have been transformed into colourful, obnoxious, public transport vehicles. Jeepney's can technically fit 16 people, but usually many more squish in.

TukTuk – Thailand

By Lindsay Feitsma

This oversized three-wheeler is the most common public transport in Thailand. It's easy for weaving in and out of traffic, driving on sidewalks, and terrifying its passengers. Hold on tight! 

Bullet Train – Japan

By Lindsay Feitsma

Need to get to your meeting in time? Let the bullet train get you there, traveling at speeds of 240-320 km/h. You can't be late with transport like that.

Longtail Boat – Thailand

By Lindsay Feitsma

Many Thai islands still use longtail boats as their primary source of transport. If you plan to do a little island-hopping, you can expect to take a ride on one of these. Don't expect to stay dry!

Bamboo Train – Cambodia

By Lindsay Feitsma

Known to locals as a nori, this train is literally a flat of bamboo with an engine thrown on the back. It's used by locals to transport goods, + each driver knows and avoids the real train's schedule.

Elephant Ride – India

By Lindsay Feitsma

So this is probably less "public transport" than it is sheer entertainment, but we'll still count it. Visit Bandhavgarh National Park and take a tiger safari while on elephant-back. 

Handpulled Rickshaw – Japan

By Lindsay Feitsma

These once dominated the streets of Kyoto, but since the introduction of cars much as changed. However, for a fee you can go back in time and be taken around in a rickshaw run by a Japanese national.
Have you tried any of these methods of transport? We'd love to hear about it in the comments below!