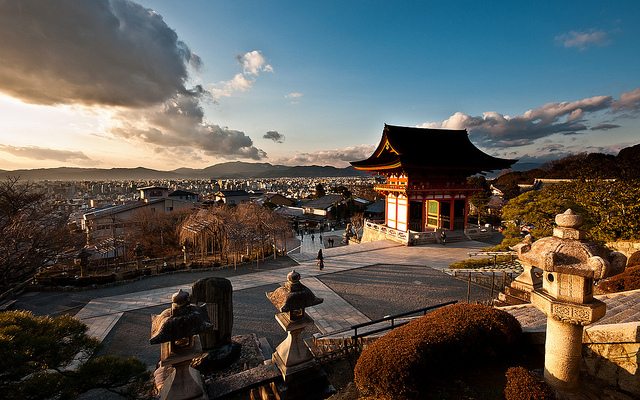 Travel Kyoto Through these Photographers' Eyes
Kyoto garnered international attention when it became synonymous with the environment and eco-awareness through the Kyoto Accord in 1997. However, it has long been a well-known symbol in Japan, housing the country's emperor from 794-1868. This city of 1.5 million has a historical backsplash to its modern culture: the land is dotted with ancient temples, zen-like gardens, and a rich history. We invite you to explore the city of Kyoto and walk through its streets in this photographic tour. Have a taste of Japan through the lenses of these Instagrammers.
Travel Kyoto: A Photographic Tour
By Lindsay Feitsma
Venture throughout this ancient Japanese city in these selected photographs.
Kyoto Rooftop

By Lindsay Feitsma

@quarante_neuf – Hosanna Joy

Kyoto Getting Dark

By Lindsay Feitsma

Flickr: Angelo DeSantis

Bamboo Forest

By Lindsay Feitsma

@florafodder – Miiya Hooper

Fox Statues

By Lindsay Feitsma

@maru_chaaan – Marta Byrska 

Lunchtime

By Lindsay Feitsma

@atelier_my – Minyi

Kinkaku-ji

By Lindsay Feitsma

@jjjlester – Yao Chi Hsieh (Lester)

Good Morning from Japan

By Lindsay Feitsma

@natanezuyu 

Along the Water

By Lindsay Feitsma

@hunteryves – Hunter Yves

Kyoto University

By Lindsay Feitsma

Flickr: isado

Kyoto Botanical Garden Greenhouse

By Lindsay Feitsma

@kyoto_1986

Waterlily

By Lindsay Feitsma

@zaitu0618 – Shiro Zaitu