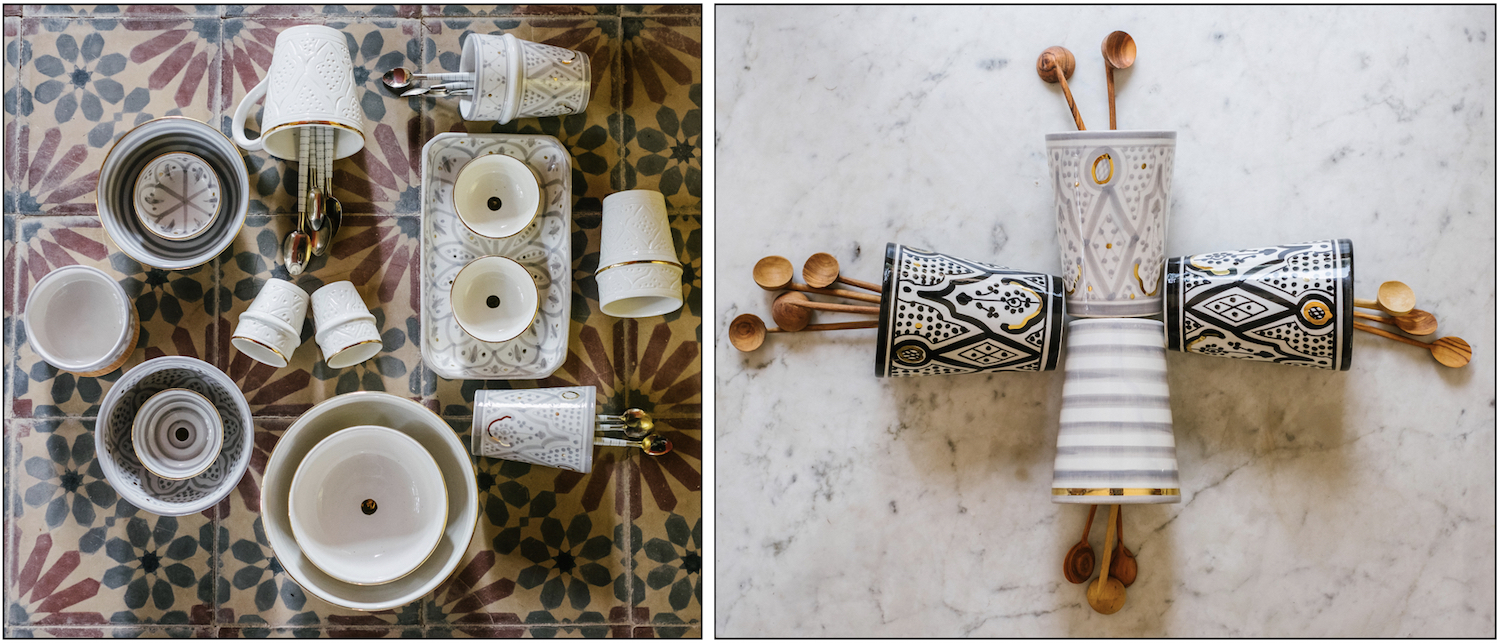 6 Creative Entrepreneurs in Marrakech Putting Moroccan Design on the Map
Posted on
24 October, 2017
The tourism industry in Morocco in recent years has just skyrocketed, with more and more people flocking to visit the country for a taste of exotic flair and rich history. While touring around Marrakech, we discovered some the cities most creative entrepreneurs who are changing the way people perceive and enjoy quality goods, be it in the form of skincare, footwear and accessories, or clothing designed by a local of the area. Read our list of 6 creatives and how they're shaping the modern Moroccan fashion and accessory market for others to follow their footsteps.
The Moroccans || Natural Skincare
Looking to blend age-old traditions and modern aesthetic, the Moroccans developed an all-natural, organic, vegetable and mineral based skin care system, using ingredients like Damascus roses, prickly pear seed, orange blossom, honey and royal jelly and more. Being eco-friendly and animal-cruelty free, the Moroccans pride themselves on their respect for their customers, quality and surroundings. It's no surprise that co-founders Mouad and Mohcyn are garnering success in their field in Marrakech, and are a definite must-try the next time you wandering through the Riad Jardin Secret. www.themoroccans.ma
Mohcyn || Men's Designer Footwear
This gorgeous upscale footwear brand was destined to be born at the hands of its artistic founder, Mohcyn Bousfiha. From an early age, Mohcyn was surrounded and influenced by the strong creative individuals in his family, particularly his grandmother, who inherited the family business of designing and tailoring men's clothing. Learning traditional Moroccan craftsmanship from his grandmother and other professionals, he was able to start Mohcyn, a designer men's footwear with unique detailing and vintage flair, offering the perfect blend of modern aesthetic with cultural traditions. www.instagram.com/mohcynofficial/
 
ZYNE || Women's Designer Footwear
ZYNE is a designer footwear brand based in Casablanca aimed at bringing the traditional elements of the 'babouche', Morocco's classic mule slipper, in the 21st century with innovative designs and detailing. Founder Zineb Britel previously worked for fashion houses Christian Dior and Sonia Rykiel before furthering her expertise in shoe design at Central Saint Martins, quickly realizing that her passion truly lay in footwear. Thank goodness she did, or the world may not have seen the gorgeous shoes for quite some time. The babouche is meant to be a practical, stylish, and comfortable option for Morocco's hot climate, and ZYNE offers its customers the option to express themselves with their unique and eye-catching designs. We want one of every pair! www.zyneofficial.com
Bakchic || One-of-a-kind Womenswear
Traditionally, Morocco has been seen as a more conservative country, especially with regard to dress. What Bakchic founder Sofia El Arabi is doing distinctly challenges the societal norms of her surroundings and blends cultural elements from Berber traditions with her one-of-a-kind pieces. Her winter collection, Atlas Babe, features Berber good luck symbols and has a central theme of all things mystic and magic. Careful when viewing this collection though. You'll want to get your hands on all these pieces. www.bakchic.com
 
Ait Manos || Bespoke Zellige Tiling
Ait Manos started as a result of the love and appreciation co-founders Ghalia Sebti and Tawfik Bennani had for the traditional arts and crafts of their country. Zellige, a term used to describe the 5,000-year-old tradition of making hand-cut terracotta tiles, is at the forefront of everything Ait Manos does. In 1997, Ait Manos officially received the patent for pre-assembled ready-to-install tile work, which greatly helps keep traditions alive while also trying innovating ways to grow their business. See how gorgeous and vibrant these designs are and fall in love with Zellige like we did. www.aitmanos.com
Chabi Chic || Ceramic Ware & Soft Goods
Chabi Chic is an accessories and interior design company that offers modern looks for home, kitchen, and bathroom with that extra special Moroccan flair. From handcrafted dish ware to spoons and kitchen utensils to fragrant essential oils to customized his and hers accessories, Chabi chic will give your house those cultural elements and conversation pieces it may have been missing. Their new fall collection is warm and inviting and just to die for! The best part? They ship worldwide so everyone can enjoy their items regardless of location. www.chabi-chic.com
All Photos courtesy of their respective owners.
Featured Image: Chabi Chic