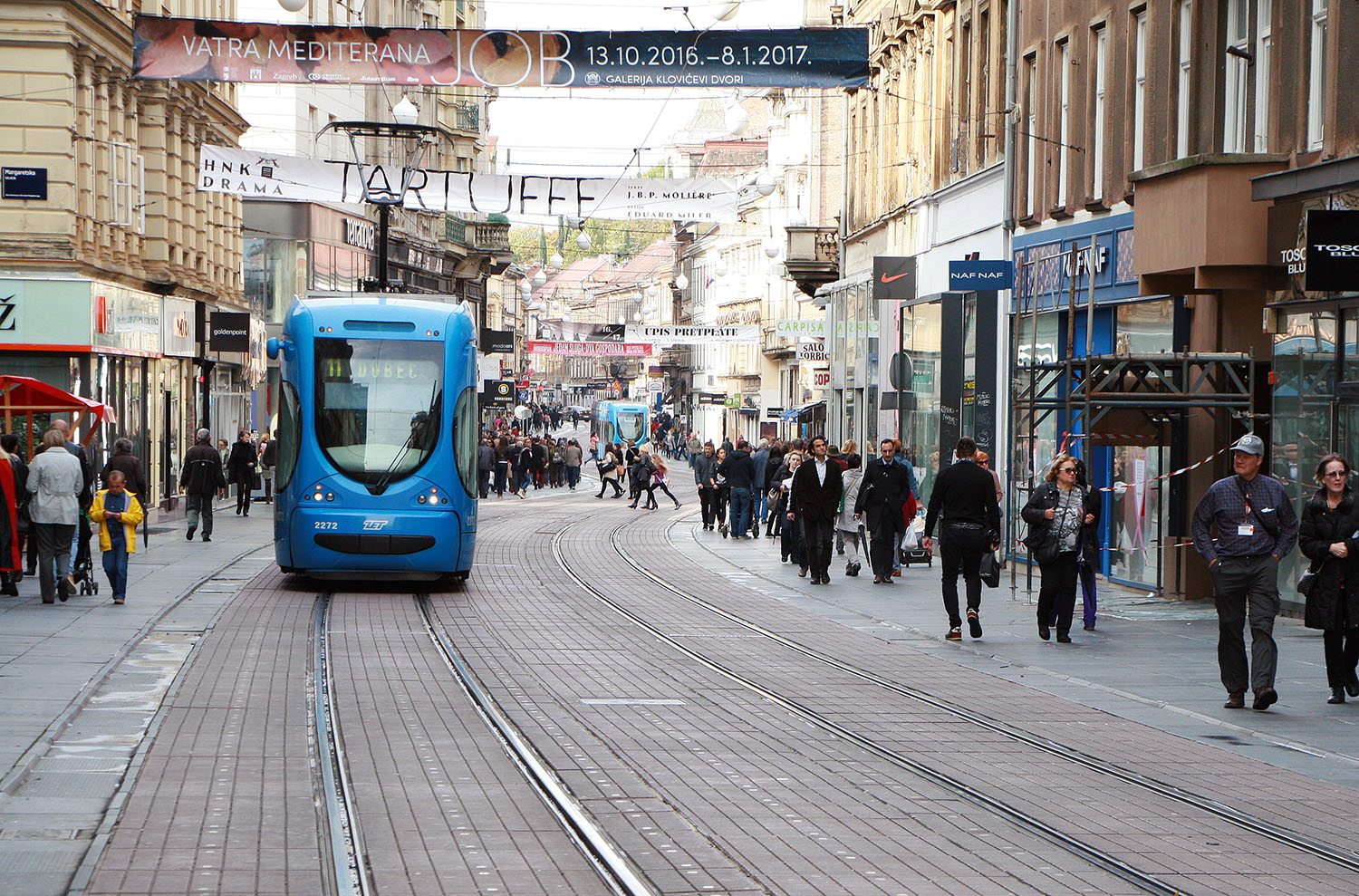 4 Awesome Things You Can Do in Zagreb, Croatia in Two Days
Posted on
6 January, 2017
The capital city of Croatia, Zagreb, is usually not the destination people have in mind when they think of this country. Everyone comes in the summer and heads directly to the coastal towns, but the overlooked city also has some amazing things to offer.
If you are the kind of traveler, like me, that's always looking for the authentic artistic expressions of a city, especially the ones that are publicly accessible, Zagreb will enchant your eyes. Like many Eastern European capitals, Zagreb has an interesting mix of the old and new, of the history of Europe, of the artistic movements, of the architectural influence, of the wars and occupations, and everything that passed through these lands. It's easy to see the Roman Catholic churches next to the Austro-Hungarian Empire buildings, or the Soviet era (ugly) architecture next to contemporary structures, so it makes for a diverse and interesting place to visit and learn more about the European (and world) history.
One of my favorite things, however, was the fabulous modern city vibe. Farmer's markets, street festivals, people's friendliness, and the cafe culture which goes beyond having coffee shops everywhere, to having spaces where you can sit and have your coffee and cigarette. Smoking is a huge thing here, but that's why there are so many outdoor sitting options that are available even in the winter. This is one of the things I miss the most in Vancouver; we don't have any, or very very few, outdoor options.
So, is it worth visiting Zagreb? Totally. Especially if you like a city that shows itself in a more authentic day-to-day and not a pre-packaged tourist trap. If you are planning to visit even if for a few days, here are some suggestions of what you can do:

1. Walk everywhere
It seems like an obvious point, but I wanted to highlight it because seriously, you have to walk Zagreb. Most of the scenic areas are within walking distance and if you stay in the city center, and you should, you can easily go from upper town to the old town, and the main train and bus stations. You can get a better grasp of the city by walking it, like watching people interact with their cigarette in hand and elaborate hand expressions. You can get a sense of the fashion trends, the shopping culture, and the social habits by walking and taking in everything you see around you. During these walks, you can go all the way up to the upper town and visit the famous St. Mark's Church, and all the way down to the central train station around where the main squares and art pavilions are located. Photos copyright Joanna Riquett.
2. Try the local bakeries and outdoor cafes
The first day I was in Zagreb, I left my Airbnb room around 10:00 am to find breakfast. Nearby my place were tons of restaurant options so I figured it would be an easy task. Little did I know that none of those restaurants offered any breakfast or food. They were open only for drinks, coffee and even alcoholic beverages, so until I found a restaurant that served food and paid an extraordinary amount of money for eggs and toast, I realized that you should actually eat from the bakeries. There is a bakery per block, you can't miss them. They are not only everywhere, but every time they have fresh bread the streets fill with the aroma of pan fresco. You don't have to tell me twice to eat bread, so this was a huge highlight for me. Of course, there are all kinds of bread in all kinds of presentations, so you can eat something different every day. You can take your order to go and sit in one of the cafes or the park benches. Photos copyright Joanna Riquett.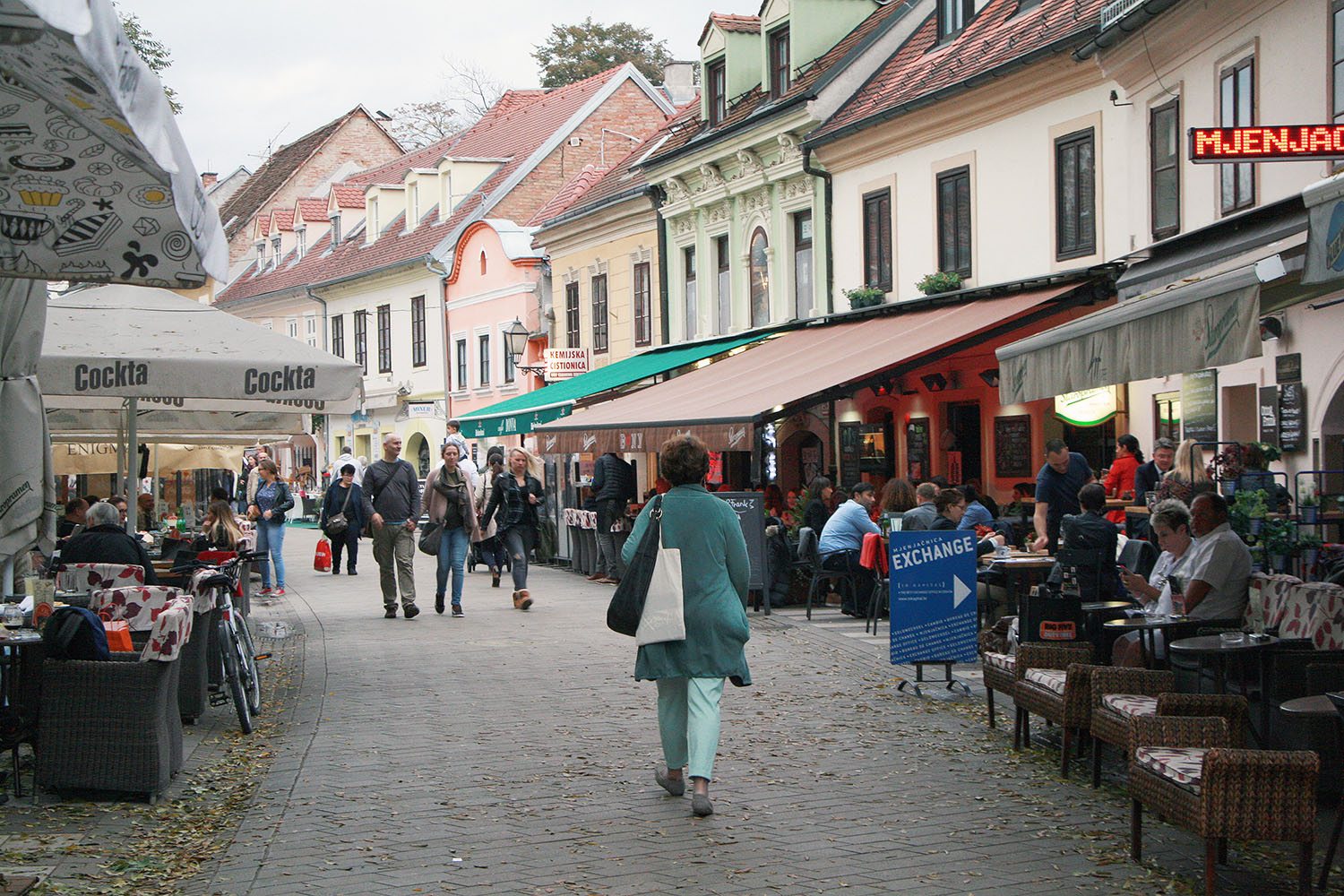 3. Visit the Museum of Street Art
This particular museum doesn't have a specific location, so while you're walking, you should stop around some key points if you want to observe the amazing creativity outpouring in the city. It's called a museum, but all of its artwork is spread around the city. At the moment of my visit, there wasn't a clear website to look for the information so I relied on this post of Zagreb Street Murals and did some discovering on my own, which I had a lot of fun doing. Some key areas where you can see most of the works are the AKC Medika center, the Student Center of the University of Zagreb that has the Teatar &TD, and the Kneza Branimira street nearby the main bus station that has a ton of murals one after the next. You can't miss the street art, it's everywhere and it's really awesome. Photos copyright Joanna Riquett.
4. Visit the Museum of Contemporary Art or any of the many galleries
The Museum of Contemporary Art was built outside the normal visitors' circuit to force people to get out of the same places and invite them to explore a different area of the city. I found different ways to get there by public transit, and in the end, I took an Uber there and the bus to come back to the old town. Maybe because it's still relatively new or maybe because it was Tuesday, but the museum was practically empty when I visited it, which was the best. Four floors of contemporary art by European and mostly Croatian artists I had never seen before. The new building has an interesting and intricate structure but the best feature, in my opinion, is the double slide, which is also an art installation by Carsten Höller, that takes you from the fourth floor to the main entrance of the building, so you work your way up seeing the exhibitions and then you slide down. It looks terrifying to go 4 floors down, but it's actually not scary at all once you start slowly sliding.
Aside from this museum, I also visited the Art Pavilion and saw a temporary exhibition of Alberto Giacometti which was excellent, and the Modern Gallery which was nothing special. There are dozens of museums and galleries you can choose from. One of the most talked about by tourists is the Museum of Broken Relationships, which I asked a local person about it and she said it was boring, just a bunch of love letters from people you don't care about but tourists seemed to like it, so I stayed away from it. You can check what the current exhibitions are at the time of your visit and/or ask a local who seem to be aware of what's happening. Photos copyright Joanna Riquett.
These are just a few things I tried during my two-day visit. I also wanted to take a few food tours to learn more about local cuisine but I failed to book ahead and by the time I asked they were all fully booked. I suggest to check ahead for the tours you'd like to take since they also take a few days to respond. Let me know if you have any other suggestions of things you can do in Zagreb!
For other resources to see what to do in Zagreb or other parts of Croatia, check Zagreb's tourism page, Croatia Full of Life, and Travel Honestly's website that has tons of great articles.