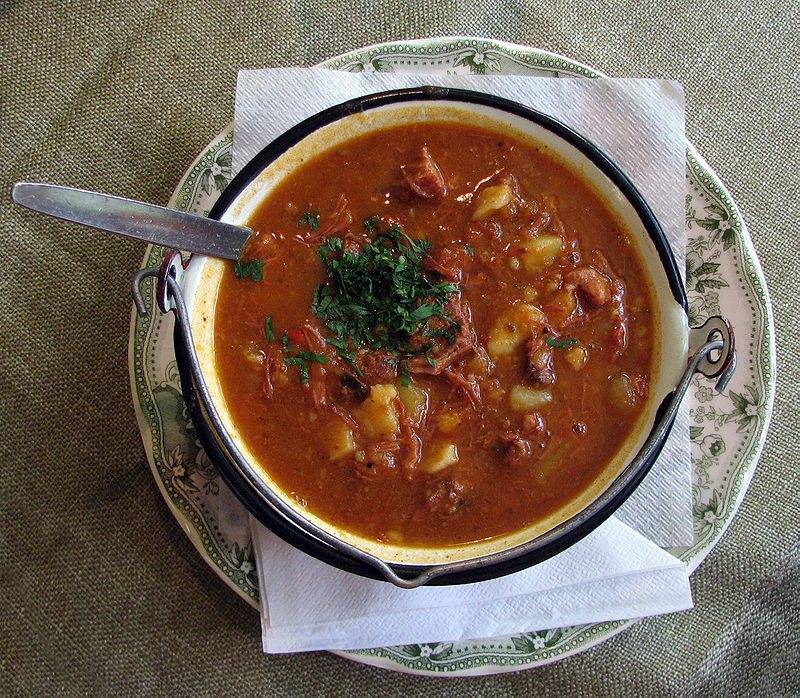 15 Delicious European Foods to Try
As diverse as the continent itself, European cuisine offers something for every palate—whether you prefer to play it safe with a pizza Margherita in Naples, or be more daring with a meal of fermented shark in Reykjavik. For this 5 Minute Vacation, we're taking you on a culinary tour of Europe, featuring popular dishes from 15 countries. We hope this feast for the eyes inspires you to try out a new cuisine next time you're eating out!
How many of these foods have you tried? And what are your favourites? Let us know in the comments section!
15 Delicious European Foods to Try
By Ali O'Neill
Moussaka, Greece

By Ali O'Neill

A Greek classic, this dish is made up of layers of eggplant, tomato, and minced meat topped with a Béchamel sauce.

Haggis, Scotland

By Ali O'Neill

Made of sheep's "pluck" (heart, liver, and lungs) minced with onion, oatmeal, suet, and spices, and encased in the animal's stomach. Traditionally served with neeps and tatties (turnips and potatoes).

Currywurst, Germany

By Ali O'Neill

The ultimate German street food staple, currywurst is a fried pork sausage served with curry ketchup and often accompanied by a side of French fries.

Pizza Margherita, Italy

By Ali O'Neill

This famous dish was created in 1889, when a Neapolitan pizza maker was commissioned to make a pizza for the visiting Queen Margherita. With ingredients the colours of the Italian flag, it was a hit.

Stamppot, Netherlands

By Ali O'Neill

This Dutch comfort food consists of potatoes mashed with vegetables–often sauerkraut, endive, kale, or spinach–and is usually served with sausage.

Hangikjöt, Iceland

By Ali O'Neill

Typically served at Christmas, hangikjöt is smoked lamb usually accompanied by potatoes in béchamel sauce and green peas.

Blini, Russia

By Ali O'Neill

Blini are thin pancakes that can be eaten with either savoury or sweet toppings, including caviar, sour cream, jam, and honey.

Irish Stew, Ireland

By Ali O'Neill

This traditional stew consists of lamb or mutton and potatoes, carrots, onions, and parsley.

Köttbullar, Sweden

By Ali O'Neill

A Swedish favourite, these meatballs are typically accompanied by creamy gravy, mashed potatoes, and lingonberry preserves.

Bryndzové Halušky, Slovakia

By Ali O'Neill

This Slovakian classic consists of boiled lumps of potato dough combined with a soft sheep milk cheese, and topped with bacon.

Paella, Spain

By Ali O'Neill

There are many variations of this Valencian dish, but the most famous one is seafood paella, which is made up of rice, prawns, mussels, tomatoes, and garlic.

Goulash, Hungary

By Ali O'Neill

This warming stew–which originated as a popular dish among Hungarian herdsmen–contains meat, vegetables, and paprika.

Roast Beef & Yorkshire Pudding, England

By Ali O'Neill

The quintessential English meal is made up of roast beef, vegetables, and Yorkshire Pudding (made from a batter consisting of eggs, flour, and milk).

Borscht, Ukraine

By Ali O'Neill

A Ukrainian soup popular in many Eastern European countries, Borscht is made primarily from beetroot, and topped with a dollop of sour cream.

Fondue, Switzerland

By Ali O'Neill

A traditional Swiss fondue consists of a pot of melted cheese (usually enhanced with white wine and garlic seasoning), into which pieces of bread are dipped.