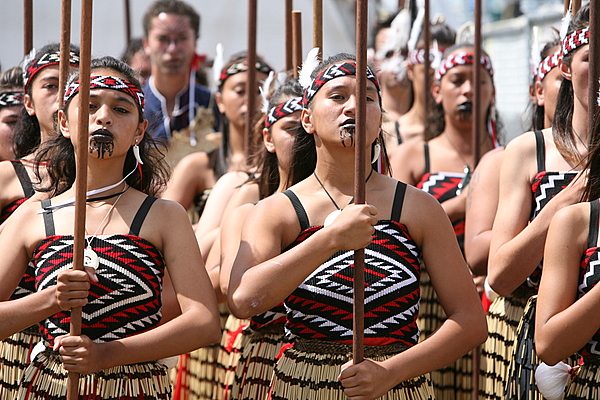 Tracing the Steps of Time: Music of the Maoris
Aotearoa, the Maori name for New Zealand, is a vast expanse of natural beauty beckoning the beginner traveler to the most seasoned of outdoor adventurers. Driving around the "land of the long white cloud" in a camper van for a month allowed me to test my own adventure limits by haphazardly flinging myself out of an airplane, hiking Fox Glacier and getting much too close to a colony of wrangling sea lions.
But hidden within this outdoorsy wonderland is a culture so intrinsic to the people you may not even notice it, outside of a friendly "Kia ora" while walking down the street. The Maoris, New Zealand's indigenous people, make up 15% of the population but their Tikanga, cultural identity, is an integral part of the Kiwi way of life, from street names to having a hangi, a cookout over an earth oven.
Traditional music, though, was hard to come by. Until traveling through New Zealand, the only example of early Maori music I had found was a 1952 Smithsonian Folkways recording, which sounded similar to the ceremonial calls and chants found across Polynesia. The songs were mostly a cappella, as the Maori Taonga pūoro, or indigenous instruments, had been obliterated from the music during colonialism and Christianity.
We had heard from Maori locals that visiting a living village was the best way to learn about its music, so we headed to Rotorua where the remaining ones existed. I was initially skeptical that these villages would be a touristy replication of what life was like for Maoris, similar to how the All Blacks' pre-match Haka has penetrated our sports culture. But I was open to it.
Entering the marae, or welcoming area, I was greeted by a woman with a hongi, touching her forehead to mine and exchanging our "breath of life." Immediately all my fears of traipsing in and exploiting the Maoris drifted away, recognizing that it didn't matter. Authenticity and human connection always seem to transcend.
It was time for the music. We were brought into a house where a woman began a wailing, sorrowful song called the Karanga, a formal call of welcome to visitors. Maoris believe that women are the givers of life, and only her voice is powerful enough to bring people together.
The performance took us through a Powhiri, with men and women shouting a fierce call and response to a thumping, rhythmic dance. The final sequence was the formidable Haka, which if you've never seen one in real life is a totally visceral experience. The riveting chest-beating, tongue poking and eye-opening dance, was a call to the Maori's warrior past, and yes, made the hair stand up on the back of my neck.
Traveling through New Zealand gave me the chance to put the musical past of the Maoris together with the present. Though many of the ancient songs have died out over time, there is just as much of a revival trying to bring them back. The cultural shows were just a tip of the iceberg. I discovered the innovative sounds of WAI musicians bridging electronica with traditional Maori language. One of the first albums to be entirely recorded in Maori, WAI uses organic samples like breathing, heartbeats, body slaps and the poi with their progressive style.
They say that if traditional cultures want to survive they have to be willing to change. I would say the Maoris have not only embraced the change, but by being so gracious to share their traditions they will ensure a long, healthy life for its heritage and music.