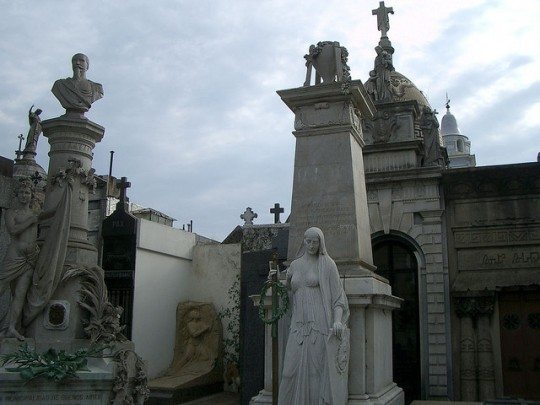 Top 8 Most Haunted Places Around The World
Posted on
31 October, 2014
What better way to get into the Halloween spirit than to take a look at some of the spookiest places on Earth. Whether your a professional ghost buster, a practitioner of witchcraft or an ex-president of the United States, there is a haunted story for everyone that is guaranteed to send shivers down your spine. Watch your hair begin to raise as you peruse through the top 8 haunted places around the world. Happy Halloween! Warning: this article doesn't cater to the scaredy cat!
Top 8 Most Haunted Places Around The World
By Hayo Magazine
Washington D.C., USA — The White House

By Hayo Magazine

The worlds most famous residence and home of the President of the United States, ghosts of ex-presidents past such as: Abraham Lincoln, Thomas Jefferson and Andrew Jackson are seen to walk the halls. 

Edinburgh, Scotland — Edinburgh Castle

By Hayo Magazine

Edinburgh is reputed as the most haunted city in Europe and this castle is the most haunted. Visitors to the castle have reported sightings of the spirits of French Prisoners from the Seven Years War.

Buenos Aires, Argentina — La Recoleta Cemetary

By Hayo Magazine

A young women who was mistakingly buried alive on these grounds is said to walk through this cemetery at night where she unearthing other buried bodies to make sure that they are actually dead. 

Salem, Massachusetts

By Hayo Magazine

With the long standing reputation for sorcery and known as the 'Witch City' i.e.: the famous Salem Witch Trials in 1692, wander down the narrow streets and hear the cries of victims of witchcraft. 

Xochimilco, Mexico — Island of The Dolls

By Hayo Magazine

Based on a legend of a farmer Don Julian who witnessed a little girl drowning. To protect himself of her ghost he began collecting dolls leaving this island full of hundreds of dilapidated dolls. 

London, England — The Tower of London

By Hayo Magazine

Known as the most haunted place in the UK, it dates back 900 years with a history of torture and execution. There are many reports of paranormal activity, the most famous spirit being Anne Boleyn. 

New Orleans, Louisiana

By Hayo Magazine

The home of the oldest cemetery said to be guarded by a Voodoo priestess and the LaLaLaurie House that was owned by a madman. The spirits of the slaves are known to terrorize children into the night. 

San Francisco — Alcatraz Island

By Hayo Magazine

Once a former maximum security prison for the most notorious trouble makers such as Al Capone, visitors claim to see figures walking around the cells and hear voices emanating from the cafeteria.