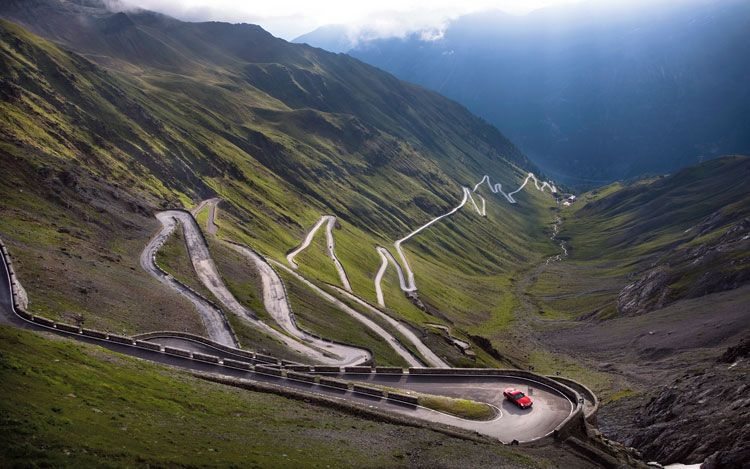 The 8 Most Dangerous Roads of the World
Slow down, Speedy Gonzalez! You might have taken your sexy fast car and driven through some of the best roads or are planning (dreaming?) to, but what about the most dangerous roads of the world? They are all over and sometimes they are sections of a larger road that's in a geographically inconvenient place. We have brought you 8 of them. Check out these pictures and hopefully you don't have to experience this. Crazy, huh?
The Most Dangerous Roads of The World
By Hayo Magazine
Guoliang, China

By Hayo Magazine

5 years took this road to be built in the mountains of Taihang. 1.2 kms long, and dimensions of 5 meters tall by 4 meters wide.

Trollstigen, Norway

By Hayo Magazine

Famous for its 9° incline and 11 hairpin bends up steep mountain side where the road is narrow with sharp bends.

El espinazo del diablo, México

By Hayo Magazine

The Devil's Backbone is located at kilometer 168 of the Highway 40 and covers a stretch of highway about 10 km, where you can see the wonderful spectacle of the Sierra Madre Occidental.

Sichuan-Tibet Highway, China

By Hayo Magazine

2,142km long, landslides and rock avalanches are common. It takes you through vast, open landscapes with majestic peaks vaulting skyward. The trip may take around 15 days if you are not in a hurry.

The Road of Death, Bolivia

By Hayo Magazine

It goes from La Paz to Coroico, it's 64km long with deep cliffs on a side. It has been named the most dangerous one of the world in several occasions. Luckily, there's an alternative route.

Siberian Road to Yakutsk, Russia

By Hayo Magazine

More than 100 km of road hell. In rain season, this becomes a real nightmare. 

Taroko Gorge, Taiwan

By Hayo Magazine

The Taroko Gorge Road in Taiwan is another mountain route made by carving out rocks, it's extremely narrow with numerous bends; 1 bus can barely pass by at a time. 

Stelvio Pass, Italy

By Hayo Magazine

This road is located in the Italian Alps, nearby Bormio and Sulden, nearby the Swizz border.
Inspired by Dangerous Roads.