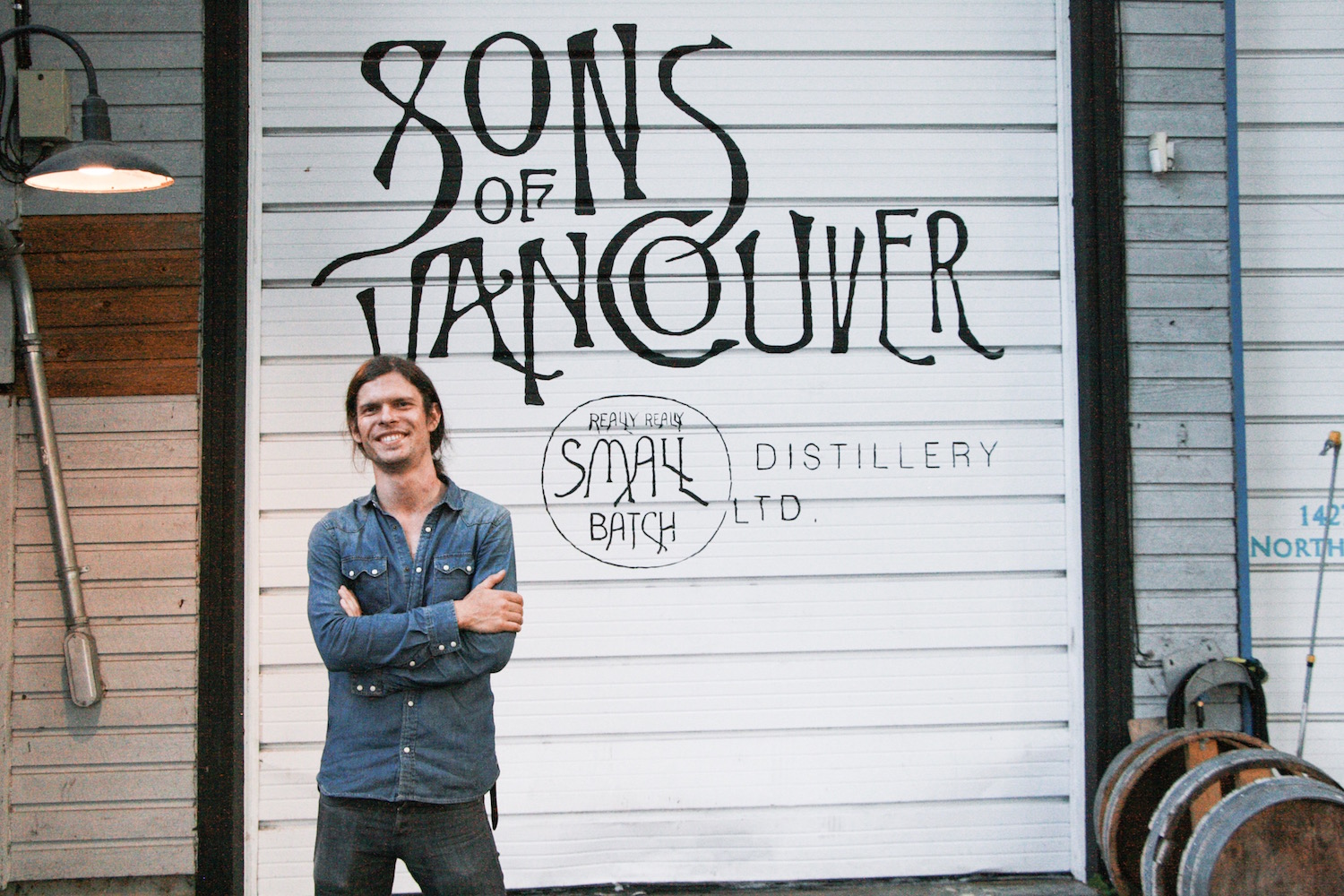 Creativity in the Art of Cocktail Making with Sons of Vancouver
Posted on
18 September, 2017
Former bartenders James Lester and Richard Klaus ventured into the world of entrepreneurship 6 years ago when they decided to open Sons of Vancouver, a distillery producing craft vodka and amaretto in a really, really small batch. We had the chance to catch up with James and talk about their brand, what sets them apart and how creativity plays a role in their business. Read this short interview and don't miss the special cocktail recipe at the end.
I know you guys are from Vancouver and it could be obvious, but why the name Sons of Vancouver? Where did it come from?
Good question, I am actually not from Vancouver, I grew up in Salmon Arm in the interior and moved here six years ago. Vancouver is a really cool city, there is a list of cities you see a lot New York, Paris, Amsterdam, you see where im going with this. Vancouver never makes that list and I think it should. In the movies Vancouver has stared at all of the above. Sons of Vancouver is a cool name we thought people could get into and by being a very, very small part of the cool stuff happening every day in this city we wanted to make it a little cooler. At its core its a cool name.
Tell us a bit more about your spirits. How were they created?
When we decided to make a flavored vodka, we didn't want anyone to make fun of us so we made it really spicy. We wanted to make a polarizing product. We wanted people who love spicy to love the chili vodka and people who didn't, to hate it. So we created a kind of cult following for that reason.
The amaretto is in tons of old cocktails but there's only one or two brands on the shelves. We wanted to distinguish ourselves by making a whole ingredient amaretto. It falls into the craft amaretto category and there was an opportunity there because I can name five craft limoncellos at the top of my head, but this is the only amaretto that I know about. For that reason, it was the product that we wanted to build our brand around. We wanted to bring it back and make it cool again.
What do you think sets you apart from other distilleries?
There used to be this billboard on Powell Street and I remember being on my bike and seeing this sign for the first time. It was a McDonalds service counter with a guy, his wife and a child and it said something like "this is being our family business since 1986" and I remember thinking that local doesn't mean good anymore, it's now just a marketing term, but transparency is the new local. We include all our ingredients in our label and we share our process with our customers. What sets us apart is our transparency. Our passion as well, of course, but I think transparency is the most important.
How do you keep things interesting with the brand?
Our biggest obstacle right now is awareness. Only in the last 6 months we've had people calling from out of the blue and we get bike tours on weekends as well. We try to do collaborations with other brands like Earnest Ice Cream, for example. Because we have three products, we try to stay relevant by doing cools things throughout the year.
Where do you draw inspiration from to keep innovating?
I look at other brands to see how things are working for them and we asked if by doing the opposite it could also work. We try to differentiate ourselves by trying things that haven't been done before. We also do something called "going back to our roots". We are pretty handy guys, so everything in the store we have built ourselves and to a degree we wanted to extend that to our branding as well. So when you see the logo, for a split second you could think we also did it ourselves. It's not super clean and polished, we wanted to give it that handcrafted feel.
And how do you know things are working?
I can think of a couple examples when we've done things that were not working and we were able to realize right away. One of them was inventing our own cocktails. Doesn't matter how good that cocktail is, you should never introduce a person to the cocktail on the first time they're trying your product. It's easier to get them to understand how your product replaces what they are used to and then when they come back, you can introduce them to the cocktail. We learned that after a couple times.
How does creativity play a role in your day to day and how is the dynamic between you and Richard?
Running a small business is solving a series of small issues, one after another, every day. A lot has to do with knowing how we work together. Many times one of us comes up with an idea, it could be a funny idea and those are the ones that get shot down quicker, I mean they are not great business ideas, just very entertaining. Then we'll bring up the most rational solution and it also gets shot down right away. So then we're in the territory of experimentation and we pepper the ideas over the course of a few weeks. I've learned more about relationships in my life in the past three years just by being business partners with Richard than I ever did before. Communication is key.
To make your own Zombie Cocktail, this is James' recipe: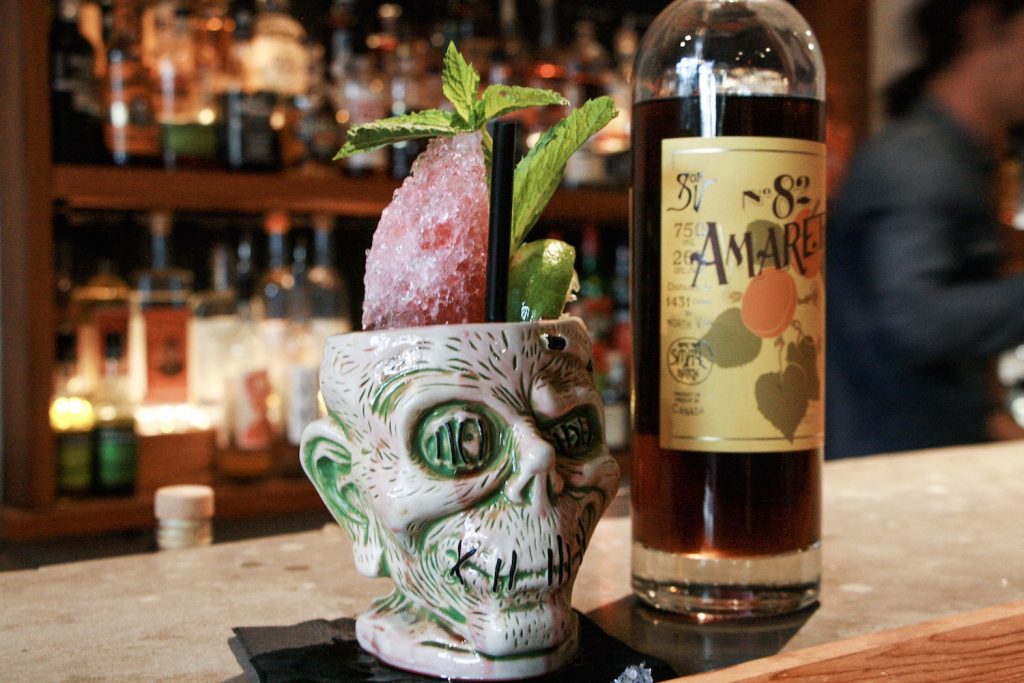 30ml  1oz Amaretto
30ml  1oz White Rum
30ml  1oz Dark Rum
15ml  1/2  Lime, lime in
Topped w/  Pineapple juice
3 dashes of bitters
GLASS: Your favorite Tiki glass
METHOD: Build in glass, top with pineapple
GARNISH: 1/2 lime in, crushed ice w/ Odd Society Cassis brains and Mint
Salud!