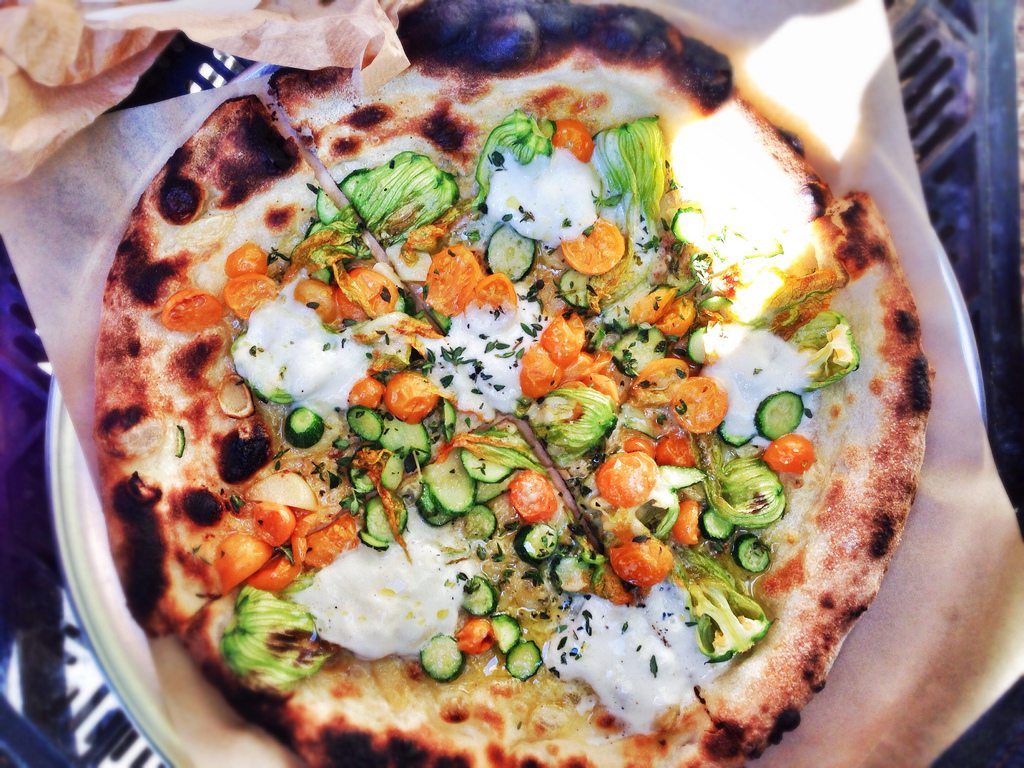 Staycation in LA: How to Enjoy Venice Beach in One Day
I live in Los Angeles. As metropolitan cities go, it's a humongous network of neighborhoods, each with its own vibe. This summer, I staycayed for one month at my friend's Venice Beach pad a block from the Boardwalk. It helps to have friends in cool places.
This beach town is known for the three H's — hippies, homeless and hipsters. Made famous by the acid dropping, beach drumming, graffiti painting 60s hippies, followed by the skateboarding craze, Schwarzenegger muscle beach fame and, now, by Silicon Beach hipsters.
Being that LA is the driving capital of the world, a great plus of living in Venice is that you can walk to most places, especially if you have Staycation time.
Here are tips for one very full day of walking that includes my favorites hangouts with an eye for small and personalized businesses.
8:00am – This is why people flock to CA!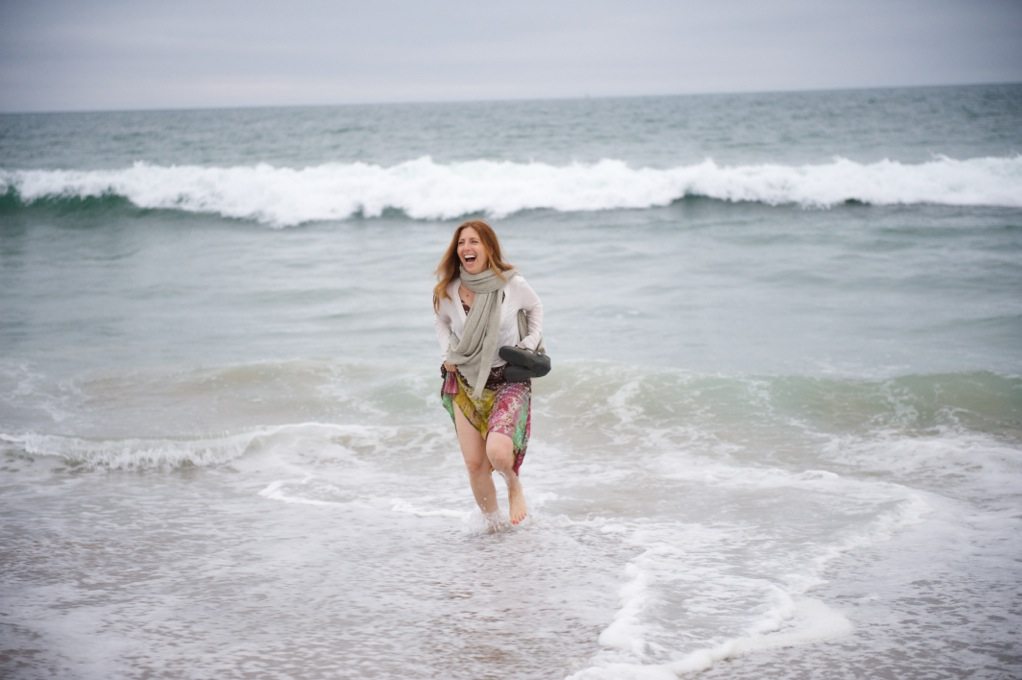 A perfect California day must begin by hitting the wide stretch of sand of the Pacific Ocean coast.  If you are an early riser, the foggy mist might still be settling, clearing to uncover the famous blue skies. Walk towards Santa Monica Pier with the Santa Monica Mountains outlining the coast, and enjoy spotting the occasional school of dolphins and quintessential CA surfers.
9:00am – Breakfast with a view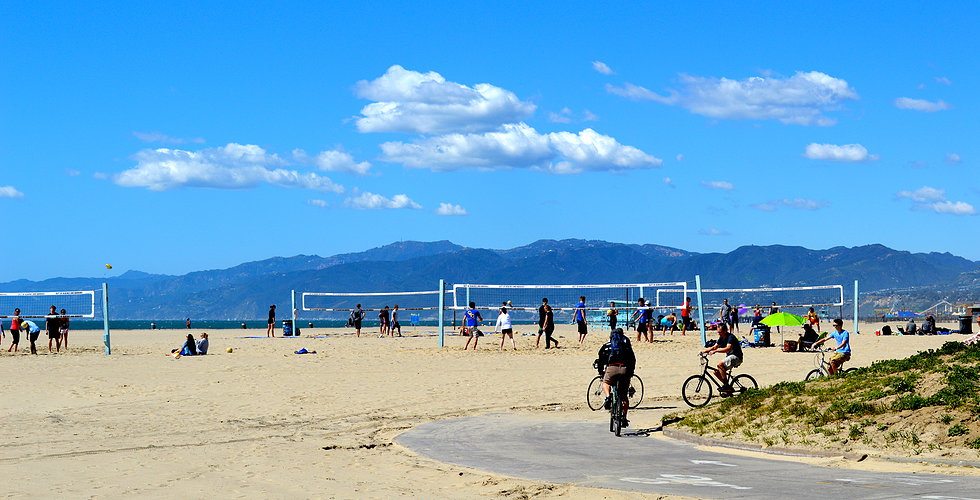 If you arrive at the Fig Tree Café before 9am on a weekday, you get half off on your breakfast. Other options I like — Zelda's Corner Deli has good breakfast options or for a healthier alternative, try Flake just off the beach on Rose Ave.  If you end up closer to Windward Circle, eat an awesome breakfast sandwich prepared with love by Ian at Bellissimo Venice, I love their chicken salad sandwich. Then head over for your shot of espresso at Menotti's Coffee Shop on Windward Ave.
10:00am – Feast your eyes
The Boardwalk is a must. My personal favorite is watching the early morning crowds between 10-11am, when the homeless are just waking up, vendors are setting up their merchandise, and the vibe is still cool and friendly.  I wouldn't step here on weekends, because it is a nut house. Watch out for the dog rules. No dogs are allowed on the boardwalk from 10 am – 8 pm on the weekends. Did I mention that no dogs are allowed on the beach at any time? 🙁
12:00pm – Dogtown craze!
As you hit Windward Circle, walk towards the ocean to the smooth concrete pools of the Venice skateboard ring. This is the stuff of legends and another quintessential California experience. Young, old, amateur and professional alike show off their chops in this intricate pool-like maze. There are great photo ops with the Pacific Ocean in the background.
1:00pm – Are we hungry?
Head over towards Abbot Kinney Avenue, the hipster street where new restaurants and shops surface for a California minute as rental prices keep rising and the lower-middle class is being pushed out further inland. Most restaurants are pricey and not worth the buck, but the street is fun to walk and window shop. My favorite restaurant is the über hip Gjelina. If you haven't booked ahead, don't despair. Check out their amazing take out kiosk next door with outdoor sitting. It's filled with fresh California fare and people rave about the Brisket Banh Mi. I love their breads and pizzas.
2:00pm – Not all is sand and surf
You have probably eaten too much of a "good thing" and need to walk it off.  Explore the original vision of Venice, modeled after its Italian namesake by founder Abbot Kinney. Three walking streets — Nowita, Marco and Amoroso Place — start at Lincoln Blvd and run to Electric Ave. Built in the early 1900s, a network of Craftsman homes creates the perfect pedestrian enclave with central planted nodes. Many architects have their homes here. Frank Gehry's iconoclastic BinocularsBuilding on Main Street is a worthwhile visit.
4:00pm – Snack time
Head back on one of the walking streets to Lincoln Blvd and cross it to go to Superba. They have incredible toasted bread. It's pricey but a cool spot to rest your body. My favorites are the Avocado and the Burrata Mozzarella toasts.
5:00pm – Yoga
People, it's LA! Here we eat and exercise all day long. Friendly, good and cheap ($15) Studio Surya Yoga on Main Street near Windward Circle will make you feel welcome.
7:30pm – Sunset Hour
After a few sun salutations, you are ready to witness the awesomeness of California sunsets. Known for their mixture of smog and natural, they shape in unworldly forms and colors. Head over to the rooftop bar of the Erwin Hotel for a drink and chill with the great view!
8:30pm – Food again!
What better way to end this day of visual and culinary treasures, than to step down from the rooftop and walk south one block on Pacific Ave. to Barnyard Restaurant? The octopus with chili, mussels with gnocchi and caramel flan dessert are delish.
Wasn't this fun? I hope you enjoyed your day in Venice as much as I have on my Staycation!
Cheers!