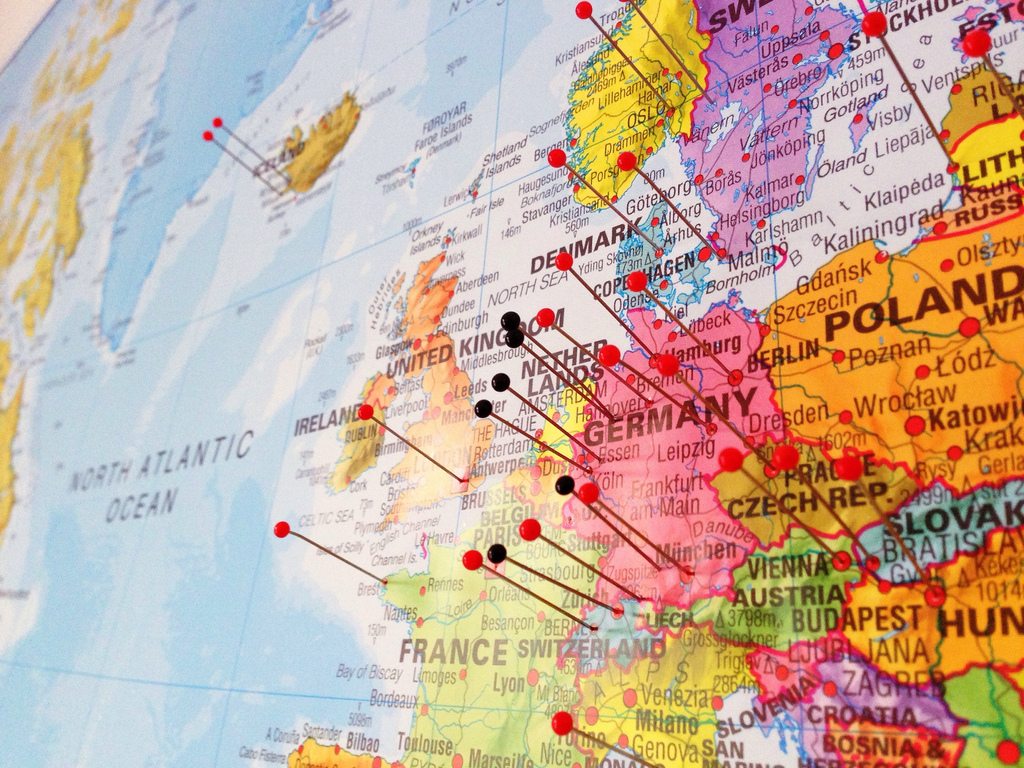 8 Lessons Learned While Traveling The World
I'm from Barranquilla, Colombia. I've lived in Buenos Aires, Auckland, Los Angeles and now currently, Vancouver. I like to travel and experience cultures and situations that are out of my comfort zone [but not too much]. I lived out of my luggage for seven months last year (2013). I've ticked 20 countries and 47 cities off my bucket list and doesn't matter if every time I want to go somewhere I have to ask for a visa, I will travel until I can't move anymore.
Before I continue with the stories of the places I've traveled to, I wanted to share with you some things I learned during these travels, and the process of understanding each city, culture and people. And food.
1. People don't know how to spell ColOmbia.
Of course this had to be point number one. I know it's just one letter, but we care. There's even a campaign called It's Colombia, Not Columbia to help spread the word and promote the country, but despite our constant indirect and direct messages through every social network and despite taking advantage of every opportunity to clarify this fact, it still doesn't work. It's alright if you assume Columbia is simply the English version of Colombia. Except, it's not.
2. You don't need everything you pack.
The more you travel, the less you need. Packing clothes thinking that you might wear them is a waste of space. Learn ahead what the weather will look like at your impending destination and pack for that. If you are traveling for a long time, you'll end up using the same three shirts and three pants combined differently and you'll do laundry every 10 days (on average). If you'll be traveling across climates, pack to layer up and don't take over complicated winter gear. Although, do always pack a jacket. I wore the same coat for an entire month in a winter in Europe and I look exactly the same in all my photos, except with a different background. But I swear I was there.
3. An introspective journey begins.
Whether you are traveling alone or not, being away from your hometown and the things you know gives you a different perspective. The hours you spend looking outside of the window on a plane or a train inspire serious introspectiveness and helps you look into yourself: where you are, where you are going to, where you are coming from, where you want to be. Don't let that time get away from you, enjoy moments of quietness and loneliness. Sometimes ideas and deep insights are a direct result of these seemingly ineffectual moments.
You begin to see the difference in the colors, the light, the sunsets, nature, the people, the food, the architecture, the culture and your whole self is subsequently invited to act accordingly. Some people love it, some people don't, but the important part of it is that you get to know yourself a little more.
4. The world is full of amazing food.
Besides my current obsession with Peruvian food, I can't count how many times I've said to myself: this is the best thing I've ever tried. I have my favorite restaurant in Barranquilla, in Cartagena, in Buenos Aires, in Lima, in Santa Monica or in Vancouver. I love Thai food and I find it similar to Colombian food. I love rice. I love Spanish olives. I love Italian ice-cream. I love Dutch bitterballens. I love Californian wine. I love French pain au chocolate. I love the pineapple bun in Hong Kong. I love Chinese sweet and sour pork (ok, maybe that's not entirely Chinese). I love Belgium beer and French cheese. Wherever you go, there's something to try and to be amazed by. My God, I love this world. I'm starving.
5. You are capable of loving a complete stranger.
When you are in the same town with the same people and nothing changes, you don't realize the amazing capability that a human has to accept and love another person from another culture and another language. I'm amazed by the amount of people I met during my travels, or my time living abroad, and how I care, love and wish I could spend more time with them.
You meet new people, you spend a couple of days, hours, weeks, or months with them and a connection sparks. Sometimes that connection is stronger than the ones you share with people you've known your entire life. I think that's because the kinship you experience with other travelers over all those crazy circumstances you find yourself (frequently) in allows you to naturally open yourself up to new experiences and you inevitably let go of yourself and fall into unselfish love. You don't expect anything more than enjoying that moment.
6. The experiences are timeless.
Remember that trip ten years ago with your friends (or family) and every time you get together that one inside joke always surfaces? You might have been in a different moment in your life, but the experiences you have when traveling help shape the person you are today. The things you learned are timeless and with the memories you have, you can always go back in time and experience it again, even if the photos are not on Facebook.
7. "Traveling is not expensive" is bullshit.
Alright, unless you leave everything you have behind, take your backpack and go to explore the world after saving your money for a year or so, then, yes, it's cheaper. But how many people actually do that? If you have a house, a job and responsibilities, chances are you can travel a few weeks or even months at a time, but you still need to keep the apartment you have, pay rent, pay electricity and all the bills, while you are ALSO spending money in other cities or countries.
This isn't necessarily a bad thing, so don't get dejected, but be realistic. Budget first and plan accordingly. Some cities are more expensive than others, so prepare your wallet for that and be conscious about using your credit card. I don't think you want to get back home and have a ridiculous bill derisively staring at you.
8. People love to help, but English is not the universal language.
No matter where you are, if you need help you will find it. People have a helping chip that activates every time there's a need for it. Call me naive, but I do think benevolence, for the most part, is an inherent human quality. However, communicating could be very challenging. If you only speak English, it could get difficult to explain what you need and be understood. At the very least, before you embark on any journey, learn a few key words or sentences in your chosen destination's language. Have your address written down by a local just in case you get lost and bring a map. If you don't have data on your phone, a paper map works. Be prepared for the frustration you'll experience but don't let that discourage you.
For everyone is different. I can tell you what I learned, but you are more likely to experiment different things, agree or disagree with some of these and shape your own way. Although, do not dare to argue with me point number one.
Originally posted on The Huffington Post.