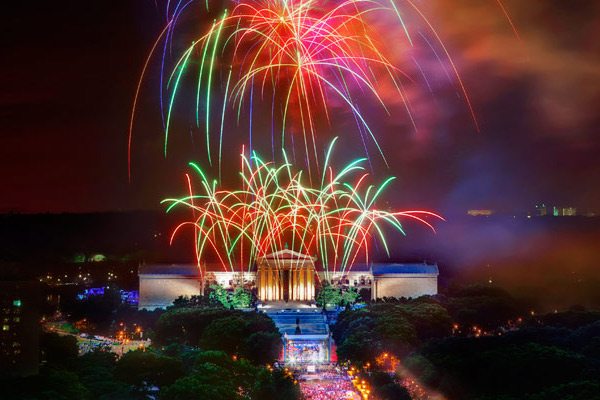 The Seven Best Fourth of July Fireworks Displays
America's Independence Day is honoured with lavish celebrations across the country, featuring fabulous fireworks displays and free live concerts. In honour of the USA's 238th birthday, here are our rankings for the seven best Fourth of July Fireworks Displays.
The Seven Best 4th of July Fireworks Displays
By Hayo Magazine
7. South Lake Tahoe, California

By Hayo Magazine

Lake Tahoe's Independence Day celebrations are separated into five regional events, but the biggest and brightest of these–South Lake Tahoe's Lights on the Lake–is the star.

6. Atlantic City, New Jersey

By Hayo Magazine

Illuminating the sky above Atlantic City's famed seaside boardwalk, these dazzling fireworks–launched from one land-based platform and two sea-based–do not disappoint.

5. Addison, Texas

By Hayo Magazine

Kaboom Town, which takes place in Addison Circle Park on the 3rd of July, has been delighting spectators since 1985 with both pyrotechnics and an air show featuring historic warplanes.

4. Boston

By Hayo Magazine

Boston played a big role in the fight for freedom, and the Boston Pops Fireworks Spectacular–which has been held over the Charles River Esplanade since 1973–is suitably incredible.

3. Philadelphia

By Hayo Magazine

The Philly Jam features big-name artists in addition to an incredible fireworks display–fittingly extravagant celebrations for the birthplace of independence.

2. Washington, D.C.

By Hayo Magazine

"A Capitol Fourth," the capital's free lawn concert, is a spectacular event that combines "pop culture with patriotism," and boasts an attendance of more than half a million.

1. New York City

By Hayo Magazine

Held over the East River, Macy's Fourth of July fireworks have been a televised tradition since 1976, featuring not just fireworks but entertainment from the hottest names in music.