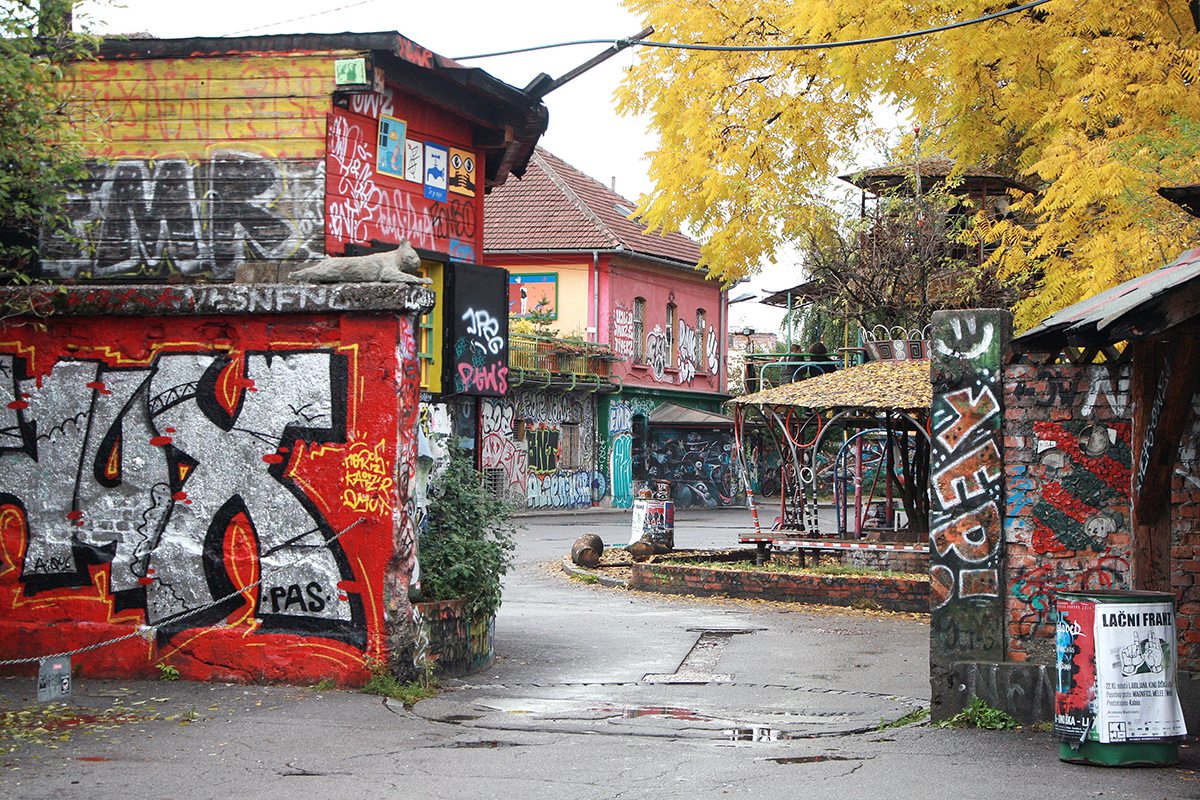 Metelkova and the Successful Rise of the Slovenian Subculture
Posted on
21 February, 2017
Ljubljana –pronounced loo-blee-ah-nah–, capital of Slovenia, has somehow managed to stay off the radar of the flock of tourists that visit Europe every year, but little do they know that this city is home to an eccentric and unique creative scene.
A quaint little city nestled between the Alpine mountains and the Karst, Ljubljana is strategically located in the center between the Danube region and the Adriatic sea trades. It has seen the transitions from antiquity –called Emona during the Roman Empire – to modernity, passing by the Austro-Hungarian Empire and the former Yugoslavia. This makes it a city with great multicultural influences which can be appreciated not only in the variety of food (mostly Eastern European) but also in the architecture.
The center of the city is comprised of hidden alleys, maze-like cobbled streets, ancient buildings, water fountains, and outdoor cafés. A river winds around it giving it the familiar European look and 17 different bridges connect the medieval town with its expansions. Dragons are the symbol of the city, they are not only present in the coat of arms but also in every architectural detail, including the Dragon Bridge that is said to hold some mysteries for virgins and tourists that walk by. You'll have to go to find out what these mysteries are. All these are things I was thinking Ljubljana would offer. What I wasn't expecting to find was a thriving and eclectic artistic community with its own Mecca.
The former Yugoslavia collapsed in 1991, which makes Slovenia a young country, leaving its capital with a lot of catching up to do. However, instead of looking out for what other cities were doing in modern times, Ljubljana decided to create its own destiny. It worked hard, for example, to be recognized as the Green Capital of Europe in 2016 which is given to cities that comply with sets of infrastructure, policies, and programs that help promote a sustainable lifestyle.
The entire city mobilized to excel on its goals and while this was happening, an entire subculture was also being formed. The failing of Yugoslavia left behind entire abandoned infrastructures that no one cared for. One of these, was a former army barrack and political prison. Resourceful squatters moved in in 1993 and took over the building creating what is today the center of the country's alternative scene.
Known as Metelkova Mesto, you could say this is one of the most successful squats in Europe. It has held more than 1000 alternative events for a wide range of interests, from punk concerts to disability workshops and it accounts for about 12,500 square meters. It's illegally occupied because the city never officially gave permission to these artists and students to use the space as a creative center, but although they might not be too happy about it, the authorities now work to ensure its safety.
But Ljubljana's creatives are not confined to only this space. Throughout the city, you can see splashes of graffiti that carry significance. During the occupation, writers –how graffiti artists are called– used this medium as a way of protesting and also as propaganda. This activism is still evident today where you can see walls of conversations between these writers about the current refugee crisis and political landscape.
Former bicycle factory ROG is also an illegally occupied cultural center that hosts events and invites artists to use the walls or the space to present their work. Half the size of Metelkova, ROG squatted in 2006 and it's still very young and rebellious but just as Metelkova, they also stand for political activism and give voice and space to minorities and socially conscious causes.
These two places are perfect examples of the eclectic nature of Ljubljana's creative scene and the drive the community has to create their own spaces to present alternative content in an otherwise heavily institutionalized Slovenia. I hope the people win and may Ljubljana be an example of courage and boldness, because without people standing up for what they believe in, there's no culture that could be created.
If you wish to take a graffiti tour in Ljubljana, check out Ljubljana Graffiti Tour, free walking tours every day with very knowledgable guides whom –they didn't admit– might be some of the graffiti writers themselves 😉
Add to Pinterest: