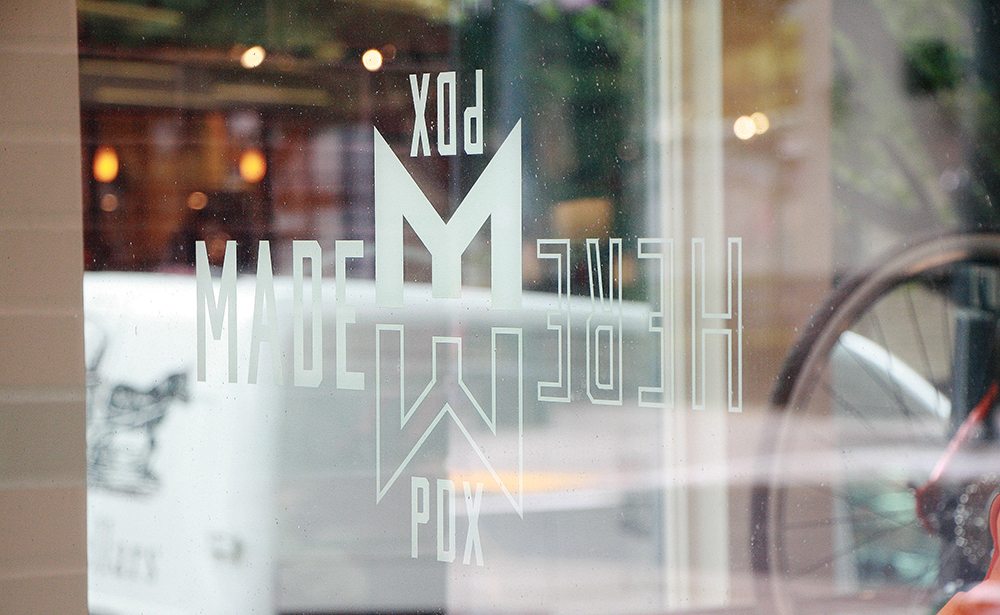 Portland's Creative Economy & 6 Makers You Need To Know
Posted on
17 January, 2017
Along our travels, we've seen how the noteworthy role of local creatives and makers in communities of all sizes is shaping local economies. How this trend, that might have started with the simple "how to" DIY, has expanded to hundreds and thousands of people around the world creating their own products, taking risks and looking to succeed in their newly established businesses.
We live in a world where everything is mass produced to satisfy global markets, but these new brands are betting on the increasing interest for handmade, personalized, locally crafted products that support not only each city's economy but also the creatives that have taken these risks. Local governments implement grant and tax incentives to help them succeed and a healthy maker culture starts to take shape.
This is the case of Portland, OR, a city that has mastered the maker economy. The Made in Portland brand almost seems like a staple and every year new ideas and innovations get to see the light, though not every business gets to go for the long run.
Being a maker in Portland brings multiple advantages due to the resources that the municipality offers, like the Portland Development Commission offering 50/50 matching grants for new retails to open or the Hispanic Metropolitan Chamber, with the mission to increase the economic advancement of the latino community in the region, also offers grants and mentoring opportunities for new businesses.
Additionally, communities like ADX start to appear. Operating like a social club, creators can pay a monthly membership to access the tools to build their products, to share a space where they can locate their companies, and to learn more about their trade through workshops, meetups or casual conversations with other makers. The companies that are part of ADX span from wood or steel workers to painters, artists, jewelry makers, screen printers and much more. This significantly reduces the costs of entry for any entrepreneur and allows for innovation to happen at a quicker rate.
To add to this already ideal environment, spaces like Made Here PDX open up to showcase the work of Portland-based designers, artists, and makers, which is a perfect roundup for a healthy economy that promotes a transformative impact in the present and future of the region. With all these benefits, it's no wonder that people from around the States and other parts of the world choose to move to Portland to pursue their dreams.
We got the chance to meet six Portland makers that are creating amazing work in existing industries that needed some love and revitalization. Here are some of them that you should definitely meet and visit on your next trip to Portland.
1. Portland Razor Co.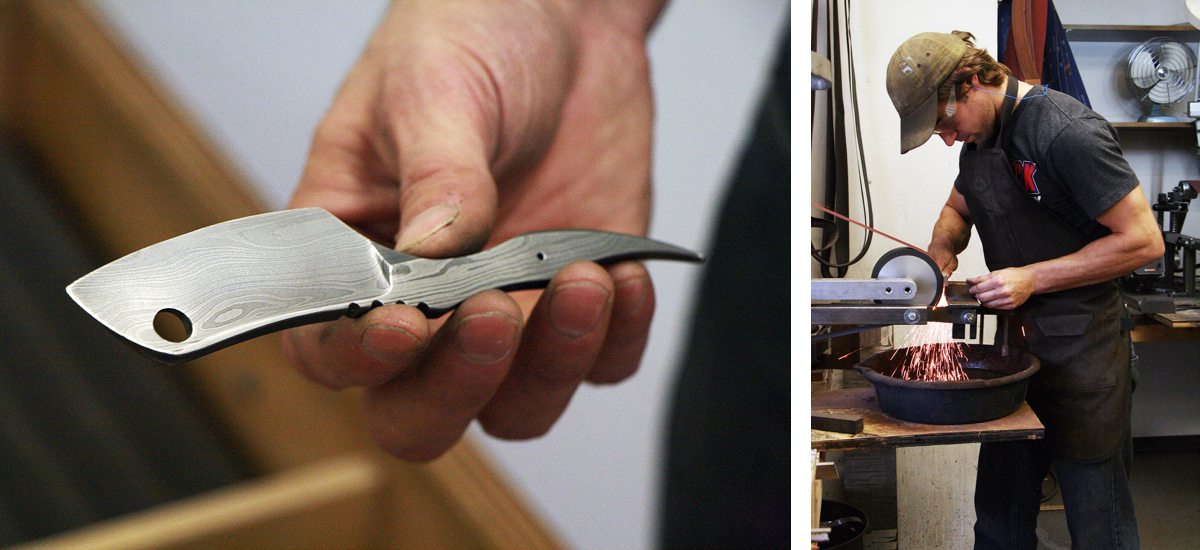 Scott Miyako and Alex Pletcher met at ADX and their ideas of creating a long lasting product matched instantly. Scott had had plenty of experience working with metal and wood, and when he moved to Portland from Los Angeles, he knew he wanted to focus his efforts on creating a product that involved high quality and traditional craft. They decided to launch Portland Razor Co to create modern straight razors and shaving supplies using these two premises Scott was passionate about: high-quality materials and traditional manufacturing techniques. After a couple of years proving their concept and market, the company moved out of the ADX space into its own manufacturing location. Soon after they hired Hunter Lea, the lead bladesmith of the company. Today they have a strong customer base of people interested in owning a classic and timeless piece, and also that care about the best techniques and natural products to care for their beards. Find them at #204 – 3207 SW 1st Ave or at portlandrazorco.com. Make an appointment if you'd like to visit the space.
2. Finex Cast Iron Cookware Co.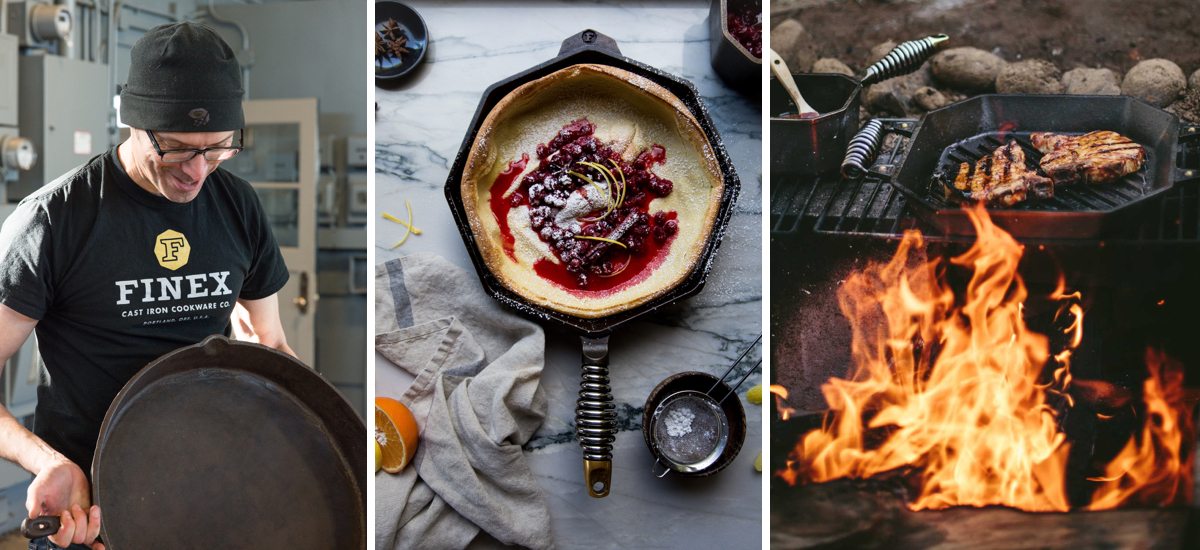 There is one person that one day thought that the cast iron industry needed a redo and decided to take it upon himself. That person is Mike Whitehead, a forty something-year-old, Florida native perfectionist that in 2012 founded Finex Cast Iron Cookware Company in Portland. The objective was to bring a new air to an industry that had almost died and also respond to the non-stick, chemically made cookware that invaded the market. Mike and his friends love cooking. So much so, that he would go out of his way to find a cast iron skillet that would fit his culinary needs, but realized that there was nothing in the market that was modern, sophisticated, affordable, and good-looking enough that he would like to cook in and also show off to his friends. With the help of these friends, his wife, and his team, Mike built a prototype and launched a Kickstarter campaign that would give him the confidence to jump-start the company. They fulfilled the initial orders and since then the company has gone through a stream of growth, launching new products, moving to a four thousand square-foot shop, and hiring new team members to keep growing. They have also worked on teaching people the value of a product that only gets better over time and that will remain well before we are gone. They give a new sexy face to an industry that no one was paying attention to and with all the ups and downs of a normal business, Finex is innovating in a hard market where only a handful of other producers exist, but it's doing so with class and style. You can find them at 2236 NW 21st Ave or finexusa.com. 
3. Bull in China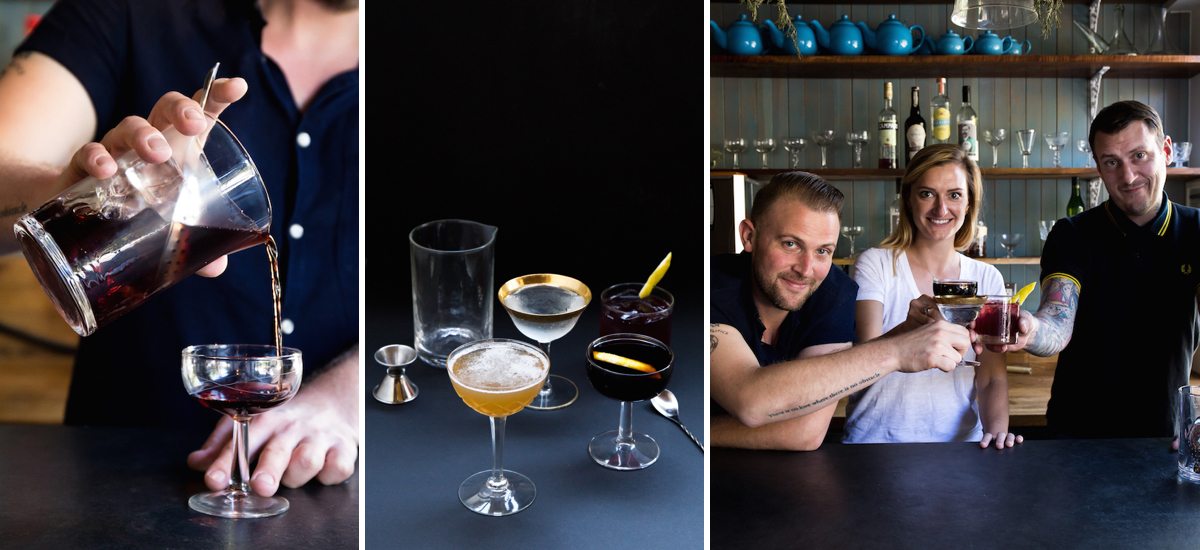 Two bar industry vets, Lucas Plant and Daniel Osborne, knew first hand the needs for their bars, the lack of better tools, and the pain points they faced every time a tool broke and there was no way to replace it immediately. They started with the classic mixing glass, built a prototype and started testing it themselves. That's when they met Katie Burnett who came onboard to help them expand this idea into the market. People normally use the same products without thinking too much of it, but when the three of them got together, they showed bartenders everywhere that there was a better way. Each product is built with the attention to details they like in their work tools and they are constantly implementing innovating ideas into these products to help facilitate the work of a bartender. Their products, however, are not built only for bar pros, they are also for the home bartender and the everyday person who likes to have a stocked bar and mix a few spirits for their friends. You can find them at 2109 NW IRVING ST. or at bullinchinapdx.com. 
4. Orox Leather Co.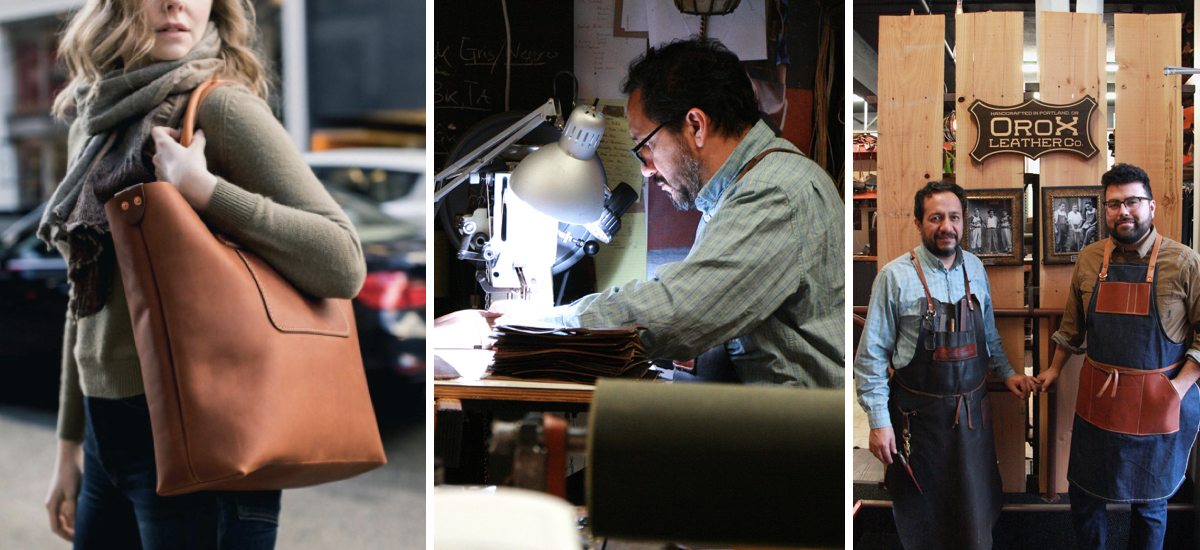 The Martinez family comes from Oaxaca, Mexico where in 1933 Felipe Martinez the great-grandfather of Orox co-owner Martin, had a small shop crafting leather goods. He taught his son, Don Pepe, who in turn taught his son, José to make rustic products that last forever. Jose, one of fourteen children, was the only one to continue with the family trade. He was able to live in Japan, get inspired by their minimalistic aesthetic and learn more about this profession. Many years later, when José's eldest son Martin was completing his business degree in Portland, he thought it would be a good idea to bring back to life this practice and build a new business out of it. In 2005, Orox was founded with a signature mix of their Oaxacan culture, the Japanese influence and the modern design trends. Beginning as a small garage shop and participating at local weekend craft fairs, today Orox has an open concept storefront in the city's Chinatown neighborhood, where you can find every product they produce and also, if you're lucky, see Jose, Martin or any of the Martinez brothers working their craft right in front of you. Find them at 450 NW COUCH ST or at oroxleather.com
5. Smith Teamaker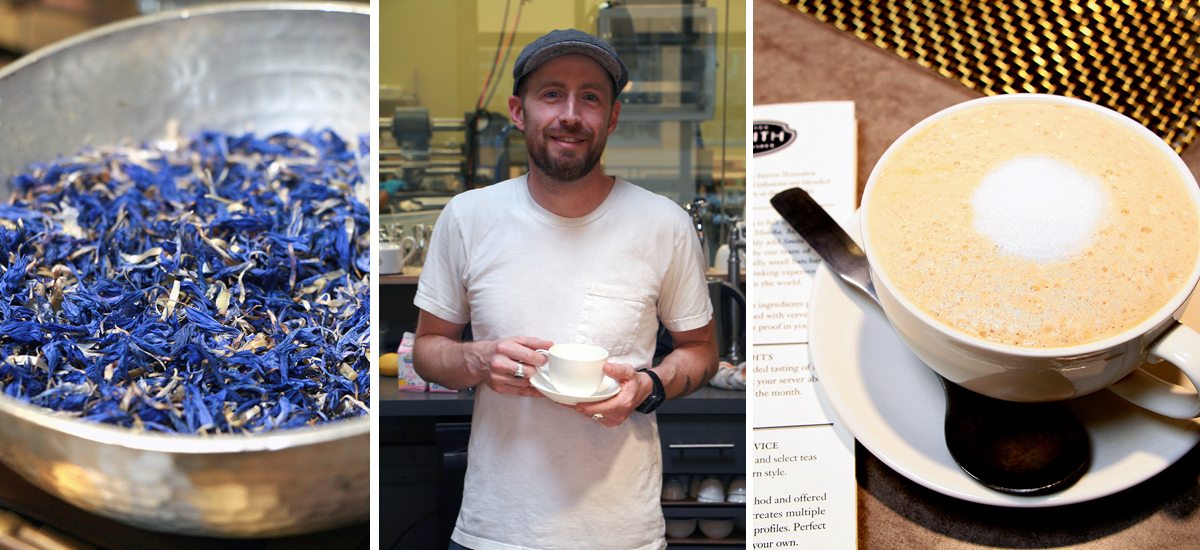 Steven Smith, a tea master from Portland, founded the famous tea brand Tazo that later sold to Starbucks, and after years of building their name in the tea industry, Steven and his wife decided to launch Smith Teamaker, a premium, high-quality, specialty blend brand at affordable prices. Tony Tellin, Steven's sidekick for 17 years until his passing, is committed continuing the tradition of teamastering. They source their blends from different parts of the world like India, China, Sri Lanka, and Africa and pay good attention to details. The brand also stays fresh by partnering with local creatives to produce new blends that they release in limited editions called Maker's Blends. One of these collaborations was with Bull in China where they created a tea inspired in summer walks and that was perfect for mixing in different types of cocktails called Astoriamaro. Smith Teamaker has two tasting rooms that you can visit and get a tour through the tasty world of the brand. You can find them at their HQs on 110 SE Washington St or on smithtea.com.
6. Woodblock Chocolate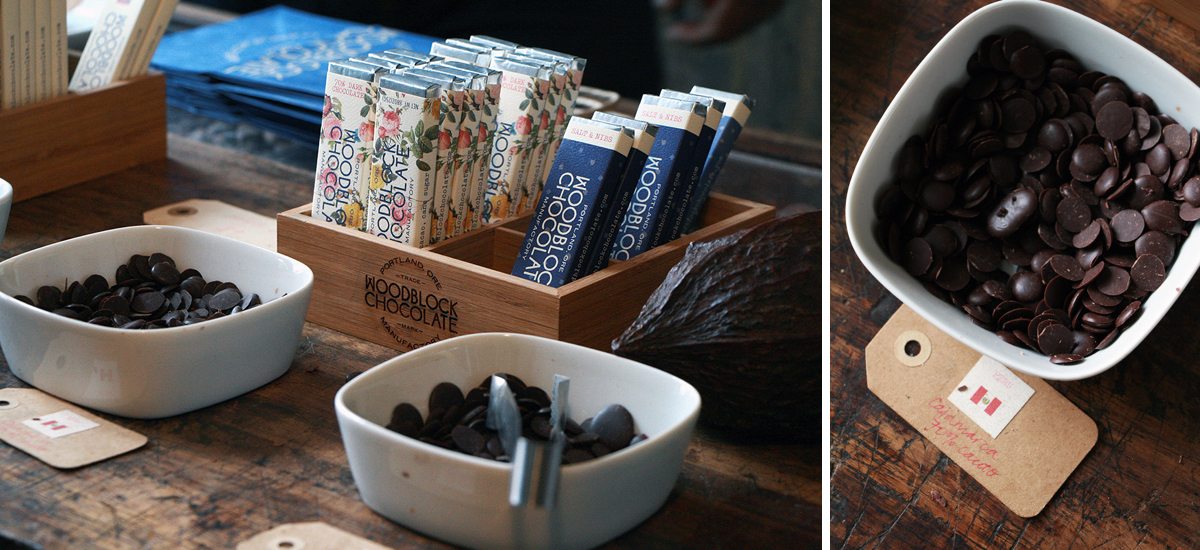 Husband and wife duo Jessica and Charlie Wheelock launched this company without knowing they were fulfilling one of their dreams. Both coming from different industries didn't know exactly what they were getting into, they just knew they liked chocolate and they wanted to be able to create a premium product without all the chemicals and add-ons that preserved foods have these days. The more they outsource chocolate from different parts of the world like Peru, Ecuador, Trinidad and Madagascar, the more they realize how much their previous jobs were preparing them for this. The premise is simple: you should be able to create an incredibly delicious chocolate using only cacao and pure cane sugar. And since we have tried the chocolate ourselves, we can say that they have achieved this objective no question. You can find them at 1236 SE Oak Street or woodblockchocolate.com.
If you liked this article, don't forget to like, share or comment!