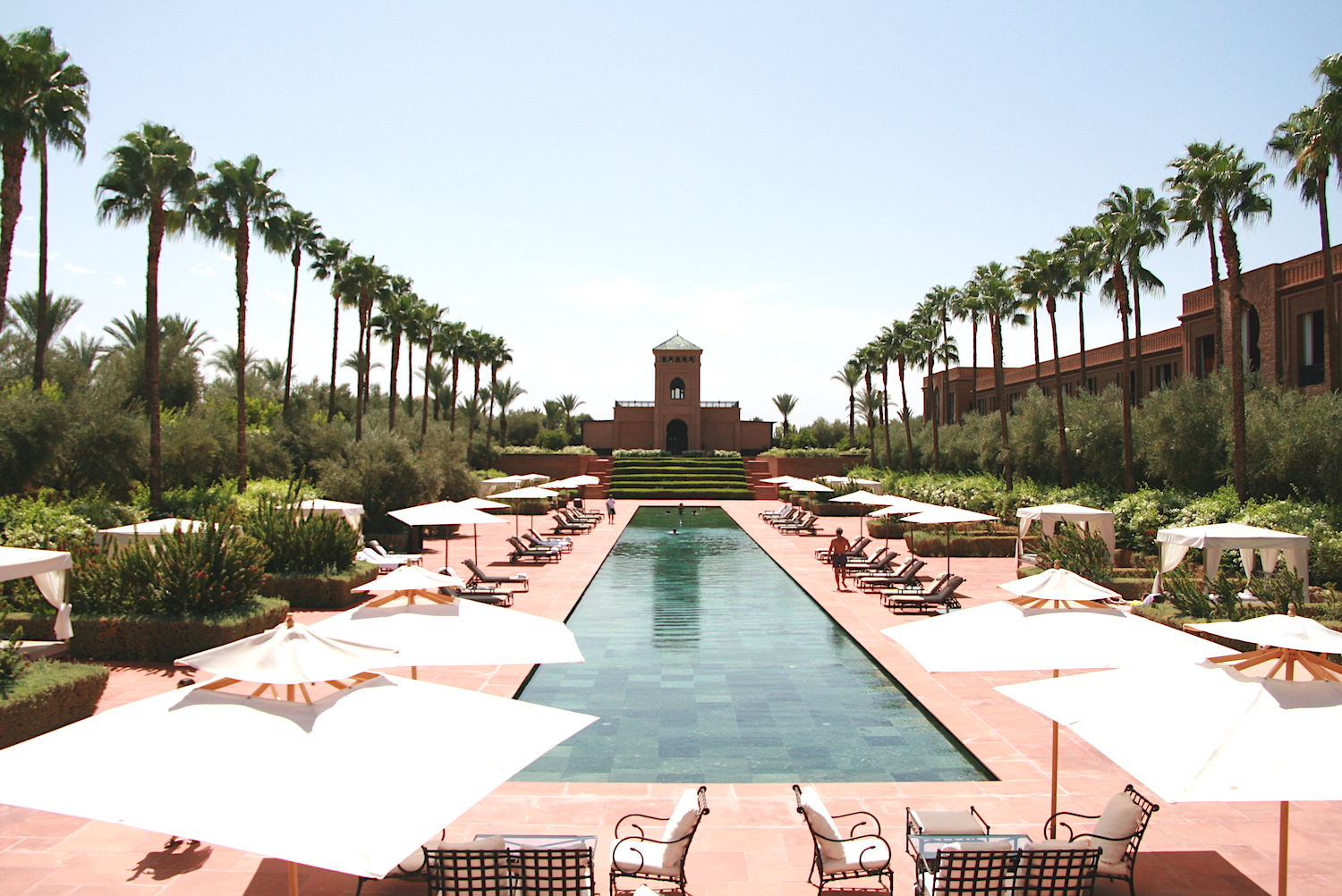 Marrakech: The Selman Hotel
If there's a deifnition for a luxury hotel, The Selman Marrakech is it. At the foot of the Atlas Mountains, away from the hustle of the medina, this palace of distinct, sublime and alluring charm is located. Passing through the immense portico, the gaze is drawn over the whole property by the geometry of the facades and gardens dotted with fountains, creating a sublime harmony. Across the Mechouar, the traveller gets a glimpse of the interior, a sensual contrast to the grandeur of the exterior.
Selman Marrakech offers its guests 55 rooms and suites as well as 5 private villas (from 55 m² to 700 m²). A setting that reflects the Arab-Moorish culture, in all its splendours, features and details. The Zellige, the colours and delicate fabrics bring harmony to the surroundings and a warm atmosphere.
A family-owned property that loved Arabian horses. There's a stable where you can admire some of these majestic animals and listen to them in the morning or the middle of the day while they are running around. If you're lucky, as I was, you might catch a show highlighting the beauty, elegance and grace of these thoroughbred.
"Horses are my passion, as is the hotel industry. I have the privilege of combing the two with a consistent association. Just as palaces showcase pieces of art, we have decided to go for a live installation of the most beautiful breed of horse in the world, the Arabian thoroughbred, which is an integral part of our history and culture.", said Abdeslam Bennani Smires, co-owner of the property and family member.
This is definitely a a luxurious escapade. The staff is super friendly, helpful and attentive. It was my birthday when I was there and they brought me a cake, champagne and a staff to sing to me before I had to leave for PURE's conference. It was a little piece of home!
The great things:
Royal treatment through and through. You definitely feel like you're in a palace just for yourself.
The spa: EspaceVitalité Chenot. Absolutely oasis within an oasis, a tribute to Oriental well-being. Book a massage or any of the seven treatments they have, you won't regret it.
Of course, the horses add significantly to the experience. Visiting them is an experience in itself.
Sunday brunch! Locals and visitors know of the boozy Sunday brunch that lasts for hours.
The not so great things:
It's a bit far from the city center so you always need have access to a car. Taxis are not that easy to find, they take a long time to get to the property and when you're in the city, trying to explain to a taxi driver in English where you're going is a challenge.
This is a magnificent oasis for couples but not ideal if you're staying alone. It's so spacious that it can feel very lonely.