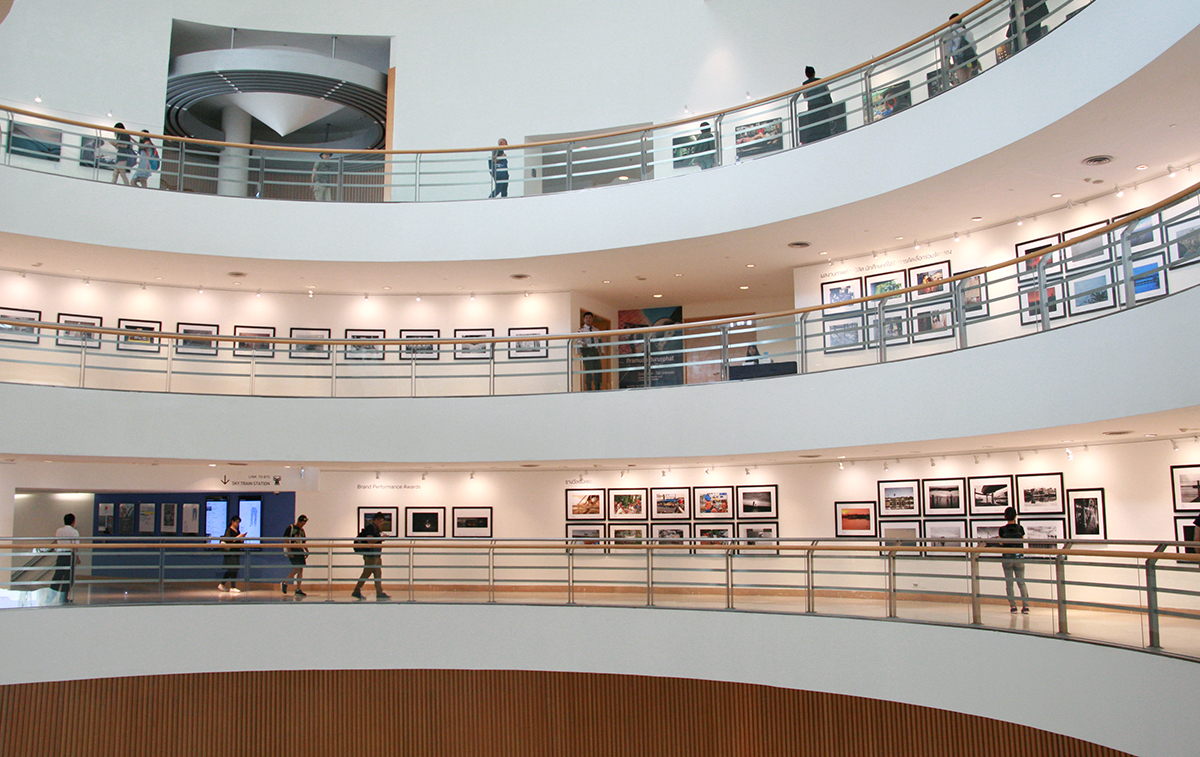 Discovering The Creative Awakening of Bangkok
About four years ago I visited Thailand for the first time. I didn't know what to expect and I was pleasantly surprised to see how many similarities I found with my own stomping grounds of Barranquilla, Colombia. The weather, the food, the people, the heat, there was something that was so familiar, yet so different.
This time around, I came back looking for stories for the magazine and in particular, I was looking to get a bit more familiar with the creative scene in Bangkok. Being such a large metropolis where many different cultures converge, Bangkok is a fascinating city that caters to many different interests, from the expat working in tech to the writer looking for stories to the foodie experiencing [soon to be banned] street food, and much more. This city has great contrasts of modern & traditional, rich & poor, loud & quiet, and you can literally find anything to do.
As you guessed it, there's no shortage of creative outlets, although the attention to artistic endeavors appears to be a new concept that's still on the rise. For example, the French Embassy of Thailand started organizing La Fête Galleries' Night only four years ago. Around 40 galleries of the city open until later hours for two days to host performances, artists' talks, exhibitions, live music, film and video screenings, and other exciting activities. I was able to attend this year's event and you could truly see how locals, visitors, and expats enjoyed an evening of art showings and [mostly] free drinks.
Another example is the collaboration of the Thailand Post with the Thailand Creative Design Center (TCDC), where the latter will rent 8,000 to 9,000 square meters of the two buildings of the Central Post Office to build a Creative Center, a collaboration that will encourage creative design and digital technology businesses in Thailand since this center will house startups, filmmakers, art lovers, and SMEs with the objective of turning Bangkok into the "World Design Capital" in 2021. An ambitious goal, but the pieces have started to be put in place.
A more organic development can be appreciated in the neighborhoods of Bangrak and Klongsan. Traditionally areas for embassies and mostly associated with a quiet river life, today is a more bustling part of town with galleries, restaurants, boutiques, and urban art popping up every day. Recently, known street artist Vhils did a piece at the Portuguese Embassy and many other murals can be appreciated around this area as well as countless galleries.
This shows the city's effort to push forward the advancement of the creative economy. This would mean for the city an improvement in the quality of life by preserving historical sites, implementing a thought-through urban design, and including public art into city-making policies.
Maybe today Bangkok wouldn't be first associated with a creative perspective, but this interest in the revival of its artistic nature promises interesting things for the city. It's not about promoting creativity per se, but to use this creative energy to make it work for the neighborhoods, its inhabitants, and ultimately to improve the quality of life of these developing cities.
If you're interested in discovering this creative side of Bangkok, here are a few stops you should check out on your next visit.
Visit the Bangkok Arts & Culture Center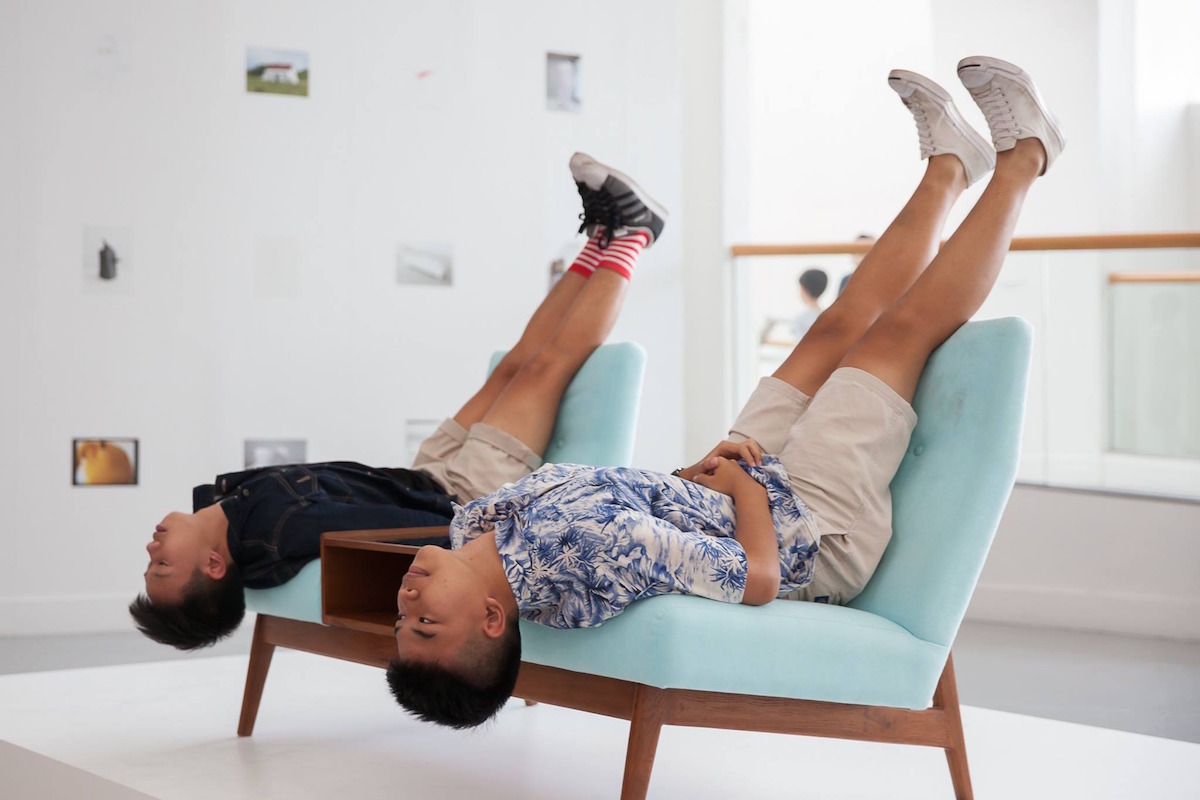 The Bangkok Arts and Culture Center has an interesting concept of part gallery and part boutiques that showcase local talent as well as international designers. It's eight floors where the first five have a combination of shops and exhibitions and the last three have their permanent collection and a temporary exhibition. This center provides cultural programming throughout the year and it's a meeting point to support cultural dialogues amongst Thai people. When I was there, I got to see a photography exhibition resulting from a contest called Everybody Needs a Break and it showed a variety of images, mostly taken in Bangkok, showing the city from the perspective of their locals (to participate you couldn't have a level higher than Higher Education Study or Graduate). For a traveler like me, seeing these photos was a fascinating insight into how Thai people see their city. When I was there, we saw Erwin Wurm's fascinating interactive exhibit titled Philosophy.
Walk around the Creative District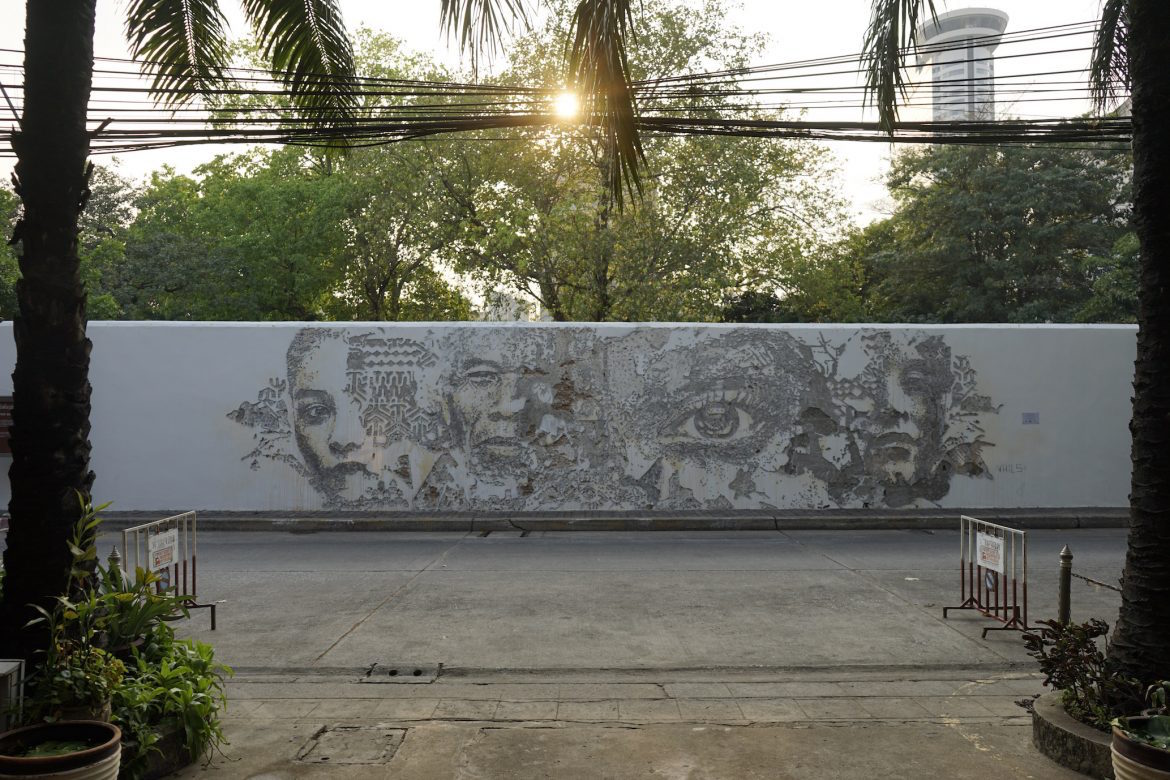 As mentioned above, the neighborhoods of Bangrak and Klongsan by the river side are rapidly transforming into the art districts of Bangkok. Walk up and down Charoenkrung Rd and check out the galleries around the area. You can walk or bike around here, and if you need a break, you can stop by the Mandarin Oriental riverside patio to grab a drink while looking at the boats cross the river. Here are some of the favorite galleries: Bridge, Serindia Gallery, ATTA Gallery, P.Tendercool, Speedy Grandma, MoST, Soy Sauce Factory, Jam Factory. See map below. (Vhils mural featured in photograph)
Make a point to visit Warp 54 Studios
By appointment only, this large studio warehouse where Belgian artist Christian Dveleter creates his work, is only open at certain hours so make an effort to find out if it'll be open during your visit, sometimes you could even see the artist himself at work. Word on the street is that the studio is changing name and concept. TBD what it will look like, but in the meantime, keep it on your to-do list. Here's more info about it.
Check out the various contemporary art galleries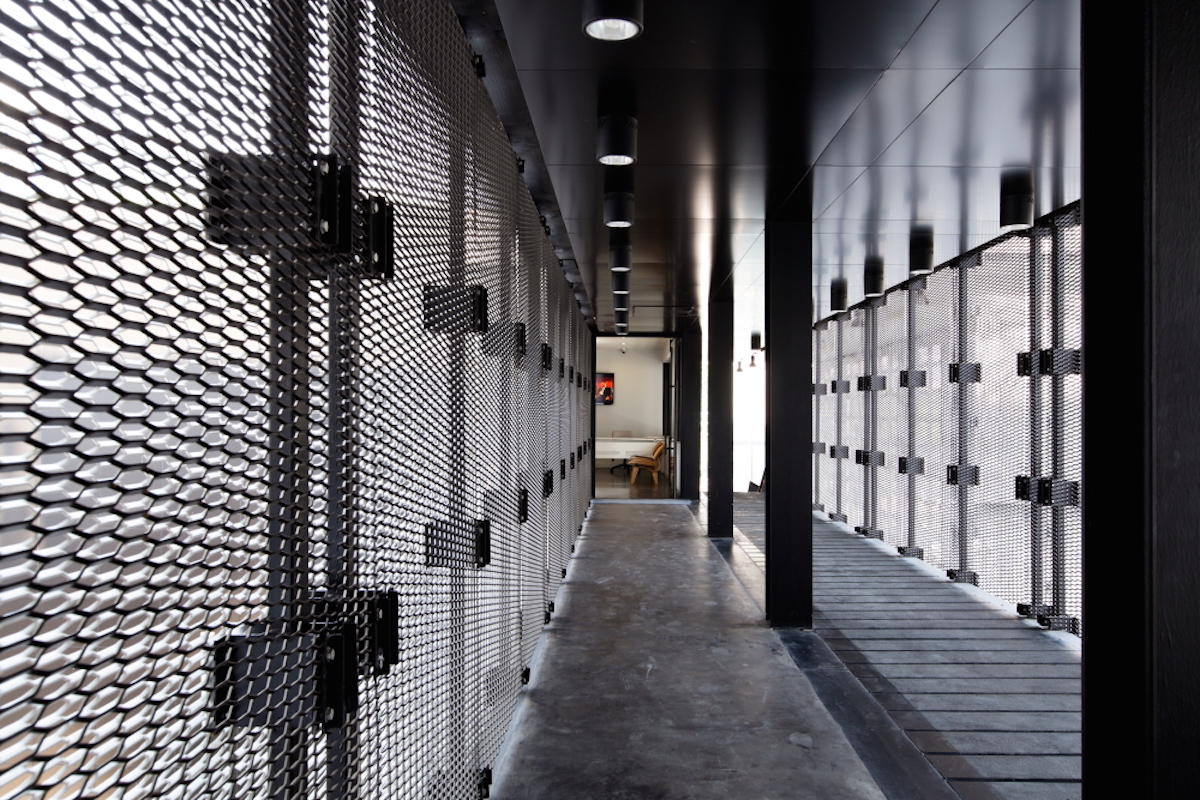 Aside from the Creative District, there are numerous galleries throughout the city that are worth a visit. I made a list of galleries I wanted to check out based on the type of art that I wanted the see and the buzz they have in the city. Here are some of my preferences: Whitespace Gallery features emerging Thai artists, H Gallery also features emerging Thai artists but also brings established Thai and international artists; Bangkok University Gallery focuses on more obscure and experimental art by young Thai artists as well as known and international ones; La Lanta, which features experimental national and international artists, and Chulalongkorn Art Center featuring progressive arts. Photo at the Bangkok University Gallery by © Ketsiree Wongwan.
Don't forget about the malls!
There are a ton of malls in Bangkok, and everywhere in Asia actually, but these malls are far more evolved in the concept that the ones we have on this side of the world. It's not strange then that you can find galleries and very cool installations in them. One local favorite is Open House at Central Embassy, which attracts families and younger audiences for its creative and funky style. If you find yourself shopping here, do swing by!
Any more tips on things to discover? Do let us know!