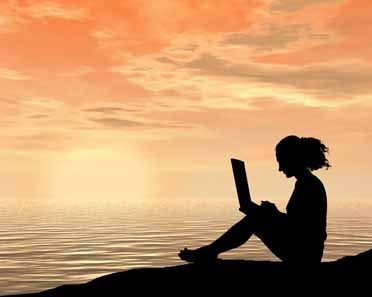 What Is A 'Global Nomad' Anyways?
Posted on
23 November, 2014
We hear the term ' Global Nomad'  on every travel blog, website and magazine but what exactly IS it? We gain the definition to this mystery figure from a true global nomad herself — Juliana Mendez. 
Living the live of a globalized person and a wanderlust kid taught me in a nutshell one thing: The only constant in the world is change, change is never finished, change enables growth and to succeed you must run right straight into it … adapt to win!
The term 'Global Nomad' has quickly become super popular over the past few years. I'm not even sure if I like the term, but over the years I've come to realized what it stands for: A nomadic lifestyle – mobile and international. It creates a romantic picture of being able to work  from any beach, a hammock or by the pool and all single-handed because of the Mojito resting in the other hand.
Global nomad stands for people that are living, learning, connecting and working in different countries across the borders – without a fix working or living environment. There are different types of jobs that allow such a lifestyle: freelancers, online entrepreneurs, employees set abroad as an extraordinary form of "home office" – or a combination of all. 3G, broadband, Skype, Viber, Facebook, e-libraries, digital co-working apps substitute as your personal assistant and co-workers. With todays ubiquitous connectivity, even the most remote corners of the planet overcome borders of physical distance, we can perform and interact without being physically present.
The bright side of being a Digital Nomad
Today, this lifestyle enables us more than ever to live an enhanced lifestyle outside of the the 9 – 5 office routine and to be able to travel and explore the beauty of the world while working from anywhere with WiFi. This turns most 'global nomads'  into global digital workers.
This lifestyle is not for everyone, but I do strongly believe in the fact that flexible working concepts are the future. Reality is that globalization is an incredible opportunity for companies for international growth, but it requires availability and performance around the world clock, from Shanghai to Santiago and Stockholm. Urbanization has led to expensive office and living spaces making it challenging to live where you work unless you are a million dollar company or earn far over average salaries. Employees have no choice but to move to affordable suburbs and take the daily commute to their desk. Meanwhile the average employee commuting time globally increases every year and people spend an average of 1 hour one-way on the way to an office.
Daily long commutes in the craziness of underdeveloped transport infrastructure that exists in many countries of the world (Beijing, Bogota) or gigantic traffic jams (Jakarta, Sao Paolo, China), can be physically and mentally defeating for an individual if every day starts off "clear and fresh" with a claustrophobic experience and their nose pressed against the glass door of the city train or their co-commuters armpit. This reduces overall productivity and wellbeing.
 The Conclusion
Nevertheless it has costs and the price is moving away from a well-known comfort zone, like being constantly exposed to new situations, be the different one, start over again, maybe multiple times, break own patterns and change perceptions. Although we are often thrill-seekers, adaptability and problem solving become the king of mastering this lifestyle. (This is why we need more "adrenalin rushes" to feel the thrill). Quickly feeling comfortable and at "home" in an environment is a key factor for a happy and effective nomad life.