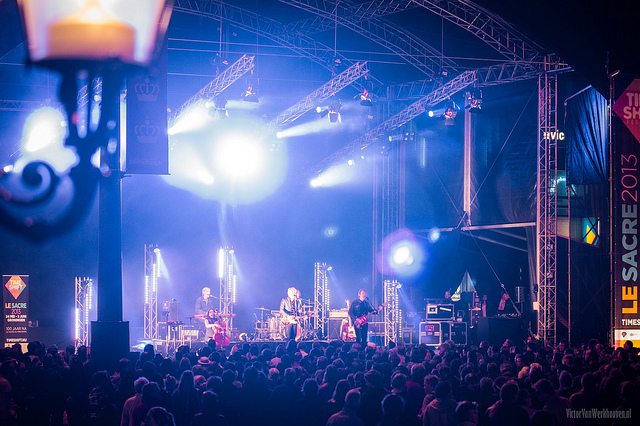 Bands Currently Touring in Europe

We're currently in the prime of both travel and music festival season, so we thought we'd go ahead and and take the liberty of showing you where the music hot spots are in Europe this summer. Europe has been renowned for its musical talent—producing global sensations like Adele, Gotye, and Tiësto. Here are some homegrown European bands and international talents that will be touring the continent in July and August.
1. The Black Keys
If you want to watch a beard and some glasses absolutely rock a guitar-drum duo, then this band is for you. Their blues-inspired sound will make you want to jive, bring out the air guitar, and possibly throw a "rock on" symbol in the air. Their 2011 album, El Camino, displays a beat-up minivan, which is the perfect image for their band: a little bit old school but a little bit badass. These Ohioans bring their rock to Nyon, Switzerland on July 22.
2. Ed Sheeran
Is he a pop artist? Is he a rapper? Is he an acoustic-medley romantic? We're not entirely sure, but every role Ed Sheeran tries fits him perfectly. Best known for his fiery orange hair and equally colorful sleeves, he's the newest up-and-comer in the hearts of music lovers everywhere. Catch him in Spain at Magaluf or Ibiza on July 22 and July 23.
3. Asaf Avidan
This Israeli singer-songwriter is characterized by one word: unique. His music is a melangé of falsetto, squeaks (you'll know what I mean when you hear him), and folky rock. His stage presence is what will make the show, with a suspender-laden storyteller entertaining you from start to end. See Asaf on July 23 in Arles, France or on August 14 in Avanches, Switzerland.
4. Bastille
After climbing their way to popularity with their single Pompeii, this indie-pop quartet has quickly become one of the must-see bands of 2014. They've hit the number one charts with their album Bad Blood, have played on Saturday Night Live, and will be touring throughout Europe for all of August. See them in Italy at either Ferrera or Rome on July 25 and 26.
Bands Currently Touring in Europe
By Lindsay Feitsma
Found yourself in Europe for July/August and looking for some great music? Check out these bands that may be near you.
Current Swell

By Lindsay Feitsma

Aug 7: St. Agnes, UK @ The Taphouse/Aug 10: Brisol, UK @ The Louisana.

The Black Keys

By Lindsay Feitsma

• July 22: Nyon, Switzerland @ Paleo Festival

Ed Sheeran

By Lindsay Feitsma

• July 22: Magaluf, Spain @ Mallorca Rocks • July 23: Ibiza, Spain @ Ibiza Rocks

Asaf Avidan

By Lindsay Feitsma

  • July 23: Arles, France @ Les Escales du Cargo Festival. • Aug 14: Avanches, Switzerland @ Rock Oz'Arène.

Bastille

By Lindsay Feitsma

  • July 25: Ferrara, Italy @ Ferrara Sotto Le Stelle  • July 26: Rome, Italy @ Rock in Roma

Sam Smith

By Lindsay Feitsma

 • Aug 7: Haldern, Germany @ Haldern Pop Festival.  • Aug 15: Biddinghuizen, Netherlands @ Lowlands.

Deadmau5

By Lindsay Feitsma

 • Aug 8: Saalburg, Germany @ Sonne, Mond + Sterne Festival • Aug 9: Skanderborg, Denmark @ Smukfest

Macklemore & Ryan Lewis

By Lindsay Feitsma

• Aug 13: St Polten, Austria @ Frequency Festival • Aug 14: Budapest, Hungary @ Sziget Festival

Imagine Dragons

By Lindsay Feitsma

 • Aug 13: Budapest, Hungary @ Sziget • Aug 15: Oliand, Netherlands @ Lowlands Festival
5. Sam Smith
With his foot newly in the door on fame and glory, Sam Smith is a long-time singer-songwriter who has just entered onto the world music stage. Hailing from the UK, and distantly related to Lily Allen, he brings musical magic in the form of R&B and pop. Catch Sam Smith in Haldern, Germany on August 7 or in Biddinghuizen, the Netherlands on August 15.
6. Current Swell
This British Columbian-born band will bring out the hippie-loving surfer in all of us. They've gained popularity in their native province— winning a  Vancouver radio show prize to produce an album—and their diversity of folk, reggae, and ska tones caters to many diverse listeners. See them in the UK at the beginning of August, stopping in St. Agnes on August 7 and Bristol on August 10.
7. Macklemore & Ryan Lewis
We were all pleasantly surprised when a freckled Irish kid from the rainy city of Seattle opened his mouth and could spit smart, hilarious, and incredibly quick rhymes. While his fun single Thrift Shop gained him immediate popularity, his album The Heist proved his depth as an artist and kept listeners coming back. While he's in Europe, take a listen in St. Poltën, Austria on August 13 or in Budapest, Hungary on August 14.
8. Imagine Dragons
If you love a good dance party, then you'll love seeing Imagine Dragons live. This Las Vegas-based band explores unique themes in their lyrics, while keeping their music upbeat and energetic. Their popularity is soaring, and they recently have been parodied by Weird Al. (You know you've made it big when Weird Al is impersonating you.) See them in Budapest, Hungary on August 13, or in Oliand, the Netherlands on August 15.
Have we missed any of your favourite bands currently touring in Europe? Let us know in the comments who we have missed!