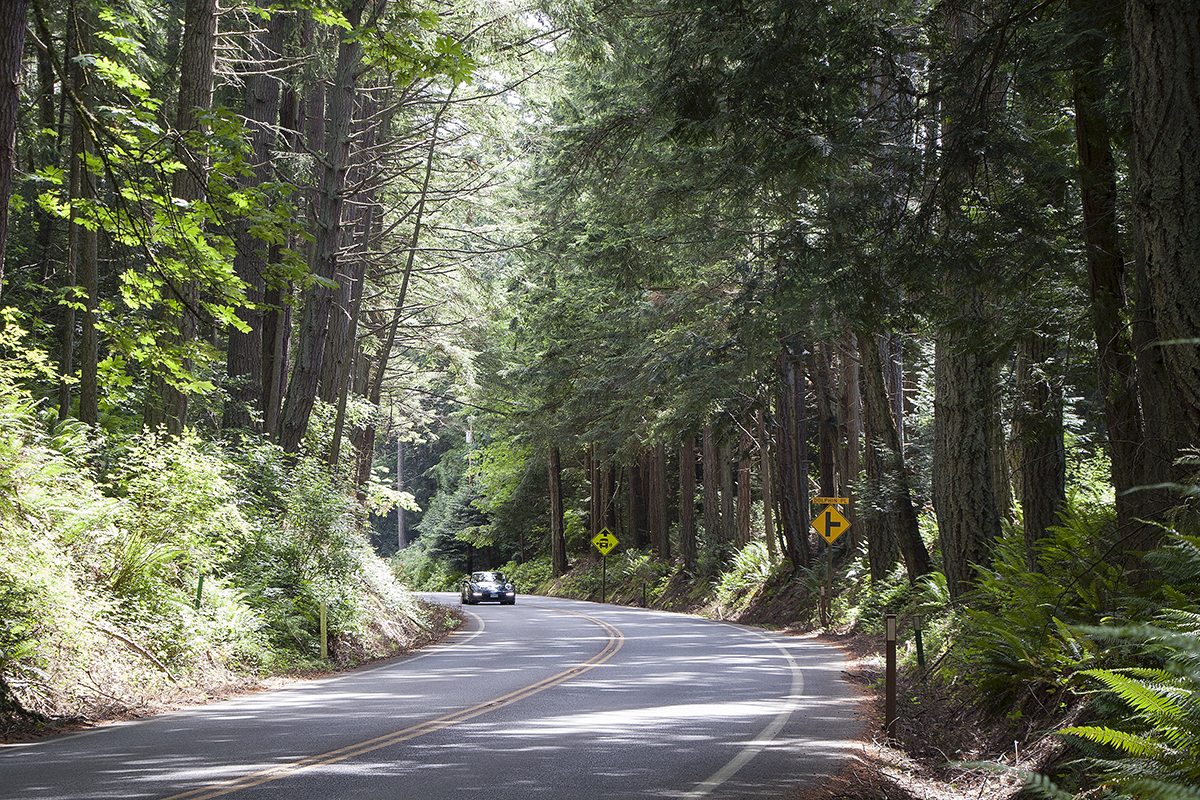 From Vancouver to Seattle, The Best 5 Spots Along Chuckanut Drive
Brought to you by Autoform Performance*
Few people know about the gems you can find in an apparent quick trip from Vancouver to Seattle (or viceversa). Off exit 250 (coming from Vancouver) and a few more turns, you are faced with a sneaky cliff-hugging, ocean kissing road. If you are not in a rush, take your time to stop along the way and enjoy the fresh oysters and wonderful landscapes that Washington State has to offer. We went on a Sunday drive, grabbed our passports, mapped the route, picked a few places and off we went on a mini road trip to trump all Sunday plans: the Chuckanut Drive.
Just a detour from Interstate 5 can provide you with beautiful views, delicious restaurants and a scenic road. If you need a break from the tiring highway, take this 20 miles roadway along the lower skirt of the Chuckanut Mountain and turn it into a destination itself. My husband and I took our Porsche 911 Carrera S and enjoyed the curves and flats that allowed us to take advantage of the performance of this car.
Here are our favorite 5 stops along the way to snack, eat, take photos or just pause. You can also make these stops if you're coming the opposite way (Seattle to Vancouver) just flip the order in your map. Right after we crossed the border, we stopped in Blaine, filled our tank and went at this little spot called The Little Red Caboose Cafe, a cute caboose café that serves breakfast and lunch, for coffee and a croissant. Be prepared for border times, so if you are the kind that gets hangry, don't wait until you are in Blaine to put something in your stomach because we were there for almost an hour. After this, we took the I5 for about 20 minutes until we reached exit 250 and we headed into our first stop.
1. Chuckanut Bay Gallery & Sculpture Garden
This was one of our favorite stops. The Chuckanut Bay Gallery & Sculpture Garden has a variety of objects, jewelry, art, sculptures and all kinds of curio from artists all over the world that will keep you entertained for a long time. If it wasn't because we had to keep driving, we would have spent more time looking in detail. It was opened in 1986 by Don and Carol Salisbury who had the vision to combine the work of local, hand-crafting artisans in a relaxed, peaceful setting. The Gallery has since grown to feature the work of over 400 artists from around the world, offering a destination shopping experience where visitors can enjoy infused and etched glassworks, beautifully glazed pottery, fine handmade jewelry, wooden crafts, and art prints. The garden is also overflowing with beautiful sculptures and lush vegetation. The current owners, Nancy and Christopher Haley, have done a wonderful job preserving the originality of the gallery and store.
2. Viewpoints
Off the road there are several viewpoints where you can stop and snap some pictures of the beautiful landscape that is presented to you. Some of the famous ones are Clayton Beach parking lot and Larrabee State Park entrance. In both places you can stop for a few hours and go for a hike. You can also use any of these spots to picnic and relax. We decided to stop in a little viewpoint before arriving to the park entrance –we couldn't see the name–, that had only one couple enjoying a picnic. It was nicer to have a bit more privacy and still get to see and take in the gorgeous vistas. Feel free to stop in any of those shoulders to rest or take a few photos.
3. Taylor Shellfish Oyster Farm
Taylor Shellfish Oyster Farm is, as the name indicates, a farm that sells some of the freshest oysters and our personal favorites, including Kumamoto by large quantities. If you are a restaurant or distributor, this is likely a place where you stock your kitchen. If you're with a group of friends, this a great place to have a picnic. Get a bag of oysters, BYOB, bring your vinegars and ingredients you'd like to combine your oysters with, and take a seat next to the ocean. You can also find a smoker available or take home a bag for your BBQ party. Taylor Shellfish is an institution and you can trust to find the freshest oysters that the season provides.
4. The Oyster Bar
We didn't go prepared to picnic so we skipped Taylor's this time and went on to our favorite lunch and dinner spot: The Oyster Bar. Since the first time we came here three years ago for our anniversary road trip, it's always a necessary stop along the way. It's funny that we have always had the same table and the service is just phenomenal. Two glasses of sparkling wine and fresh shucked oysters is our staple. This time we ordered the Kumamoto oysters which come with a frozen grapefruit juice and spruce vinegar mignonette, adding a delicious vinegar touch. We shared the Special of the Day: Wrapped Patrole sole topped with dungeness crab on a bed of rice and spring vegetables. We shared because we wanted to dine at the other stops ahead, but we wished we hadn't. It was as fantastic as it looks.
5. Chuckanut Manor & Rhododendron Cafe
Okay, these are two stops, but we had small things at each so I decided to collapse it in one. Chuckanut Manor is a bed and breakfast as well. If you feel like getting away from the city, a quick drive here can give you the quiet time you're looking for. A cute little hotel with views of the ocean and a restaurant with a variety of options including, you guessed it, fresh oysters. They were delicious. I washed them down with a local craftbrewed beer and kept going to Rhody Café to have a dessert for our last stop of the day. At this point it was already 4:30 pm and we wanted to head back. We didn't know this stop was also bringing us to an interesting antique shop with all kinds of things, from old Nokia phone batteries to audio recorders and books. We spent some time looking at everything and then went into the café. The café was like someone's house and the tablecloth was particularly exciting for me with its intrinsic black and white design. The menu looked absolutely wonderful and if we were not full from before, we would have gone for one of the chicken or seafood dishes they had. Instead, we had a Rhubarb Crunch a la mode dessert and it was delicious. The outside crunch was made to perfection and house made ice cream tasted so fresh that it was a great addition to the dessert.
After this stop, we took Bow Hill Road straight to the I5 instead of going back up Chuckanut Dr. This time, the border was only 10/15 minutes and by 6:30 we were back home. We love doing taking this road and discovering new places. I heard there are a few distilleries and other hidden gems on the way I'd love to stop by next time. So, if you are looking for quick and awesome road trip options this summer, remember Chuckanut Drive. You won't regret it!
*We want to thank our sponsor Autoform Performance in Vancouver for enabling us to create this content. At Autoform, located at 1885 Clark Drive, Vancouver, you can find the best selection of luxury cars and maybe your next purchase to enjoy a good ride this summer. 
All photographs are copyright of Joanna Riquett.