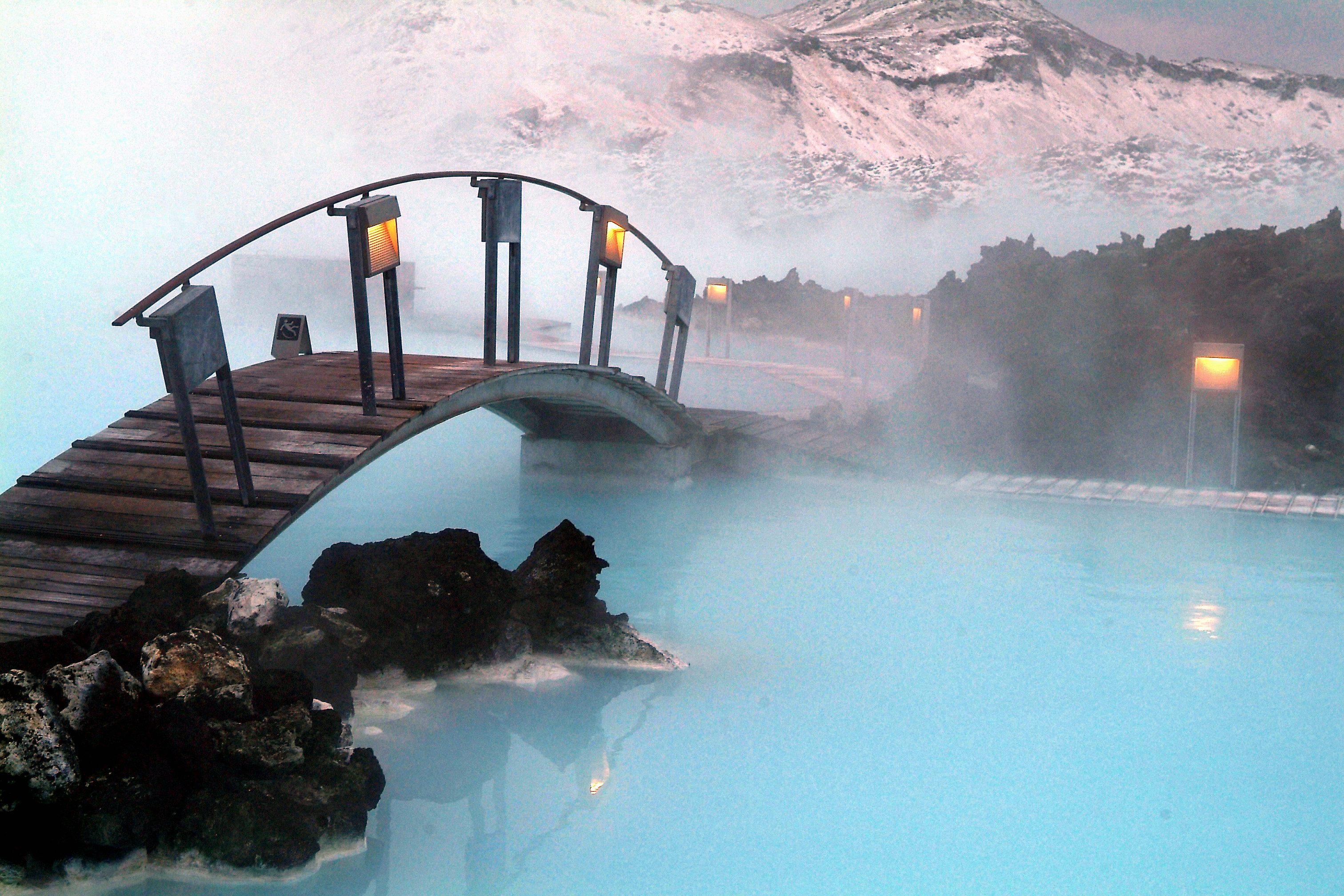 5 Ultimate Hot Spring Escapes
Posted on
15 December, 2014
Soaking in a hot spring is mother natures best gift to initiate cleansing, healing and relaxation to your mind, body and spirit. Practiced for thousands of years all around the world from Europe to Japan, the therapeutic use of naturally warmed water filled with body enhancing rich minerals can be the best cure for modern day stresses. From bathing in champagne micro bubbles to iron-rich bodies of volcanically heated water, ease your tense muscles and escape to Hayo's curated list of 5 ultimate hot springs around the world.
Blue Lagoon, Iceland
This geothermal spa is one of the most popular attractions in Iceland and it is no mystery why visitors can't get enough of this man-made hot spring. Located and heated by a lava field in Grindavik, these warm waters are rich in minerals known to have healing effects on multiple skin conditions, such as psoriasis. If you have soaked long enough in the naturally heated bathes but are not ready to leave the Icelandic oasis you can try out the many amenities they offer: massages, beauty treatments, sauna and steam room and don't miss out on their famous silica mud mask. http://www.bluelagoon.com 
 Vichy Hot Springs, Ukiah, California
Vichy hot springs is truly one-of-a-kind, standing as the only carbonated mineral bath in North America. The carbon dioxide-filled waters come from the depths of 6 miles below the surface flowing at over 100 galloons per minute at 30 degrees celsius. After 60 seconds of being submerged in the concrete baths, millions of tiny warm bubbles cover your body, penetrating the skin and dilating your capilaries giving you an incredible feeling of warmth and relaxation. You can even drink the highly alkaline waters to soothe your digestive tract and aid various acid related illnesses. Throughout the years, these magical baths have been used as a sanctuary for the rich and famous, from the likes of Teddy Roosevelt, Mark Twain and Jack London to the Ghiradellhi Family. Visit for the afternoon or stay a while in their cozy cottage accommodations. This hot bath is one not to be missed. http://www.vichysprings.com
 

Grutas de Tolantongo, Hidalgo, Mexico 
Located 125 miles from Mexico City, Tolantongo is a sanctuary outside of the bustling city filled with volcanically heated pools and warm waterfalls. Locals and visitors alike spend all day exploring the hot water caves (grottos) or relaxing their achy muscles in the river pools. Perched on a mountainside with a canyon view, the location is stunning enough to have you stay all day. http://www.grutastolantongo.com.mx
Hot Springs Cove, Tofino
Soak up the ultimate West Coast experience with a trip to Tofino Hot Springs Cove located in beautiful British Columbia. A quick walk through the old temperate forest leads you to post-surf paradise. Be welcomed by a waterfall and five different interconnected pools that progressively cool as they descend towards the ocean. A couple times a day, a wave of cold ocean water washes into the hot spring pools flushing out the old water and bringing in the new creating an invigorating blend of hot and cold. Nothing beats the natural rock and ocean landscape. Open year-round for locals and visitors alike to enjoy.
Ikaho Onsen, Japan
For hundreds of years, the Japanese have been enjoying hot baths, other known as 'onsen,' for health benefits and socializing. Onsen waters come in different colours such as red, green or black depending on the minerals of the region and there are over 2,500 natural hot springs spread throughout the many distinct regions of Japan. Ikaho Onsen is one of the most popular local spots located on the eastern slopes of Mount Haruna. It is most famously known for its reddish brown, iron-laden thermal waters. Established over 1,900 years ago, this onsen has been favoured by many great artists and novelists. Walk the winding stone steps down to the entrance to this red-watered haven and don't leave until all your cares have been washed away.
Do you have a favourite Hot Spring? Share with us in the comments below!