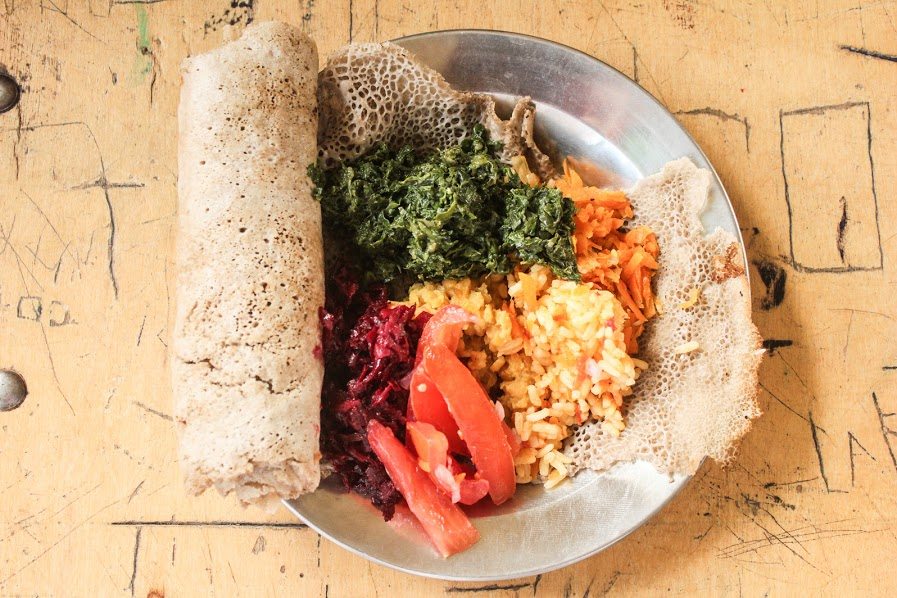 Top 10 Foods You Need to Try in Ethiopia
Posted on
16 September, 2014
Ethiopian cuisine typically consists of vegetables and often very spicy meat dishes, usually in the form of wat, a thick stew, served atop injera, a large sourdough flatbread, which is about 50 centimeters in diameter and made out of fermented teff flour. Ethiopians eat exclusively with their right hands, using pieces of injera to pick up bites of entrées and side dishes. Utensils are rarely used with Ethiopian cuisine, but that hasn't stopped it from taking over restaurants around the world. Don't leave the country without trying at least a handful of these dishes and drinks.
Top 10 Foods You Need to Try in Ethiopia
By Hayo Magazine
Ethiopian cuisine is unlike anything available throughout the rest of the continent. Don't leave the country without sampling at least a handful of our top ten favorite dishes and drinks.
Special Fool

By Hayo Magazine

When in Mekele, go to the Zemenawi restaurant for their "special fool" breakfast, a sizzling bowl of beans, eggs, and tomatoes served with bread.

The World's New Super Food

By Hayo Magazine

You can't miss injera, the fluffy pancake served with almost all Ethiopian dishes. It's made of teff, the world's new super-food. 

Bambalinos

By Hayo Magazine

Try the bambalinos, which are homemade doughnuts served for breakfast at the Italian-owned and run Gheralta Lodge in Tigray.

Beyenetu

By Hayo Magazine

Vegetarianswill love the beyenetu, a platter of different vegetarian dishes. It is madefresh and served nearly everywhere on Orthodox Christian fasting days.

Antica Restaurant

By Hayo Magazine

Ethiopians kicked out their Italian occupiers, but they kept a fondness for Italian food. Visit Antica restaurant for the best pizza in Addis Ababa. 

Juice Spriss

By Hayo Magazine

Wake up with a "Juice Spriss" for a rainbow-like concoction of layered juices in a tall glass. Mango, avocado, papaya, orange, and strawberry are usually in the mix.

Doro Watt

By Hayo Magazine

Made with berbere spices, onions and stewed chicken, doro wott is a spicy stew adventurous eaters shouldn't miss.

Tibs

By Hayo Magazine

Meat eaters will have their fill with tibs, a grilled beef or lamb dish, served in nearly all restaurants except during fasting days.

Torpido Tej House

By Hayo Magazine

Drink, dance, and be merry at Torpido Tej House in Lalibela, where you can enjoy traditional Azmari song and dance to go with your tej, or traditional honey wine. 

Coffee & Popcorn

By Hayo Magazine

Don't miss the traditional coffee ceremonies, where you will be served tiny sweet cups of black coffee with incense and popcorn. 
This story is part of a larger piece on our featured cover story of the month: Discover Ethiopia.