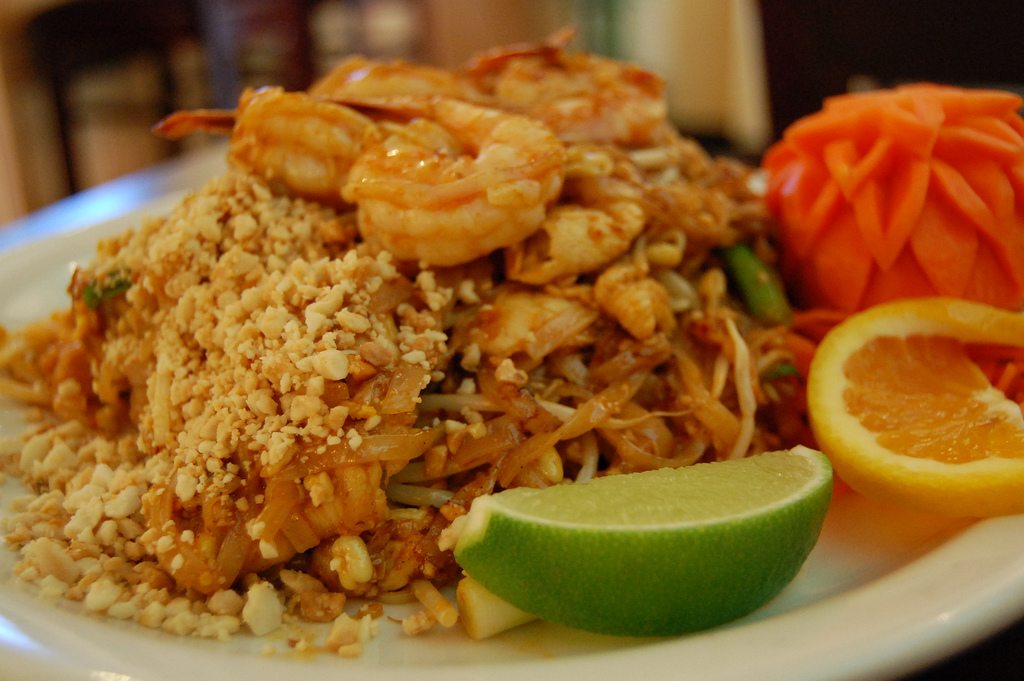 13 Mouthwatering Dishes From Around Asia
Posted on
25 August, 2014
Asia is not only blessed with stunning scenery and incredible architecture—it kind of dominates the cuisine scene, too. From spicy to savoury to sweet, these 13 popular dishes run the gamut of flavour, and will leave you drooling at your computer screen.
How many have you tried? Any favourites? Let us know in the comments!
13 Mouthwatering Dishes From Around Asia
By Ali O'Neill
Donburi, Japan

By Ali O'Neill

"Donburi" literally means "bowl," and this popular Japanese meal consists of a bowl of rice with various toppings, including unadon (grilled eel) and katsudon (deep-fried pork cutlets).

Adobo, the Philippines

By Ali O'Neill

"Adobo" refers to the process of marinating meat, fish, or vegetables in a sauce of vinegar, soy sauce, and garlic.

Larb, Laos

By Ali O'Neill

This minced meat salad–also known as laap–can be made from chicken, pork, beef, duck, or fish, and is flavoured with fish sauce, lime juice, padaek, and herbs.

Peking Duck, China

By Ali O'Neill

This dish from Beijing has been a Chinese specialty for centuries, and consists of roast duck with a thin, crispy skin, often accompanied by pancakes, scallion, cucumber, and sweet bean sauce. 

Buuz, Mongolia

By Ali O'Neill

Steamed dumplings filled with minced meat–often mutton or beef–flavoured with onion and garlic, buuz are especially popular during New Year celebrations.

Tandoori Chicken, India

By Ali O'Neill

Chicken marinated in yoghurt and seasoned with spices, this popular dish from North India gets its name from the clay oven–known as a tandoor–in which it's traditionally prepared. 

Nasi Lemak, Malaysia

By Ali O'Neill

Made of rice cooked in coconut milk and pandan leaf, nasi lemak is typically eaten at breakfast, and served with accompaniments such as anchovies, cucumber slices, and hard-boiled eggs.

Pad Thai, Thailand

By Ali O'Neill

A street food staple, pad Thai consists of rice noodles stir-fried with eggs, tofu, fish sauce, and shrimp, often topped with lime wedges and chopped peanuts.

Ema Datshi, Bhutan

By Ali O'Neill

This super spicy stew is made from chilli peppers (either red or green) and cheese, and is traditionally served with cracked red rice. 

Kimchi, Korea

By Ali O'Neill

This popular Korean side dish, described as "spicy and sour" is made from fermented vegetables–including cabbage, scallion, radish, or cucumber–flavoured with red chilli pepper flakes.

Nasi Goreng, Indonesia

By Ali O'Neill

Literally meaning "fried rice," nasi goreng consists of rice, meat, vegetables, spices, and lots of sweet soy sauce. 

Pho, Vietnam

By Ali O'Neill

A popular street food in Vietnam, pho consists of rice noodles (known as banh pho), herbs, and either beef or chicken in a broth.

Mohinga, Myanmar

By Ali O'Neill

Usually eaten at breakfast, mohinga consists of rice vermicelli, catfish, fish sauce, chickpea flour, garlic, onions, lemongrass, ginger, and banana tree stem.