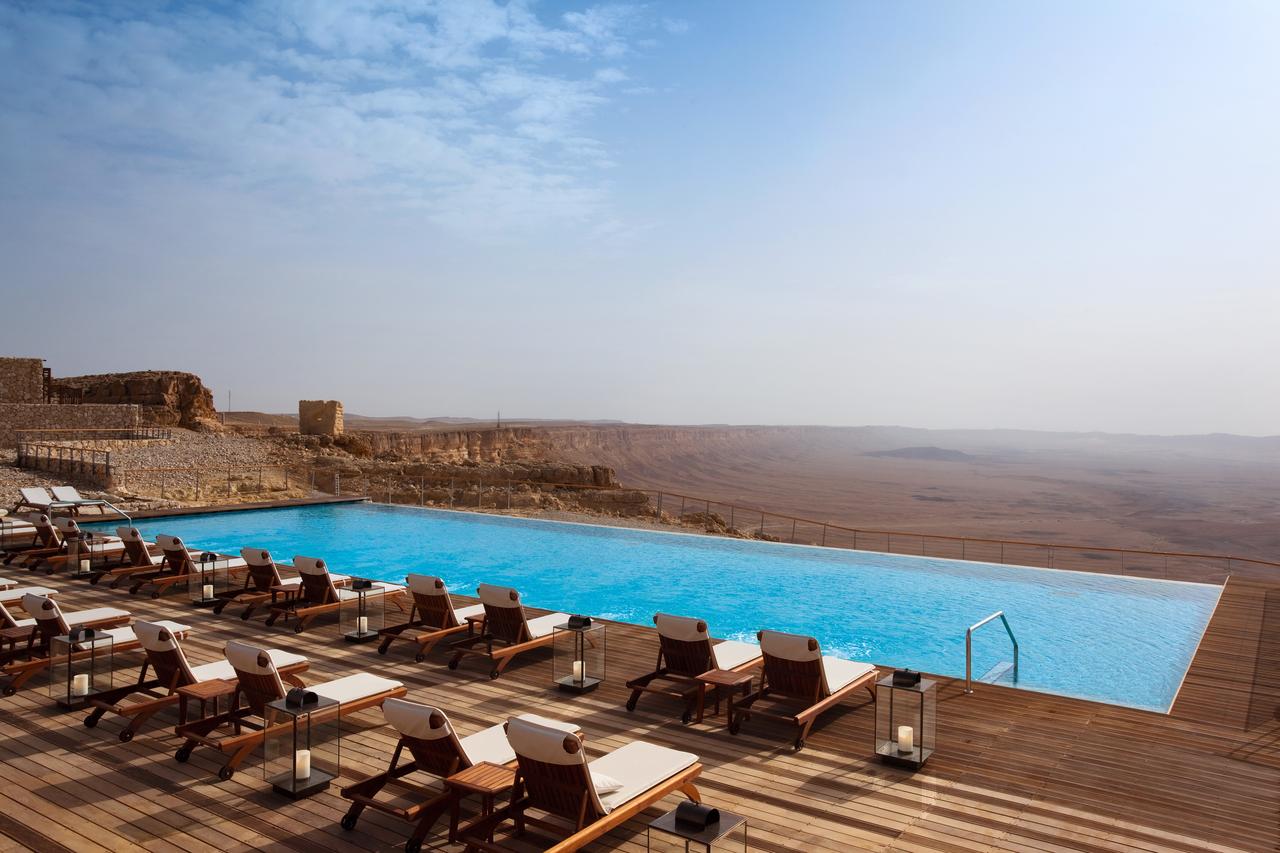 Israel: Beresheet Mitzpe Ramon
Rarely have I been so impressed by a hotel than when I got to Beresheet Mitzpe Ramon, two hour drive south from Tel Aviv on the brim of the Makhtesh Ramon in the Negev Desert, one of the wildest landscapes you'll ever see and a fascinating natural phenomena. Built to fit the desert environment, Beresheet's architecture is both rustic and luxurious, allowing you to feel part of the landscape, but also offering the all the comforts needed for a relaxing vacation.
Beresheet Hotel covers approximately 12.5 acres and consists of one hundred and eleven private villas of one or two stories, situated throughout the grounds at altering distances from each other. Thirty-nine of the ground rooms open to private pools, the top floor rooms open to balconies with desert views (some with crater views).
The main pool overlooks the crater which is a fantastic spot for a boozie sundowner and a relaxing swim. Walking around the property you might see some of the goats or rams that roam around freely, you might even catch a rams fight which are pretty epic, but observe from a little distance.
The Beresheet Mitzpe Ramon is the perfect place for a relaxing luxury desert escapade. They offer many tours and outdoor activities to keep your day busy, but the best thing to do here, in my opinion, is to relax and enjoy the comforts the hotel has to offer.
The great things:
Well defined luxury, comfort and impeccable service.
A unique and different kind of experience where you'll be immersed in the desert environment and live in this one-of-a-kind natural phenomena.
Access to a variety of educational and adventure activities.
The breakfast here is insanely good. One of the best we've tried around the world.
The not so great things:
We couldn't really find any unless you consider a bad thing spending most of your time there a little dusty from the wind and the desert.