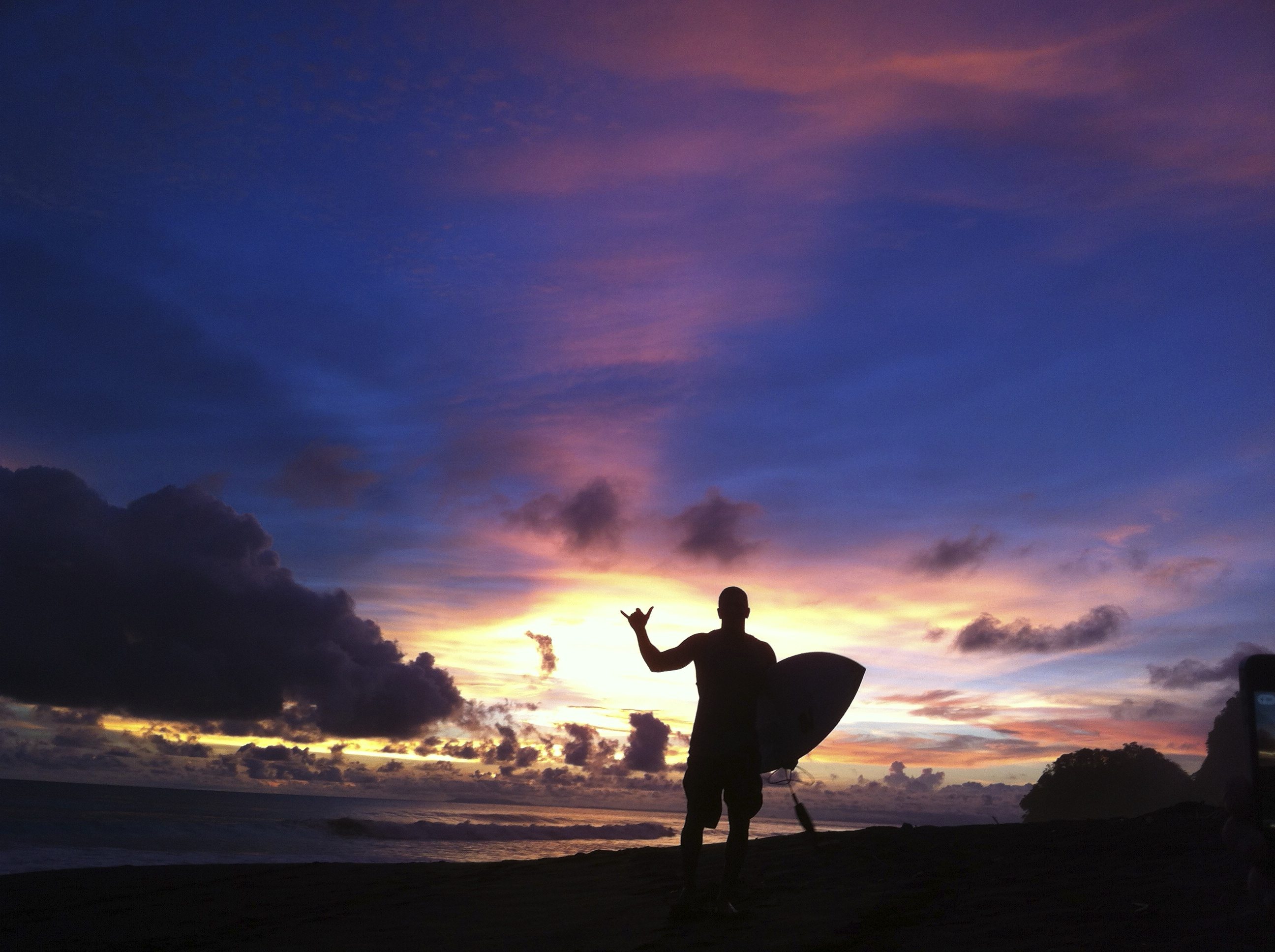 The Best of Costa Rica Surf and Travel Guide
Posted on
12 November, 2014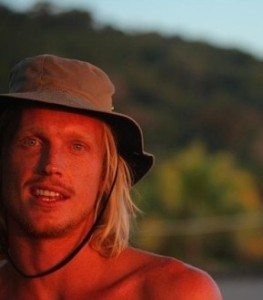 Feeling a surf trip is needed? If you're done with the Indo crowds and looking further afield, then get over to the Pacific Coast of Central America and score consistently pumping waves.
Fly into San José, the capital of Costa Rica, and make Playa Hermosa your first stop.
There are two Hermosas in Costa Rica. One is a retirement-paced bay in the North and the other, on the Central Pacific coast, is a barreling wave on your doorstep with a party town five minutes down the road.
Hermosa does break year-round, but the best swell months are between May and November. This is the wet season and, officially, tourism slows down. Really this means you're sharing waves with fewer people, the price of everything is heavily reduced and mornings are clear with rain holding off until evening. Isn't that a good list!
The waves of Playa Hermosa are hollow. They break close to the beach with longer rides depositing you right on the sand. It's a board breaking wave when mistimed, so it is most suitable for intermediate to advanced surfers. Waves break out the front of all beachfront accommodations in the kilometer stretch from headland to the south. There are four main peaks that form the best-shaped waves and each is best at different tide times, so there's almost always somewhere to surf. The tides make a dramatic difference in regards to surf quality in Hermosa. The locals say to check the waves at half hour intervals.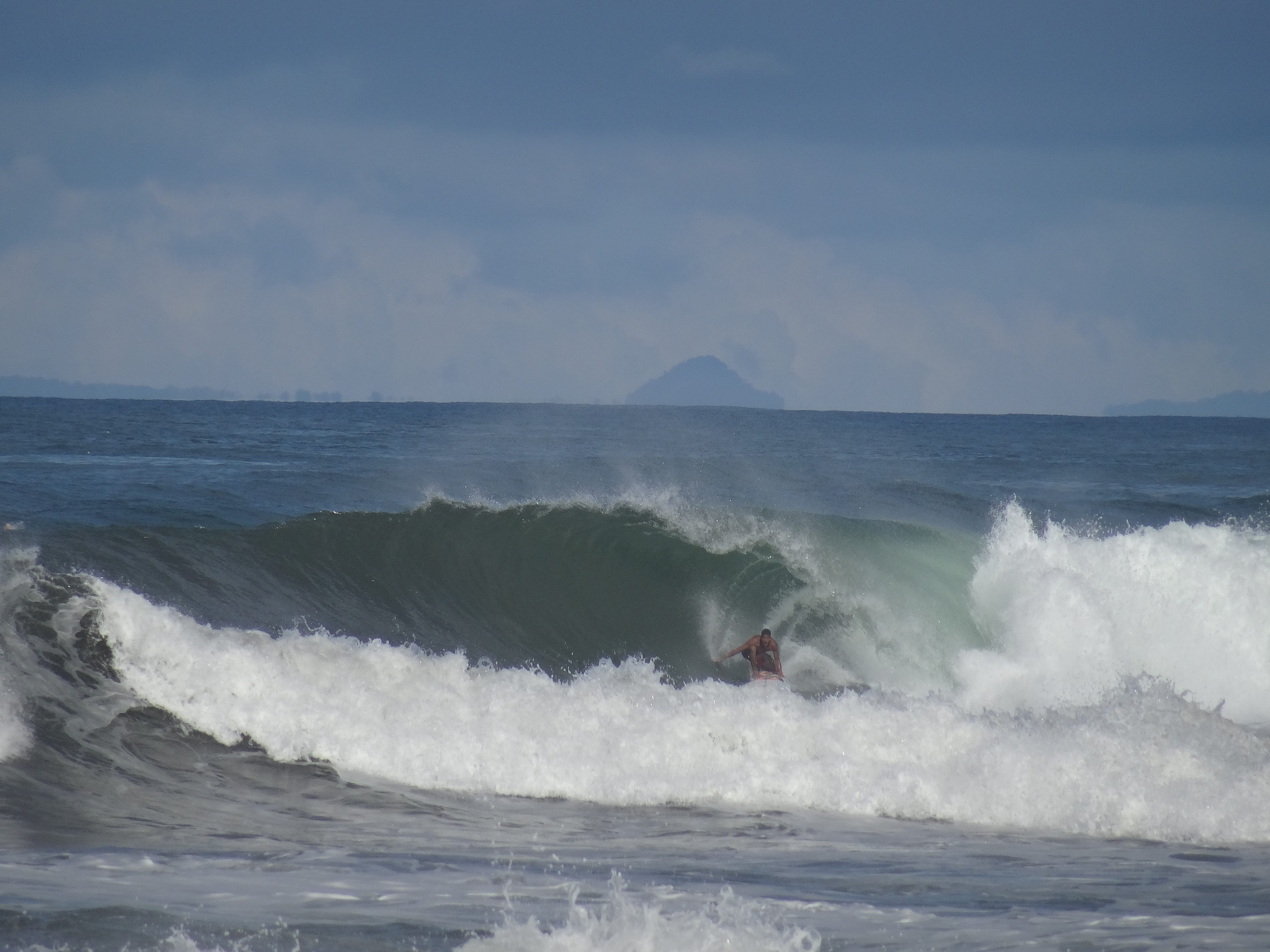 The four peaks of Playa Hermosa are:
Terraza
Near the headland to the North is this fast and hollow right. Local knowledge predicts that you'll pull into five closeout barrels and you'll make the sixth one. The Terraza mark is recognizable by a small group of visible rocks just off the shoreline. There is also a small river outlet here and, on rare occasions after a nightly downpour, crocodiles will be washed into the ocean.
Swell direction – West/Southwest from low to mid incoming tide.
*The shape of a shark in the water is unmistakeable, but to an untrained eye, a croc could be a log or anything with a stagnant appearance. There has only been one crocodile attack in the last 30 years and the locals are good with warnings if any are spotted. While surfing in Costa Rica around river mouths, this is something you should keep an eye out for.
Backyard
This is the most consistent of Hermosa's waves. A barreling left and right peak that can handle some size. You'll be able to spot this by the people in the water and the dirt road that ends directly in front of the break. Backyard breaks close to the beach so you can get a barrel, do a turn and step off your board onto the sand. A filming company called RoverCam.comfilms the action at Backyard everyday and uploads the footage by nightfall. So if you're ripping, you'll be able to watch the day's footage on YouTube.
Swell direction – Southwest/West at mid to high incoming tide.
Almendro
Like all the waves in Hermosa, Almendro is a sand-bottom wave though it breaks in deeper water and offers a little more size. Both lefts and rights are accessible and you can hold your position at the peak by lining up with the large almond tree on the shore.
Swell direction – South/Southwest, mid to high tide incoming.
Corners
Corners breaks in even deeper water so the wave is generally bigger than the rest of Hermosa. When this wave fires, it's a right and left considered the second best wave in Costa Rica. So keep an eye on the swell charts and wait for it to turn on.
Swell direction – West/Southwest at low to mid tide.
Accessibility to other breaks
Esterillos is a submerged reef break a 20 minute drive south. This spot has hollow rights and long, running lefts that reform closer to the beach. It can be a big paddle out, but the rewards are worth it.
Swell direction – South at high tide.
Roca Loca is a big, clean right that breaks in deep water over reef. It's for advanced surfers. The wave is located below a cliff between Hermosa and Jaco. To get there, climb down the cliffs off the highway and paddle through an eight-foot wide channel in the reef for 100 meters.
Swell direction – Westerly at low to mid incoming tide
The local surfers are froth monsters. They live and work around Hermosa or Jaco, and they're in the water every day. They are friendly chargers who'll give you a whistle when a bomb's heading your way.
Hermosa is a small strip of hostels with names like Sea Breeze, Hermosa Surf and Wave Inn. Most all of the managers are local shredders so you've got a wave guide included for free. On the weekends, an influx of surfers from the city flood out to Hermosa. While the crowd's around, it's a perfect time for a Jaco trip. Seven minutes and $6 in a taxi north, and you're in the traveler's party town of Costa Rica. The wet season reduces prices so low that there are two bars which offer free spirits until 1am Friday to Sunday.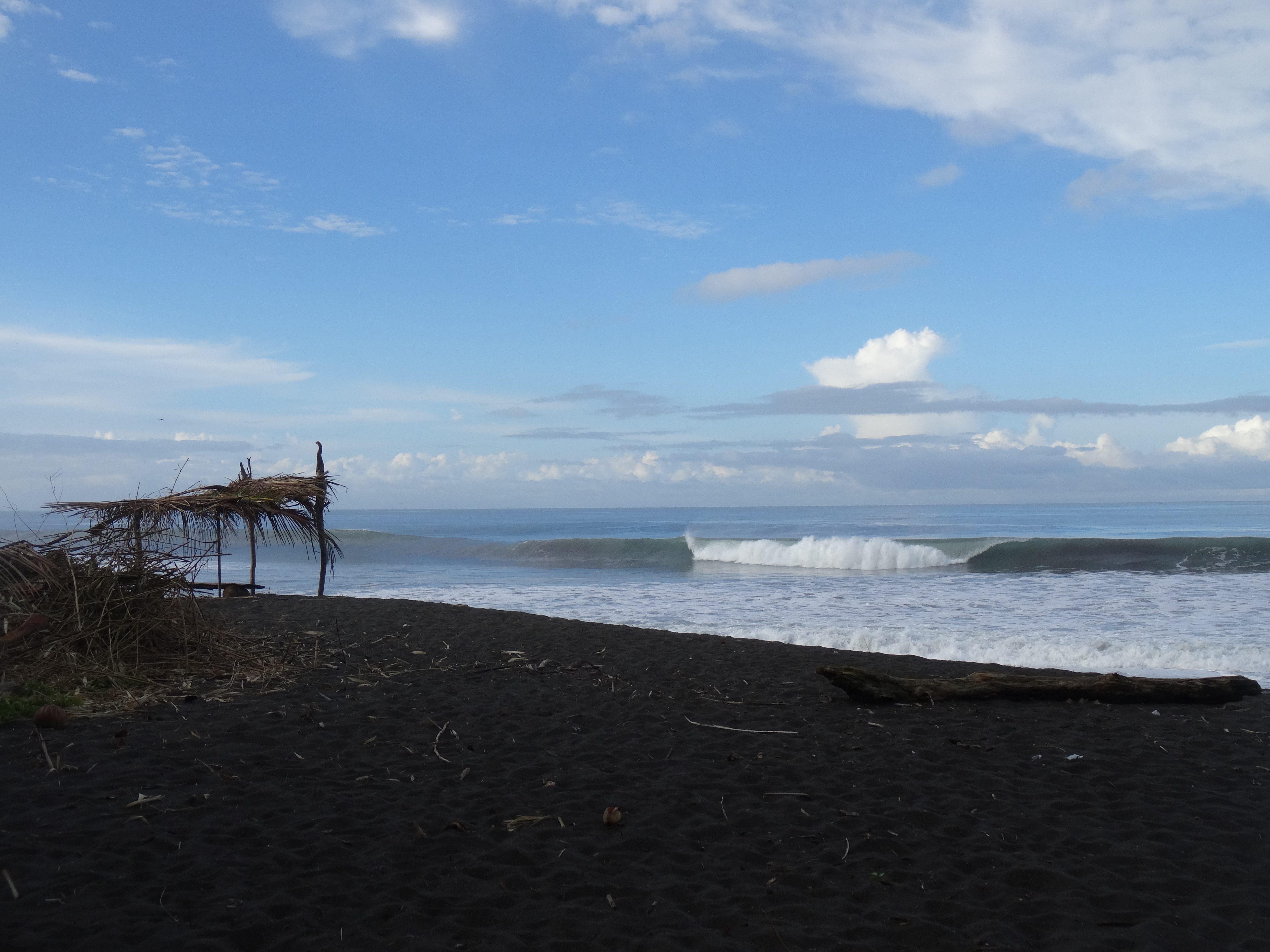 What else is there to do, you ask?
Every Saturday at 4pm the Hermosa Backyard Bar hosts a surf comp in which the best local riders compete. It's a great time to meet other travelers and have a few sundowners.
The sea life is abundant on the Pacific Coast of Costa Rica so fishing opportunities abound everywhere. If you're a hunter, then fishing charters leave for both offshore and onshore from Jaco.
To see Costa Rican wildlife like monkeys and macaws, the canopy tour is perfect. It consists of 11 suspended platforms in the forest connected by 700 meters of steel cable bridges.
If exploring the area is your game, then hire an ATV or motorbike and search for an isolated break. There are plenty of companies that offer these services in Jaco.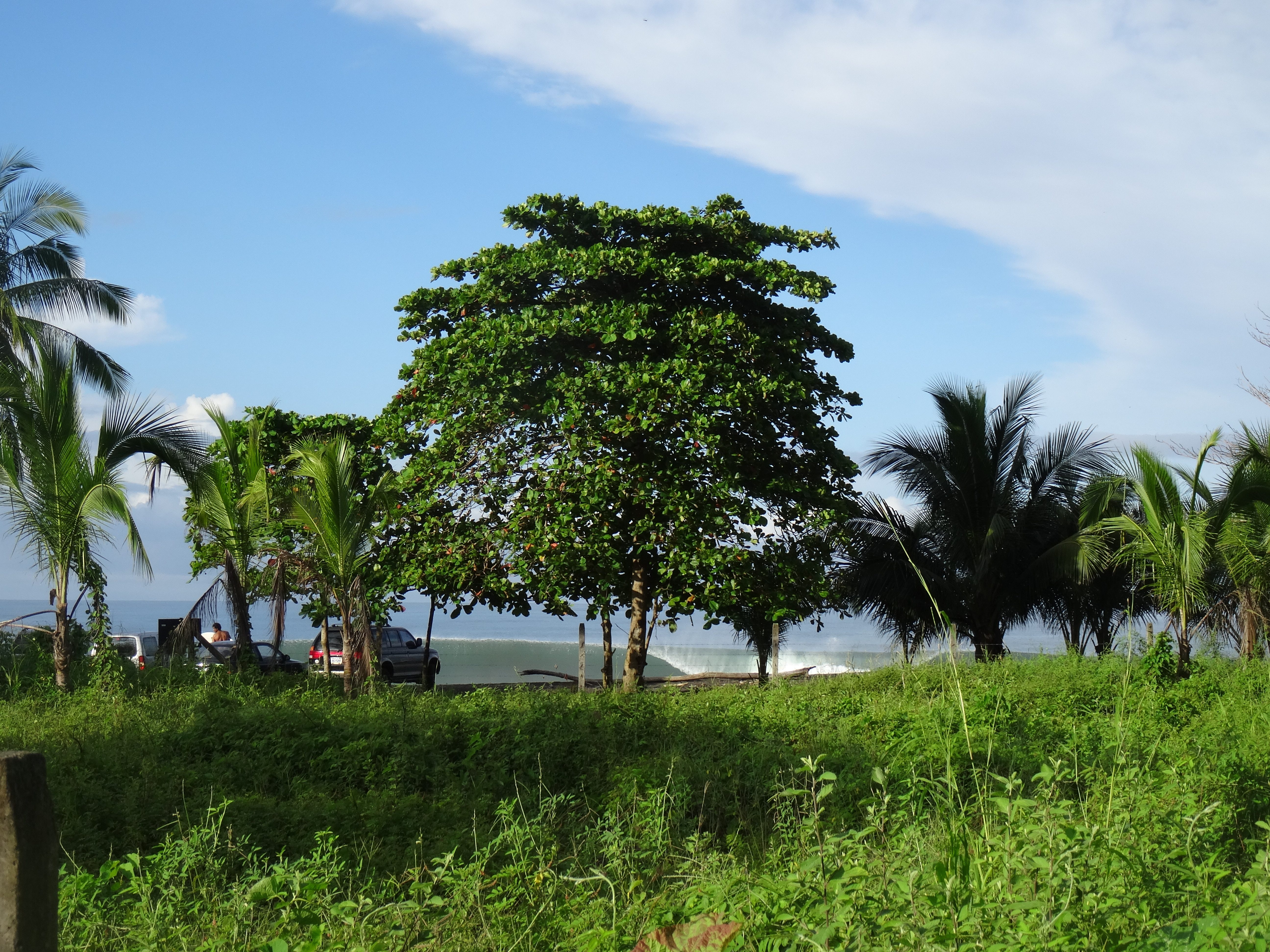 Expenses
Travel
From the capital city of San José, where the international airport is, there are public buses leaving for Jaco on the hour. You'll depart from the Coca Cola bus station in Central San Jose. The price is $6 per person and an extra $6 for your board bag. There are private shuttles and taxis available, but they will cost more. The trip takes 2-2.5 hours and travels through scenic jungle.
From Jaco, get a $6 taxi which takes you seven minutes heading south.
Accommodation
Beachfront hostel (available all along the beach): $10 p/n with basic amenities and maybe a swimming pool. If you're with a group, renting an apartment, house or unit is a better deal. The cost is around $700/month, which includes comfortable modern conventions like air conditioning, your own kitchen and wifi connection.
Food
Hermosa has a local store that sells basic groceries and cigarettes and alcohol, but if you're planning an extended stay then buy up big in Jaco to save some money. Definitely try either the Costa Rican dessert Trix, a deliciously cheap ice cream sandwich or the Venezuelan dessert Power Cookie – cold caramel and chocolate.
The only Spanish you really need to know is "Pura Vida." The direct translation of this is "Pure Life" and the locals bring these words to life. Costa Ricans use Pura Vida as a greeting and farewell or to emphasise any point they're making. Playa Hermosa allows you to live the pure life of sun, ocean and waves. Prepare to be exhausted each evening and stoked every day.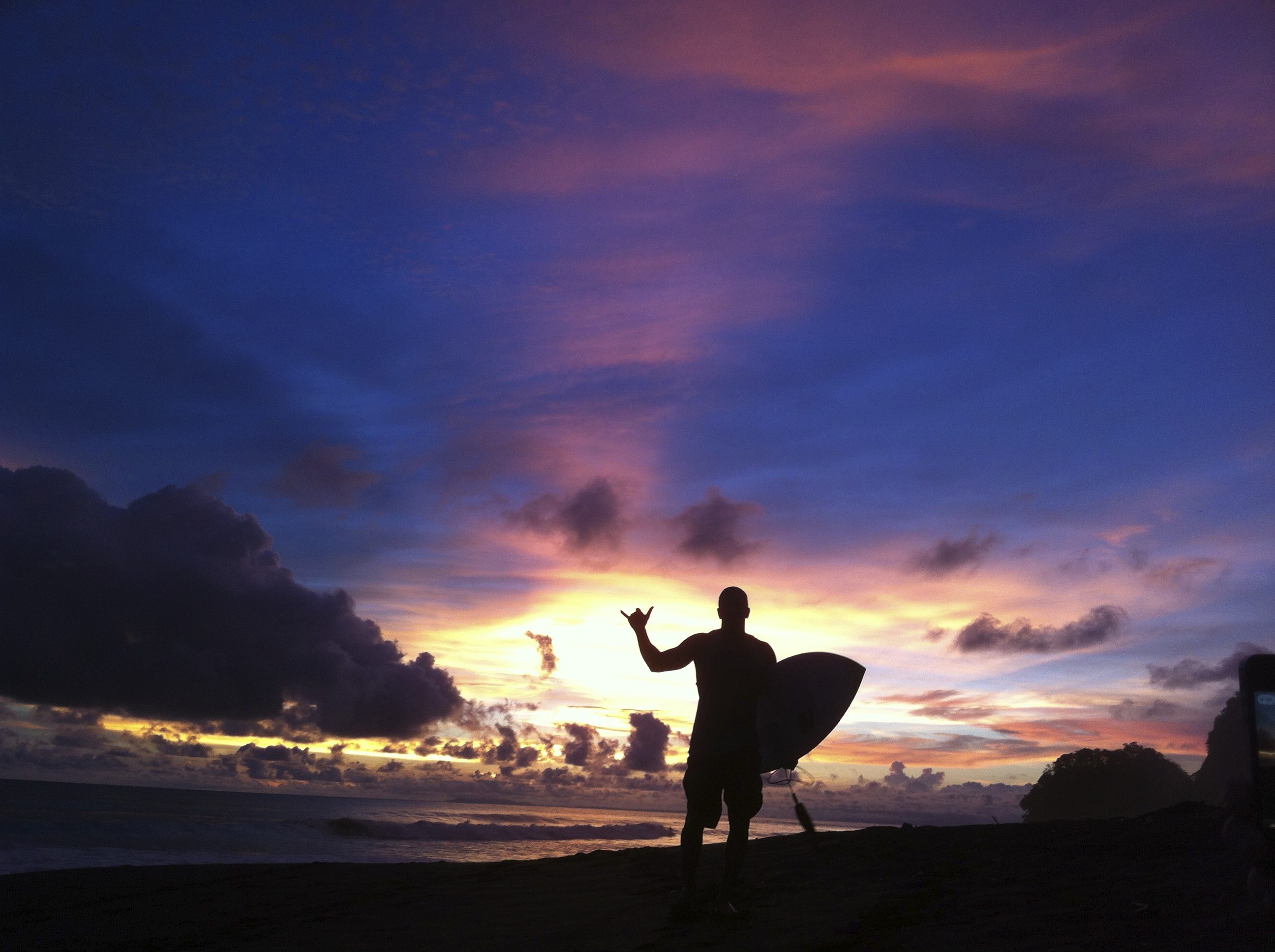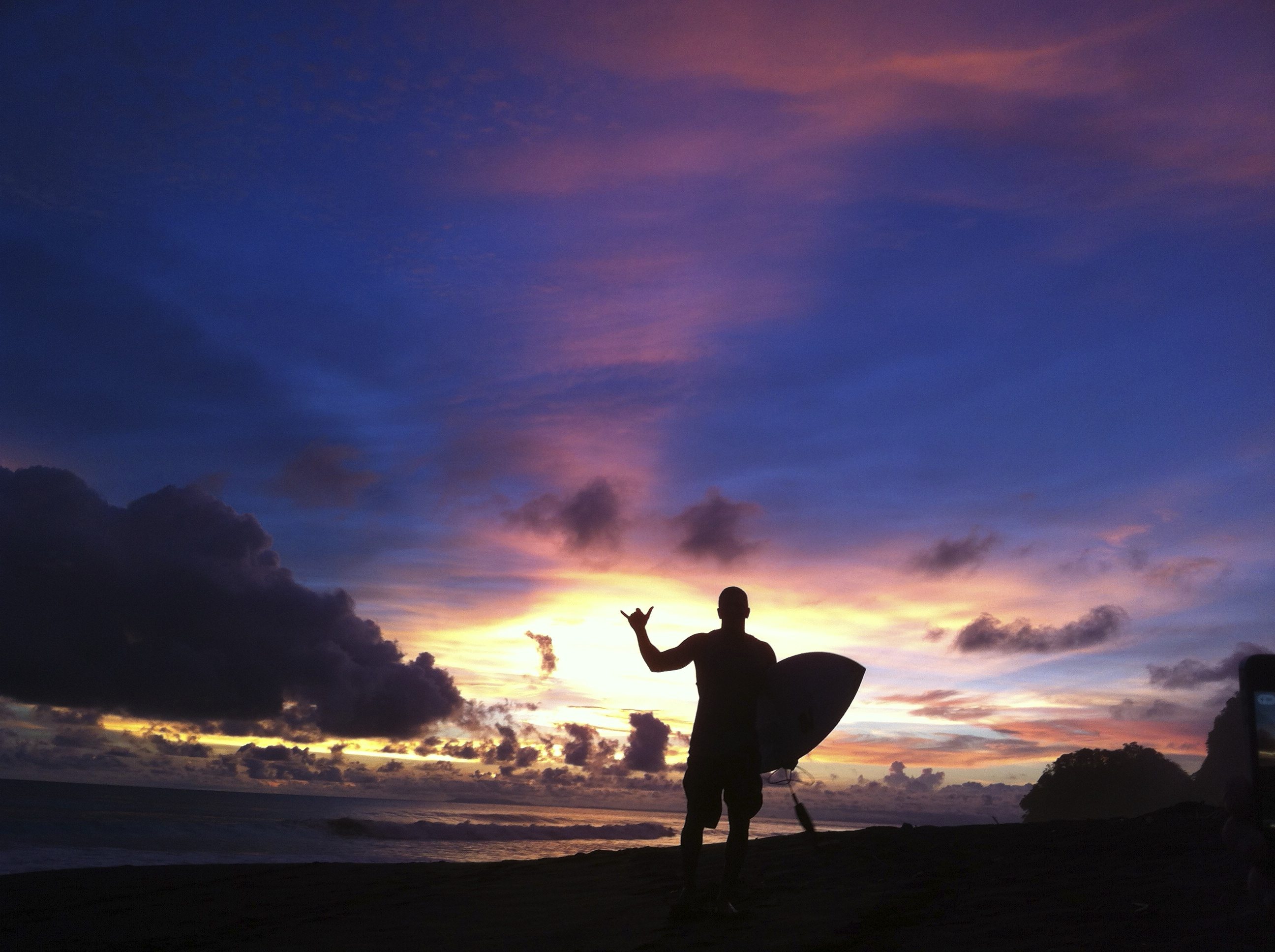 Catch more of Harry Patchett's writing on his travel adventures on his tumblr: hbpatchett.tumblr.com and view more of his surf photographs on Instagram @harrypatchett