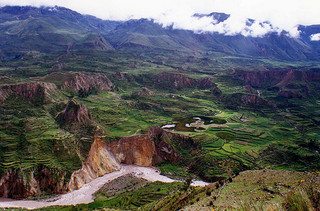 6 Staple Ingredients for a South American Feast
Posted on
14 October, 2014
South Americans are known to live of their land when it comes to cuisine. The climate is warm and dry all year round cultivating an abundance of exotic tropical fruits and root vegetables while the steep Andes mountains produce rich grains and seeds. South Americans know that food tastes better with friends and family so when planning your next fiesta here is a list of 6 staple ingredients used for a South American feast that you can find in your local grocery stores.
6 Staple Ingredients for a South American Feast
By Hayo Magazine
Quinoa

By Hayo Magazine

Referred as the "mother seed" by The Inca's, his super health seed has been cultivated for over 5,000 years in the Andes. Quinoa is widely used in salads, porridge or used as a flour substitute. 

Chimichurri

By Hayo Magazine

Is an emulsion of chopped parsley, minced garlic, olive oil and oregano. Originated in Argentina, this refreshing green sauce is used to marinade or grill meats, fish and poultry. 

Tropical Fruits

By Hayo Magazine

Coconut, cherimoya, mango, guava, pineapple, papaya, lucuma and passionfruit star in many savoury dishes, salads and deserts for added sweetness without the sugar. 

Corn (Maiz, Choclo)

By Hayo Magazine

This crop has been cultivated in South America for more than 5,000 years and is a key staple used in many South American dishes such as: Arepas (cornbread), Tortillas, Tamales, Tarts and Casseroles. 

Yuca Root

By Hayo Magazine

Other known as 'Cassava' this starchy edible root is commonly mashed, fried, dried or ground up into a flour and used in baking. 

Queso Fresco

By Hayo Magazine

This fresh cheese is unripened cow's milk cheese that has been lightly salted. It's commonly added to sauces or crumbled in salads.