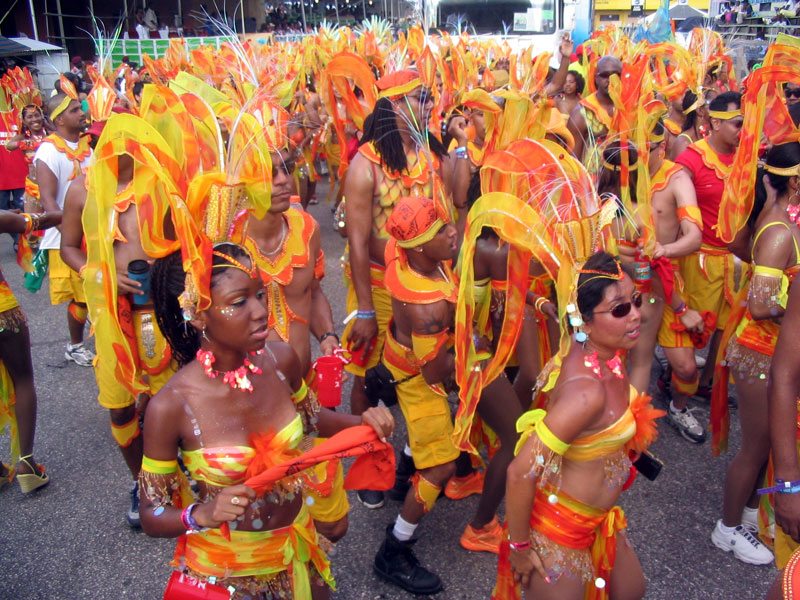 The How-To Guide on Experiencing Carnival, Rio de Janeiro's Biggest Party
Posted on
10 October, 2014
There are parties and than there is Carnival — one of the worlds most celebrated festivals in the world. The Carnival in Rio de Janeiro, Brazil is the mother of all festivals, gaining international recognition as one of the 'Greatest Shows on Earth.' Filled with extravagant parades, vibrant over-the-top costumes and exotic, high-energy dance and performance, it is a party not to be missed. Held annually, the Rio Carnival is a pre-Lent celebration where locals and tourists alike come together to surrender all inhibitions and let their freak flag fly for this 4 day long festival before Ash Wednesday. Brazilians close down their shops and offices and gather for one of the world's most famous recognition of happiness and freedom. Experience the spirit of Brazils most celebrated party to the fullest with this simple how-to guide on experiencing Carnivals main attractions that can't be missed.
http://beta.quiet.ly/list/share/60640-attraction-guide-to-carnival-rio-de-janeiro?width=800&height=500&showGradient=true&showMapView=false&showAuthor=false&showLogo=false&showListTitle=true&showListDescription=false&showTitles=true&showDescriptions=false&showWeblinks=false&makeClickable=false&sharePage=true&showIcons=true&embedTheme=dark&titleSize=18&titleType=quietly&descriptionSize=14&descriptionType=quietly&useOriginalImages=false&lastSlide=default&lastSlideMsg=&lastSlideUrl=https%3A%2F%2Fwww.facebook.com%2Fcandice.v.savage
Samba Parade
Samba, a traditional Brazilian dance with African influences, is the famous dance of Carnival. Known as the main attraction at Rio Carnival, the top samba schools compete with one another in a fierce choreographed dance and performance competition. The talented dancers choose their own theme, mainly commemorating a particular period, famous Brazilian figures, or anything that speaks to their spirit and imagination. The chosen theme is illustrated in creatively decorated floats and elaborate costumes distinct to each Rio samba school. Each school is judged on their dance and musical performance, the winner taking home the title as Grand Champion. The Samba Parade is a spectacle not to be missed. Ticket Required*
Magic Ball at the Copacabana Palace
This highly anticipated event is the most grandeur and lavish of all, hosting high profile local and international celebrities. The Copacabana Palace Hotel is transformed into a whimsical wonderland that radiates glitz and glamour, decorated to suit its chosen theme of the year. Men are limited to a dress code of black suit and tie while women are adorned in luxurious costumes and gala dresses; each attendee striving to outdo one another. Dance the night away to hip shaking samba while having your photo taken by lingering paparazzi. Book your tickets early because this event sells out fast.
Street Parties
Street festivals, other known as 'blocos' throughout Brazil, are densely populated outdoor parties filled with traditional Brazilian dance and music. The majority of Carnival street parties are spontaneous but an organized street dance at Cinelandia Square is a popular open-air party spot. Celebrate and dance with the locals in the streets of Rio. Don't miss the Banda de Ipanema street party, a true highlight. Free event participation*
The Sounds of Carnival
Music is a major component of the spirit of Carnival. Brazilian instruments played by local Brazilian bands fill the air with lively hip swaying beats and rhythms that seduce the crowd into one big colorful dance party. Over 300 bands play the streets throughout the four days of Carnival. Lyrics sung during express the joyful moments Brazilians experience, heightened with lots of percussions and a steady drumbeat to keep the feet of all Carnival participants moving.
Costumes of Carnival
From outlandish and flamboyant too barley-there body paint, the colorful costumes seen and worn by the participants and crowd alike further embody the spirit of Carnival. Creativity knows no bounds when it comes to designing the costumes for Carnival. Sequins, feathers, bows, gems and jewels adorn samba parade dancers during their performances while they showcase their handcrafted works of art to all. Samba parade costumes fascinate viewers all over the world. Nudity is not allowed during Carnival, but many samba dancers cover themselves with thick colorful body paint along with jewels and bits of cloth to slightly cover up. Many of the designers are member of the samba schools; each costume crafted to tell a story. Get crafty and make your own costume or order a one-of-a-kind outfit at one of the many samba schools.