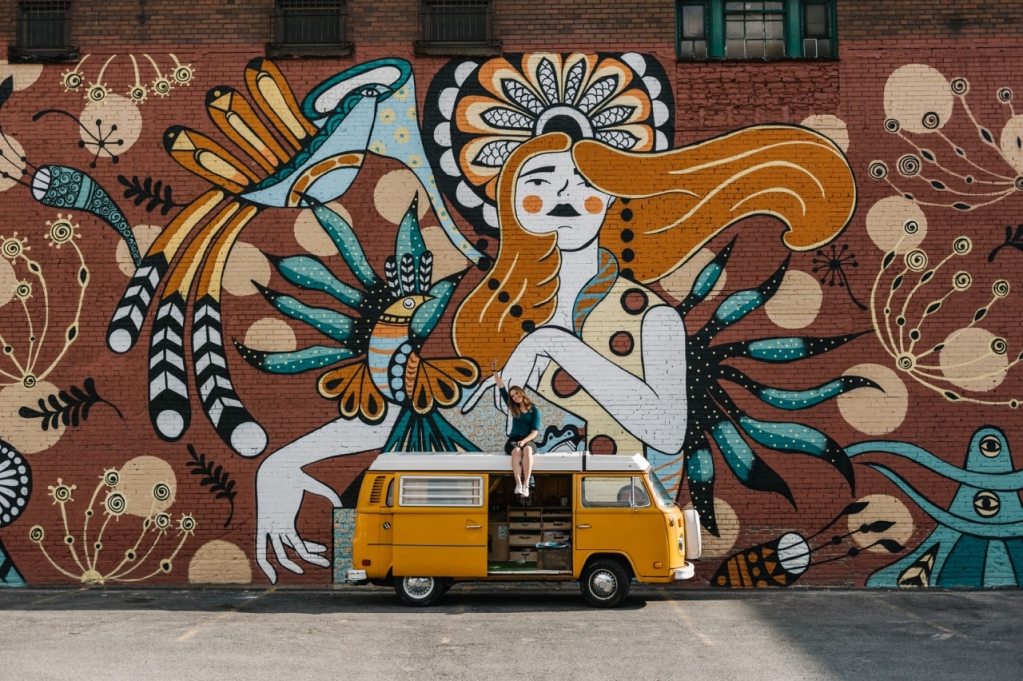 The Dynamic Worlds of Artist Ola Volo
Posted on
28 September, 2016
I've had the pleasure of interviewing and featuring Ola Volo on multiple occasions here on Hayo because I truly love her work and the passion she spreads through her unique creations. Her work can be appreciated not only for its aesthetic but also for its intrinsic narrative and it's widely recognized and celebrated because it's always impeccable, irresistibly eye-catching and very entertaining.
The characters in Ola's stories live in dynamic environments and each has a lively personality that helps tell the general story and also hold its own plot. Her vibrant work can also be appreciated in public spaces on murals she has created herself or in collaborations with other artists in multiple cities. You are probably seeing a lot of her work in the streets and that's because Ola wants it to be accessible to anyone looking.
This interview expands on her work and thoughts on Vancouver's art scene. Ola will be part of the upcoming Art Rapture urban – pop exhibition featuring more than 15 critically acclaimed artists presenting their most provocative work yet. The show, taking place on October 1, will be a curated experience in the heart of Mount Pleasant. She's part of the women that inspire us every day and to whom we are dedicating the month of September!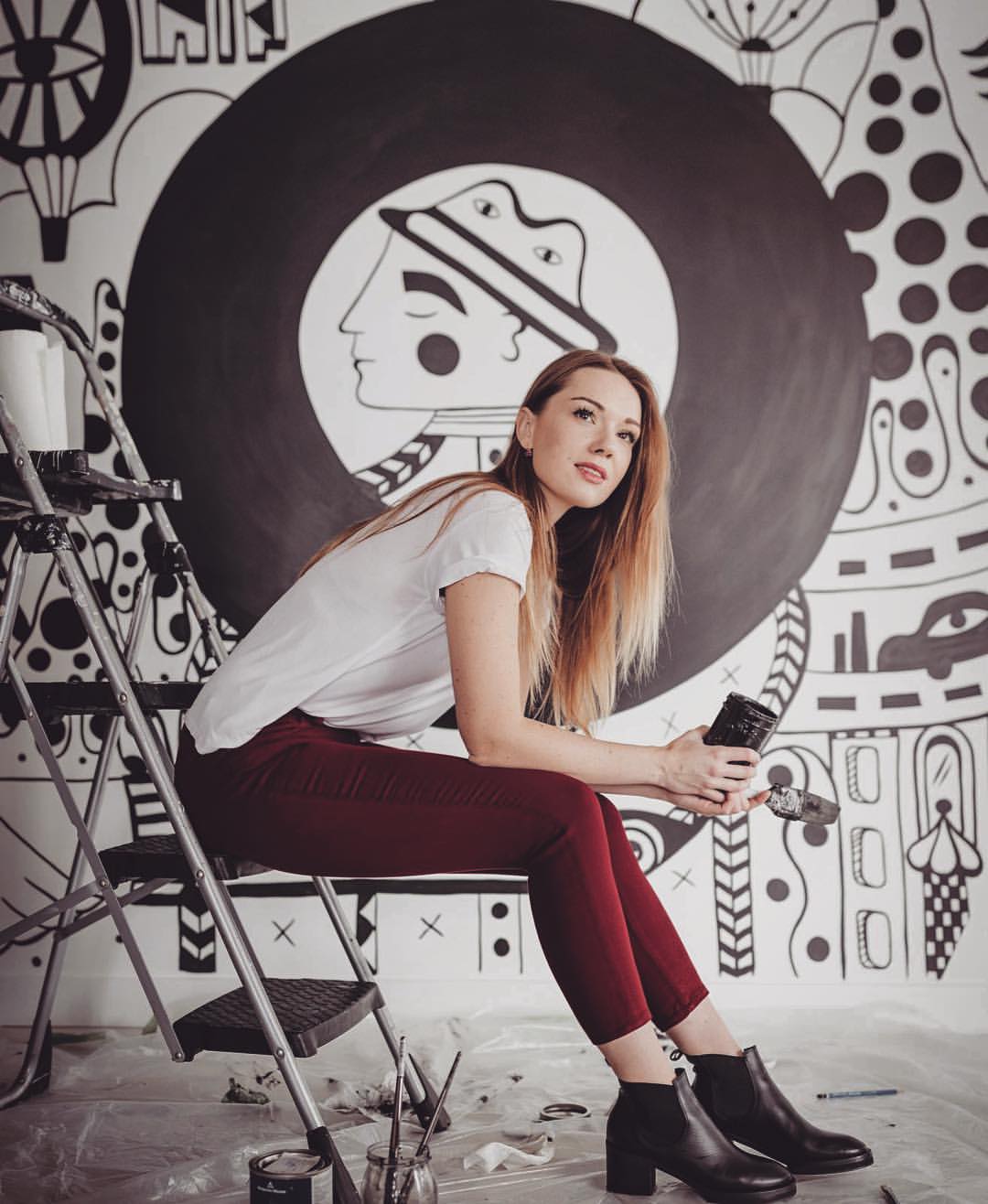 Your work is filled with characters and representations that every time you see, you can discover a new storyline. How do you choose your stories before creating the work and do you have a character that maybe appears in all of your pieces?
A lot of my inspiration stems from my Russian background where Eastern European folklore played a big role in my childhood. I love to infuse the West Coast nature, with nostalgic fantasy and modern storytelling. This style cultivates the introduction to many of the stories I create. I'm equally a big fan of collaborations. I find them extremely helpful as collaborations foster a pathway in which the story will take. The collaborative piece has to exemplify a company's culture and their viewership. In that working dynamic, my style needs to celebrate the client's personal story.
In terms of characters that appear in my pieces, I'm often inspired by my own experiences. I'll usually reflect on my own emotions into my work, and the characters in a piece become a reflection of myself.
In a world so vast with information constantly calling for your attention, when do you find a space to retrieve and regroup to keep creating your work?
I find that sometimes I need to step out of Vancouver and go to another city in order to regroup and create new work. I love Vancouver, however, everyone needs a bit of a break, and some time and space. At the moment I have a studio in Montreal, so I'm currently based out from there. The lifestyle in Montreal can be a little slower than the pace we have developed in Vancouver. The affordability of Montreal is also a big benefit. It allows artists to afford larger spaces, where they can experiment with work and not feel the financial pressure.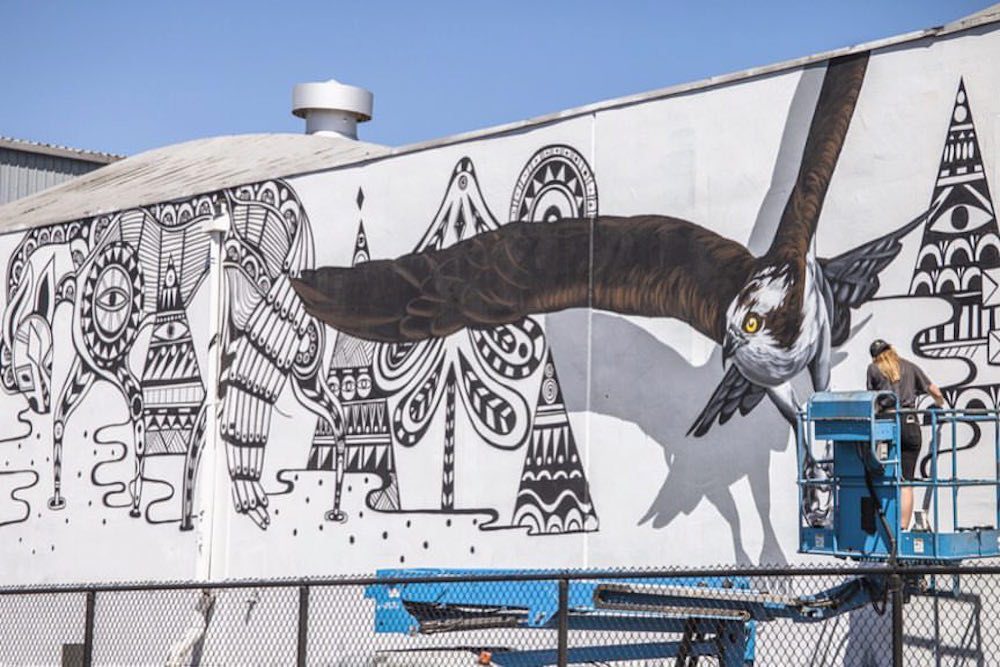 You've had a great year so far, creating murals in different cities like Seattle, Montreal, Toronto, collaborating with other artists, participating in festivals like Sudbury and the recently wrapped Vancouver Mural Festival. It's exciting to see how your work spreads around and captivates more and more people. How do you feel about this?
It's definitely exciting. It's an incredible feeling if someone is able to connect to your art piece, and discovers their own story in a particular work. Because of that parallel, it's really important to me that I also create work in public spaces. It's a great way to reclaim the energy and perspective of a city. Public art is an instrument that can be used to communicate messages and break down the barriers that can exist.
One of the main benefits of traveling internationally for art is that it helps your understanding of what the art world is about in a larger scheme. Your outlook expands and changes because you're among other artists who are not from your city. Completing murals in different cities has definitely become the highlight of my year. I've been able to share my work with a completely new crowd. I can take this West Coast-inspired art to the East Coast, and people are still able to connect to it!
What's the difference you've noticed in the creative scenes in both cities and how do you see Vancouver evolving from here on?
Montreal being a more financially accessible city than Vancouver is a key difference amongst the two cities. Montreal also contains a long history and acceptance of public art. Whereas in Vancouver, we are in a progression period of reviewing public art policies. The Vancouver Mural Festival was an exciting moment in the progression of the art culture in the city because it stressed the importance of street art. The Main Street corridor is already recognized for being a very creative space, however, you don't see that much public artwork. It's a fantastic environment for artists to celebrate the culture and make an impact in the area. It's important that in Vancouver, the neglected spaces in the city are highlighted; and I believe a tool which may assist in bringing that barrier down is through public art. I've learned more about the connections concerning public art and neglected livable spaces through my travels to Seattle and Sudbury. I think there is this momentum occurring in Vancouver where we are able to see such connections overlap and generate further discourse. Even in the matter of one mural festival, we have experienced a heightened progression. This festival felt so alive and generated an incredibly high traffic!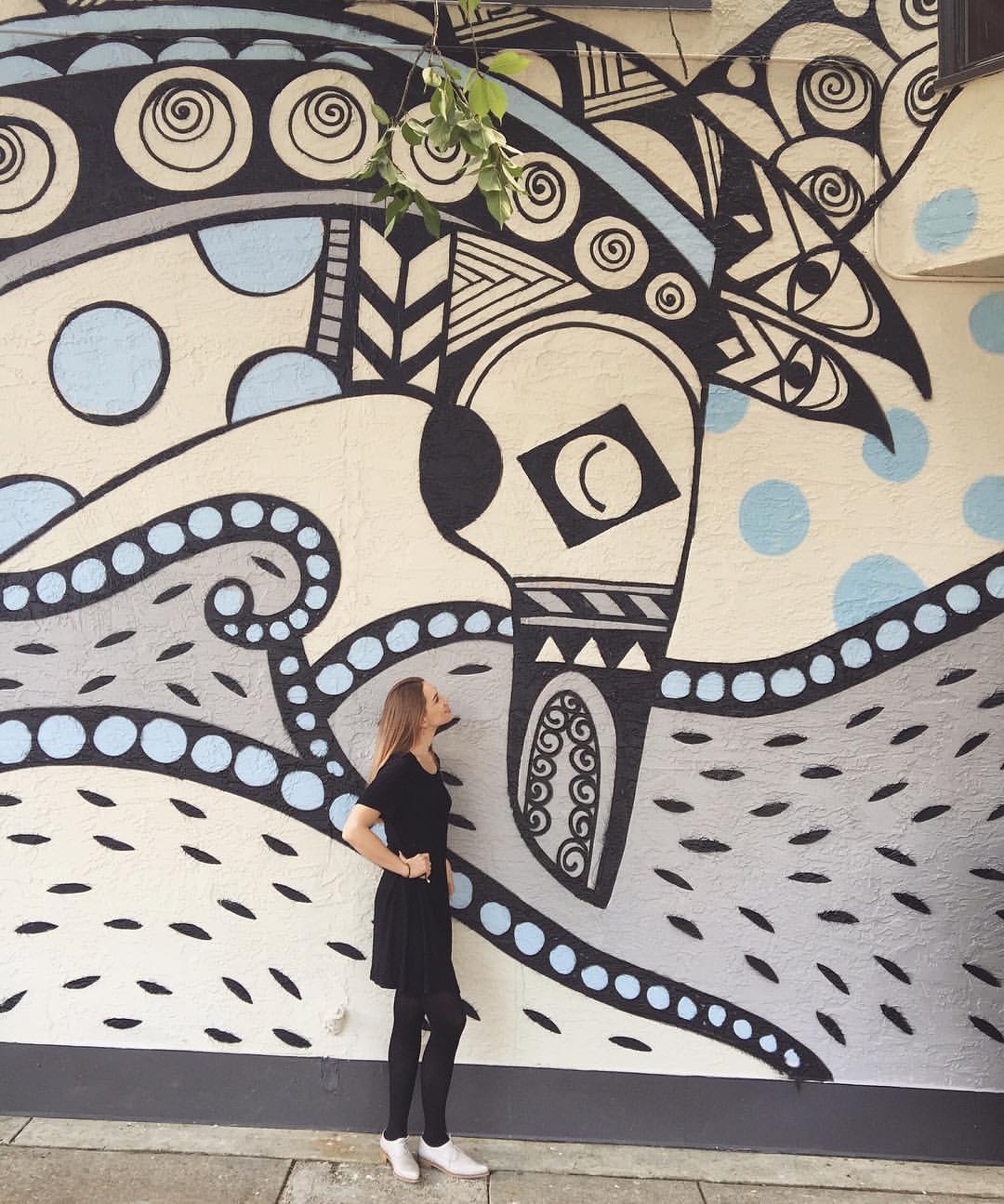 You've been focusing more on public art, what are you trying to communicate to people through your work?
Art should be accessible to everyone, and I want to produce art that's emotional and welcoming. I hope my pieces are able to generate energy and be viewed as positive to the public space. These aims help make the piece fall into place. Folklore is about sharing stories and connections by bringing people together. If folklore becomes fully accessible to the public, i.e. through a lens of being plastered onto a wall, then the purpose of folklore comes full circle. It's an approach to stay true to what folklore has always been, which is connecting people together through the creation of a story.
What's next on your agenda for events or collabs?
I am really excited about a couple of collaborations that are taking place. I've been collaborating with Bedface and Artslandia, and there will be more information being released soon! I've also just recently completed a collaboration with iHeart, and we'll be collaborating again on a future piece for a show in October!
I have also been writing about some of the other artists presenting at Art Rapture for Daily Hive like iHeart, Fucci, Denial and Scott Sueme. See theirs and Ola's newest work in the upcoming Art Rapture show, check out the full lineup and reserve your spot before the tickets are gone!
If you read this far and liked the content, please consider commenting, sharing or liking this post! 🙂