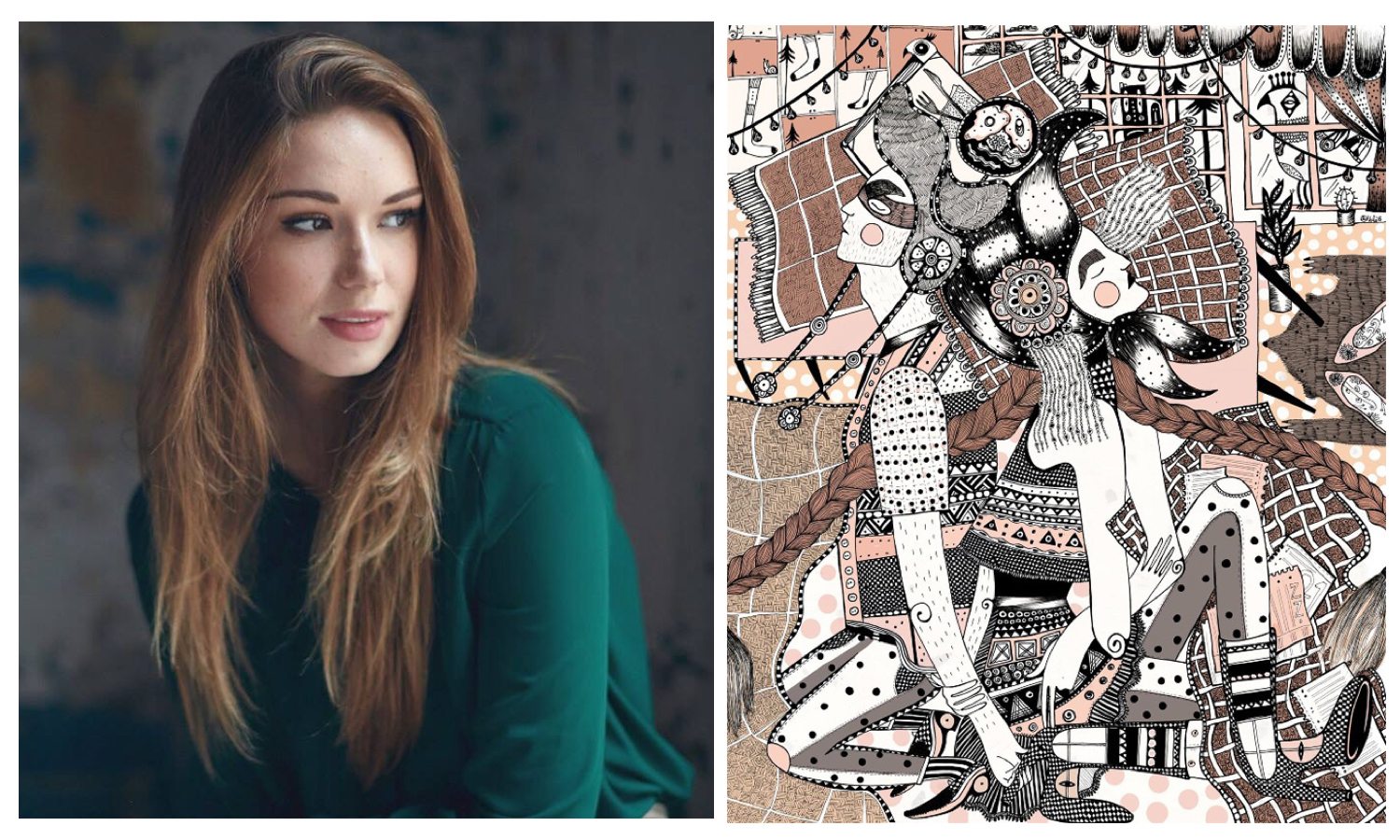 Meet Kazakhstani/Canadian Artist Ola Volo
Posted on
26 November, 2015
Ola Volo x Hayo Holiday Special
When I met Ola Volo for breakfast, I was expecting a simple conversation about work and life. Little did I know that it would turn into one of the most inspiring conversations about the challenges we face in life and the moments that truly test our courage and our will to move forward.
Our Ola Volo x Hayo Holiday Special is one of the collaborations that excites me the most. Ola is not only an amazing artist, she's also the most hard-working and gentle human I've ever had the pleasure to meet. Her art is not only about technique—every piece she brings into the world has a story hiding in its details. She is a visual storyteller and her intricate work brings animals, people, architecture and nature together to articulate diverse stories rich with symbolism and elaborate forms.
Ola creates winding narratives that lovingly acknowledge the subtleties of human nature while celebrating the little surprises of everyday life. Her work is widely recognized for its inventiveness and imaginative gesture; every character is full of spirited personality and inhabits a dynamic environment. Her work also lends itself to the public realm with several of her murals helping to shape and beautify outdoor spaces in Vancouver and other cities like Seattle and Portland.
She has a BFA from Emily Carr University and began her career as an illustrator. For her, creativity is about transformation and this is reflected throughout the different platforms, mediums and forms she has explored as a way to express her art. From illustration to fine art, Ola has been open to trying new things and has succeeded in each space. If you  stare at any one of her pieces you will find a small detail you had missed before. In this way, her work is all about encouraging curiosity. Check out her Instagram and you'll see!
About WakeUp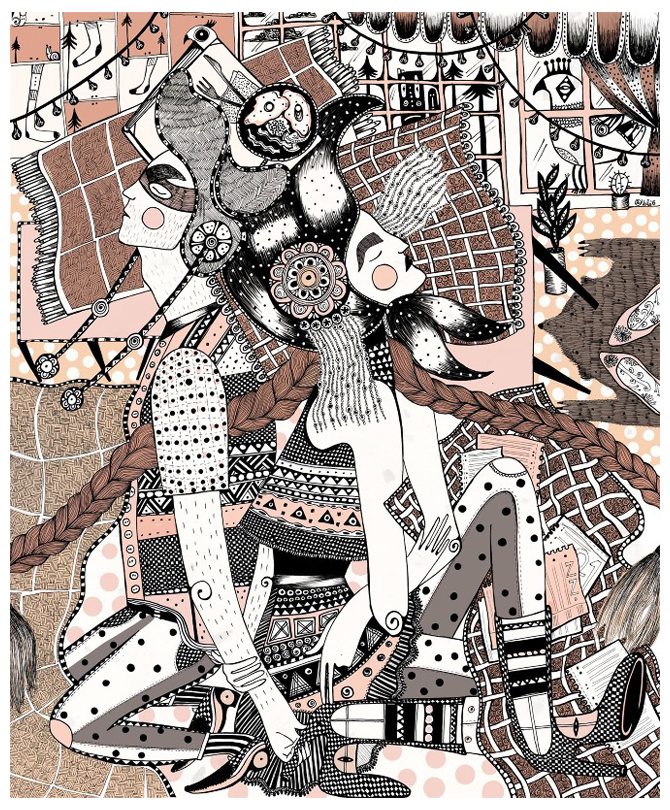 Wake Up
by Tracy Stefanucci
over breakfast or
bare skinned on bear skin rugs
between bites of
fried eggs and bacon
he asks me why
I hold my coffee mug with two hands
my palms radiate warmth as
my fingers reach to clasp his
somehow we are always back to back
spots and stripes braided together
Inspired by Ola Vola's artwork by the same name, our Managing Editor Tracy Stefanucci created this poem. WakeUp is part of Ola's repertoire of personal work. In between commissions and solo shows, Ola finds time to create new things and give the stories that are in her mind a place in the world. This artwork is a result of her time in New York City. She visited the city for several months to meet other illustrators and artists, showcase her work and find inspiration and stories.
With this piece, we'd like to link and kick off our work for Hayo No. 2: East, which is already in the works. You can clearly identify in Ola's work the influence of her Kazakhstani roots and elaborate eastern patterns.
To discover all the details and intricate stories embedded in the piece, you'll have to see this wonderful piece in person. Luckily for you, we know exactly where you can find it. 😉
More Pieces from Ola