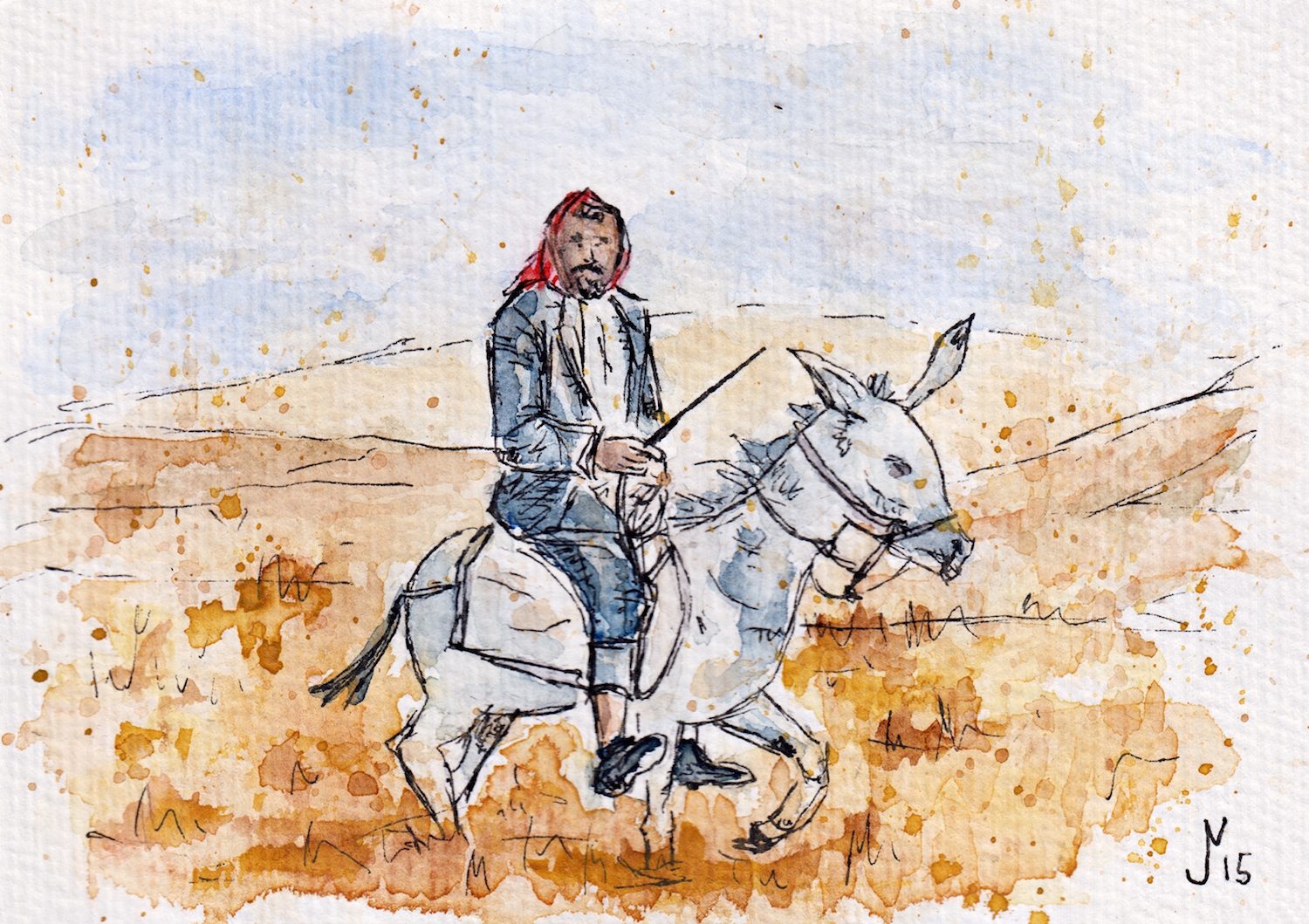 Sketches from the Field: Interview with Archeologist Jens Notroff
Posted on
8 September, 2015
Jens Notroff is a German archeologist based out of Berlin. He holds a degree in history and journalism as well and is currently involved in research projects in the Middle East and Scandinavia. He's peculiar style – brown fedora, suspenders, pipe and diary–, has captured our curiosity. He has shared a note from the field and a short interview below that's worth the time to read. Jens shows us through his work and observations a world he's been able to discover that's hidden for many of us.
Sketches from the field
by Jens Notroff
I rarely ever leave without a small sketchbook and pencil – and in particular en route I make sure to have both ready. That means, I always have a notebook at hand to put down some noteworthy discoveries. This is the kind of doodles I'd like to call 'illustrated notes', collecting all kinds of useful or interesting information I find rememberable: The various manifestation of the local flora, encounters and observations in the tea garden or a study in traditional local fashion.
Another type of sketches is more illustrative – drawings of places or scenes I stumble upon, the endeavor to capture more than just their exterior appearance (a photo could do this as well), but somehow the things a photograph could not depict: Their peculiar atmosphere at the moment I discovered them – sound, smell, colours. Almost archetypical framings, but still documenting the progress of my own journey. Like this Kurdish farmer riding a donkey on his way home, like the village view from our excavation house in south-eastern Anatolia, the typical street scene in some picturesque Turkish old town, and the women and girls harvesting cotton as we encountered them at the roadside. These are the kind of sketches I sometimes turn into field postcards – a rather personal kind of expedition greetings to family and friends left home.
In some situations, the sketchbook even is the better documentation armamentarium – in situations for instance, when a camera would be really inappropriate – like then I was invited to attend Friday's prayer and sermon in a local mosque. Unthinkable to take pictures of the praying men, but the quick sketch did not make much of a stir and even earned some sympathetic nod.
I rarely ever leave without a small sketchbook and pencil – too manifold is the benefit of their use.
I understand you are an archeologist, historian, and journalist, based in Berlin. How did you get involved in this career?
Looking back to my childhood days, I see that love for adventure tales (London, Stevenson, Verne) and those old travelogues of 'classic explorers' (think of Burton, Bingham, Shackleton and you get the idea). These were the men I not so secretly admired, these were the earliest journeys I took.
Then there was a time right after my younger brother was born and my father took me through quite a number of museums (back then: eastern) Germany could offer. I remember in particular an archaeological exhibition in Berlin where we passed a gloomy Neolithic burial: a simple stone chamber, the skeleton accompanied by a couple of grave goods: stone tools, vessels, and the like. This image struck me, fascinated me. Suddenly all these questions were in the room: Who were these people? Why did they bury their dead like this? And how did they live then? I guess, I never really got rid of these thoughts. Thus, reading archaeology at university somehow was inescapable and history seemed like a decent companion while the investigative and storytelling part of journalism always has been a 'guilty pleasure' of mine.
What kind of research are you more interested in pursuing?
As an archaeologist, I am in particular interested in the evolution of social inequality, the question why and how certain elites managed to rise above others and how this power manifested – monumentality, rituals, prestigious burials. Somehow still that puzzled child in the museum back then.
As a traveller, I am pretty much fascinated by local peculiarities: language, food, costume. What's live in that place like? How's religion, how's tradition, how's globalization affecting the everyday life there? And how do people actually approach their cultural and historical heritage – does it matter for them at all?
What are some of the most interesting things you've found so far and where?
I am in the very lucky position to be involved in one of the most exciting excavations of our days for a couple of years now. In south-eastern Turkey we are currently excavating an early Neolithic site which seems to question a paradigm regarding the emergence of organized religion and sedentary communities. There, at a mound called Göbekli Tepe, still highly mobile groups of hunters and gatherers were erecting monumental enclosures consisting of several huge highly abstracted anthropomorphic stone pillars, carrying incredible naturalistic and symbolic reliefs, for – as it seems – ritual gatherings at the end of the last Ice Age, some 12,000 years ago.
Since these mega building-projects demanded quite an amount of workforce, several of the usually rather small hunter bands must have been brought together for this kind of cooperative work events. And this expresses a degree of coordination and social complexity hitherto not suspected for such early periods. To be part of this research project definitely is a privilege and quite an exciting opportunity for any scientist in general and for me in particular.
Which of the places you have visited had a deeper impact in you?
It's kind of interesting to see how some places actually can teach you something about yourself. The proverbial 'genius loci' I guess. I did never, for example, consider myself a very spiritual or religious person. Sure, I visited cathedrals and churches and was honestly impressed – from an art history, architecture point of view. But spiritual humbled? No. Not before I entered Hagia Sophia in Istanbul: her gold-plated, flickering lid doom resting high up above my head. Standing there, I suddenly understood that 'awe-struck' really is an adjective used way too often out of its true deeper meaning.
While this was an emotional moment completely man-made and absolutely intended, the view from atop of Petra in Jordan was evoking a similar yet absolutely different atmosphere. After roaming through these red mountains and the incredible temple and tomb facades cut out of the rock (each a masterpiece and gem of its own), after climbing up all the way to the famous 'Monastery' as seen in photographs a dozen times, I sat down at the edge of a cliff. The meek sentiment evoked watching down into the valley spreading ahead and way below which was created by geological forces and weather over eons was not praising some named spiritual force mightier than us, but coming down all to myself, revealing what diminutive part we are of all of this. Still most surprising for me is that this was not at all a frightening revelation. And no, I'm still not much of a very religious person, I'm afraid.
Iconic brown fedora, suspenders, pipe, and diary… you seem the kind of guy keeping it old school.
Ah, well. It probably has to do with all these Victorian and early 20th-century explorers' influence to my reading younger self. This golden era than exploration basically meant adventure. Somehow I just happened to like style and fashion and music of this period. Besides, a felt hat and suspenders really are a win (not only) in the field – at least that's what I convinced myself of. And yes, of course, I am completely aware of a certain movie archaeologist.
How did you learn to illustrate?
I actually never really learned this; it just happened that I scribbled into my journals and sketchbooks more and more often. Sometimes an even rough sketch can give me more sense of a place than a quick photo would do. Sketching teaches you to observe a scene, to have a closer look and capture the essentials of a sight. Often I get the feeling we are only looking at the world around us through the finder of a camera our a mobile phone's display. Being there without really seeing anything – until we sort photos back home to upload them to facebook or Instagram.
To me, taking the moment to sketch something also means to take a bit more time to perceive.
My drawings are far from perfect: plenty to improve. There are quite some really great and talented urban and travel sketchers out there – and I really wouldn't mind learning some of their little secrets.
You can check out Jens blog or Instagram to follow his next adventures.