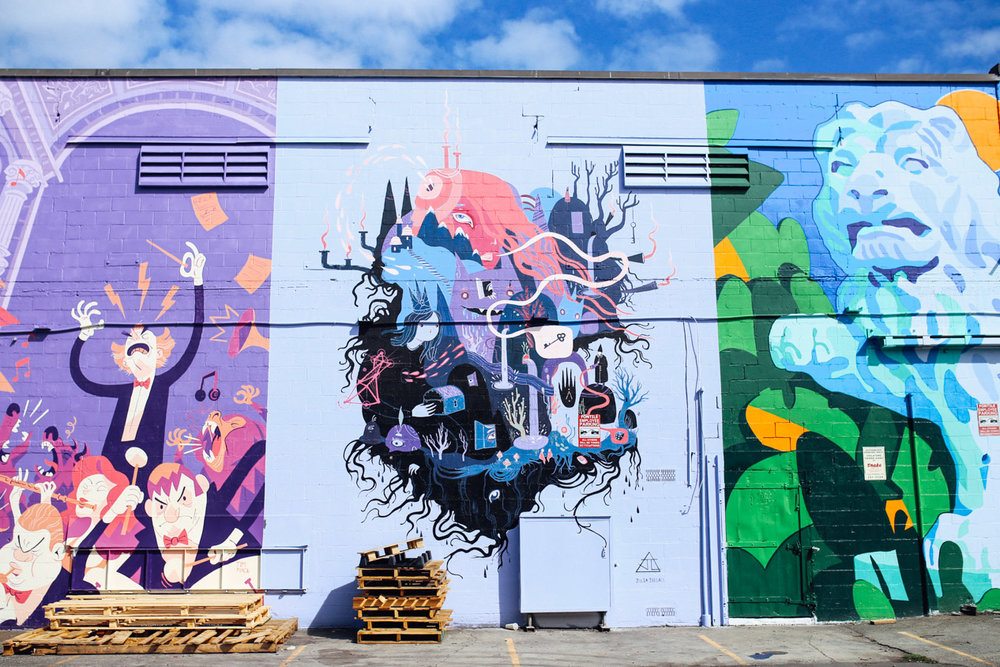 A Mural Festival That Changed Vancouver's Face
Posted on
27 September, 2016
Earlier this month we hosted a guided bike tour, in partnership with the bike sharing service Mobi, of the newly created murals after the first ever Vancouver Mural Festival celebrated in the city. Our very own Joanna Riquett took 20 people around the Mount Pleasant neighborhood to show these works of art and talk about their artists. Attendees also got to hear first hand from the Festival's operation leader, Andrea Curtis, how was the process of putting together this event and from artist Scott Sueme about how he conceptualized and prepared to create the largest piece of the entire mural festival, 12.000 sq/ft. To find out about our events, subscribe!
There are over 40 murals located in different parts of the city, see the map below, and they were created by local and international artists. For the first time, renown artists like NEVERCREW, Low Bros, Kashink and Bicicleta Sem Freios visited the city to be part of the festival and produce some of their works of art. Other local favorites like Ola Volo, iHeart, Scott Sueme, Taka Sudo, Ilya Viryachev, Drew Young and more also participated with their artistic expressions decorating what once were uninteresting walls. Some of them had a political or social message, like the case of Corey Bulpitt or NEVERCREW and some others had intricated stories in them, like Ola or Low Brows' pieces. In general, the results of this mural festival have been very positive and people are enjoying the new look of the city.
Here are some photos from our friends at Local Wanderer that joined us during the tour. For more images and a list of the prettiest murals in the city, visit their site!
This map, created by Georgia Straight, shows you all the locations of the murals so you can create your own guided tour as well!