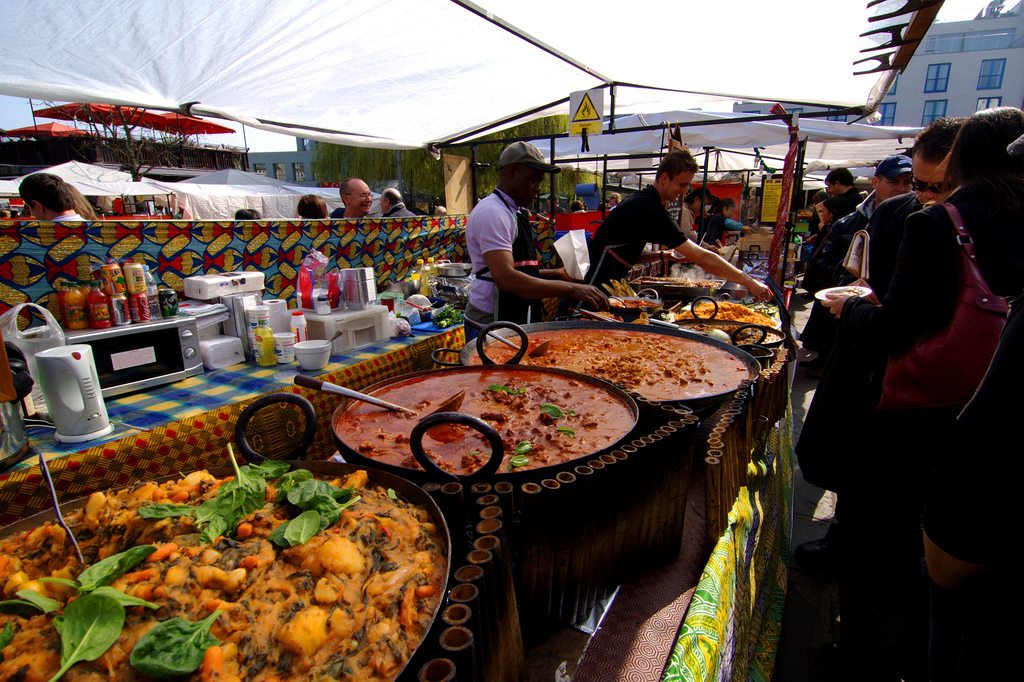 15 Mouthwatering African Dishes
Posted on
11 September, 2014
Over the past few months, we've taken you on a culinary tour through Europe and Asia; now, it's Africa's turn to shine! The continent is home to some very tasty dishes that reflect the surroundings and history of their country of origin.
Have you tried any of these mouthwatering meals? Are there any African foods we should know about? Let us know in the comments!
15 Mouthwatering African Dishes
By Ali O'Neill
Thieboudienne, Senegal

By Ali O'Neill

Senegal's coastal location is reflected in its national dish: fish, rice, and vegetables simmered in tomato sauce.

Ndole, Cameroon

By Ali O'Neill

This popular Cameroonian dish is a stew of nuts, ndoleh (bitter leaves indigenous to West Africa), and fish or ground beef.

Seswaa, Botswana

By Ali O'Neill

This traditional meat dish consists of boiled beef, goat, or lamb, and is typically served with a side of pap or sorgum meal porridge.

Fufu, Ghana

By Ali O'Neill

This West African staple is made of boiled cassava, yams, or plantains pounded into a dough. It's usually eaten one small ball at a time, dipped into an accompanying soup or sauce.

Ugali, Tanzania

By Ali O'Neill

This staple is made from maize flour/cornmeal mixed with water until it's a doughy consistency. Traditionally served as a side dish to soups and stews.

Jollof Rice, Nigeria

By Ali O'Neill

Also known as "benachin," this popular West African dish usually consists of rice, tomatoes and tomato paste, onions, salt, and red peppers (as well as some kind of meat or fish).

Koshari, Egypt

By Ali O'Neill

Koshari is made of rice, lentils, and macaroni mixed together and topped with a tomato-vinegar sauce.

Couscous, Morocco

By Ali O'Neill

This Moroccan staple is usually cooked in a broth with vegetables and meat (lamb, mutton, or chicken being the most popular).

Peri Peri Chicken, Mozambique

By Ali O'Neill

The "Peri Peri" (also spelt "piri piri") of this dish refers to the hot pepper sauce the chicken is marinated in.

Bobotie, South Africa

By Ali O'Neill

South Africa's national dish consists of spiced minced meat baked with an egg-based topping, and was introduced to the country by Dutch colonists in the 1600s.

Kapenta, Zimbabwe

By Ali O'Neill

Kapenta is a type of sardine that's usually fried with onions and tomatoes and served with sadza, a maize dish resembling thickened porridge.

Chambo with Nsima, Malawi

By Ali O'Neill

A popular Malawi meal is chambo fish (sourced from Lake Malawi), served with nsima, a starchy side dish.

Braaivleis, Namibia

By Ali O'Neill

Outdoor cooking is a way of life in Namibia, and braaivleis (barbecues) are popular. Ostrich, springbok, and gemsbok are some favorite meats for grilling.

Moamba de Galinha, Angola

By Ali O'Neill

Influenced by Angola's colonial Portuguese history, this dish consists of chicken, okra, tomatoes, chillies, and palm oil.

Nyama Choma, Kenya

By Ali O'Neill

Grilled goat or sheep forms the basis of this popular meal, which is usually served with a side of ugali.