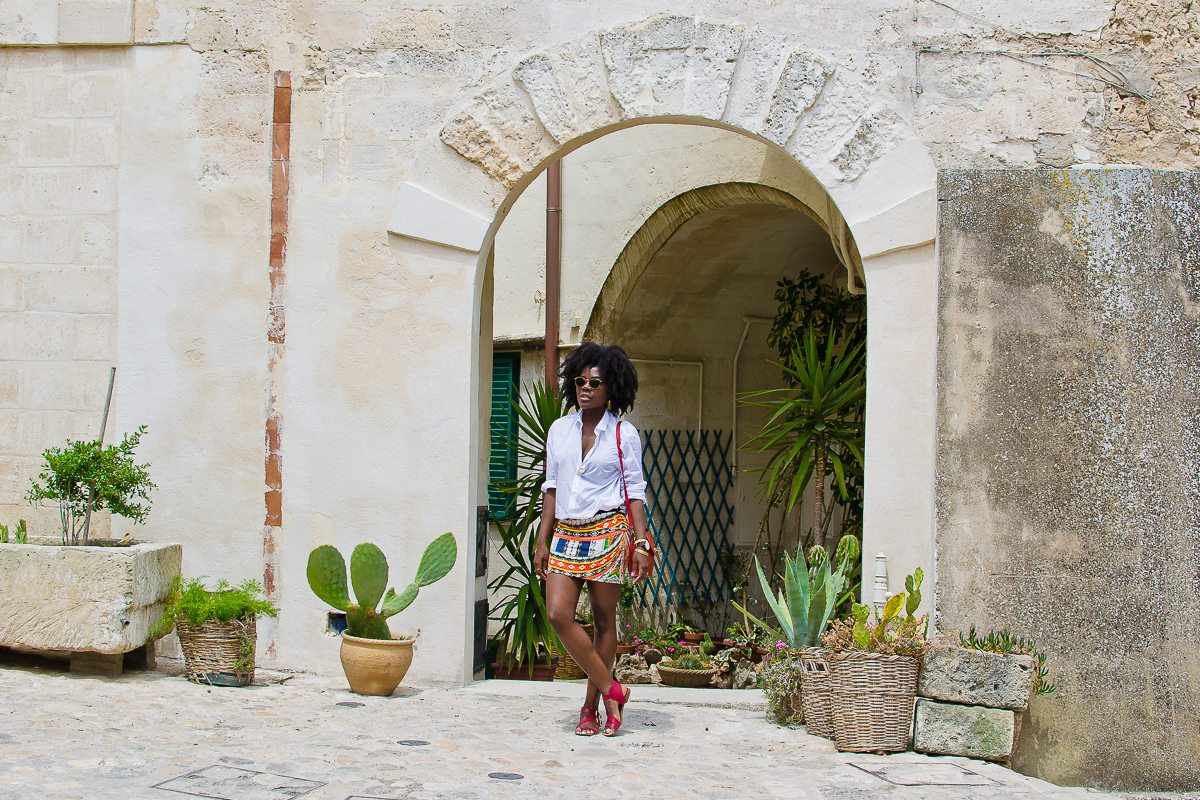 Lifestyle Blogger Cynthia Andrew on Being A World Traveler and Black
Posted on
22 September, 2016
Attorney by day and lifestyle blogger by night, Cynthia Andrew, @simplycyn, first fell in love with travel when she did a semester abroad in Paris. Not knowing anyone in the city and having to step out of her comfort zone to meet new people, really encouraged her to start curating a global passport, immersing herself in the cultures and ways of life of the places she's visited.
Cynthia has cultivated an immense following of her work, documenting her travels through Morocco, Italy, Paris and many others on her blog and social media. She's been featured in Essence, Elle, and Glamour magazines, and even in The New York Times fashion and style section for her effortless chic, and prismatic street style. She has also been a contributing editor on Travel Noire, an online platform of cultural insights from global travellers in the black community.
When she isn't working her day job, she's busy researching and planning her next trip, giving her the excitement and anticipation of a kid in a candy store when thinking about all the possible destinations she and her husband could go to. She is an advocate for women in her community that want to showcase their own creativity, of making their life the best one you can have, and always being open to opportunities and travels. We are thrilled to have her shed light on the topic of Women & Travel and give a little insight into the Black Travel Movement. Read her answers below.
Your world is colorful, playful, positive and bright, how did you find such style or was it always part of your life?
I think it was part of my personality when I was younger, and then I went through the moody teens and thankfully, I found my way back to positivity and all things bright and colorful. I'm in love with happiness- I actively try to stay in that zone. There's always something or someone trying to take your positivity away or rain on your parade- I wake up determined not to let that happen.
As a black woman, have you faced situations when traveling that you felt unsafe? How did you manage that?
Much more now than when I was younger, I am much more aware of my surroundings and can better read situations. I try to distinguish between perceived unsafety vs. real. Sometimes we feel unsafe due to a lack of familiarity and not specifically because a place is actually unsafe. Sometimes we feel unsafe because of preconceptions and prejudices. To be frank the times I have felt most unsafe as a black woman have been no different to when I feel unsafe here in NYC. i.e. late at night, lost or not knowing where I'm going, too few people around.
Do you think black people have an extra layer of challenges when traveling because of their skin color or is that another stigma you have debunked after traveling yourself?
I really don't see challenges in as much as I see opportunity. To educate, to inform, to be a pioneer somewhere. There are many places people don't expect to see us… sometimes I'll see a fellow black traveler in one of these places and we always smile and acknowledge each other.
What have been some of your favorite destinations?
Matera, Italy; Chefchaouen Morocco.
Any, in particular, that are great for women travelers?
If it wasn't for the political turmoil and unfortunate happenings over the past few months, I would highly recommend Turkey (Istanbul & Capadoccia). It was absolutely great and as a woman- I was treated with equal parts respect and kindness and a healthy dose of admiration.
How do you balance your work travels with your personal travels?
I plan well, very well in advance. I take note of all my national holidays and book around those as well. I give my boss and colleagues ample notice. I work very hard when I'm at work and even harder when I get back.
What would you say to women that are on the fence about going on a trip alone?
Just do it. Even though I now travel often with my husband, for many years I would stay up late at night searching for great fares and taking trips on my own because my friends couldn't commit or didn't have the funds. Some of my best memories and encounters happened when I was alone- you end up being more approachable. Even now when I travel with others, I always take a little time for myself. it is so important to experience a country, a city at your own pace, in your own time… not rushing or slowing down to satisfy the needs of a fellow traveler. You can really immerse yourself in experiences when you only have to answer to yourself.
In a world so vast, where do you get your inspiration from?
I love travel mags, I have digital subscriptions to all of them. I'm addicted to tripadvisor and I have friends who travel quite a bit who I rely on.
Any other travelers or Instagrammers that influence your work?
Travel Noire, Street Etiquette, Parisinfourmonths
What's next for you? What can we look forward to seeing in the upcoming months?
More travel, hopefully more travel video and fun stories about this wonderful planet we're on…