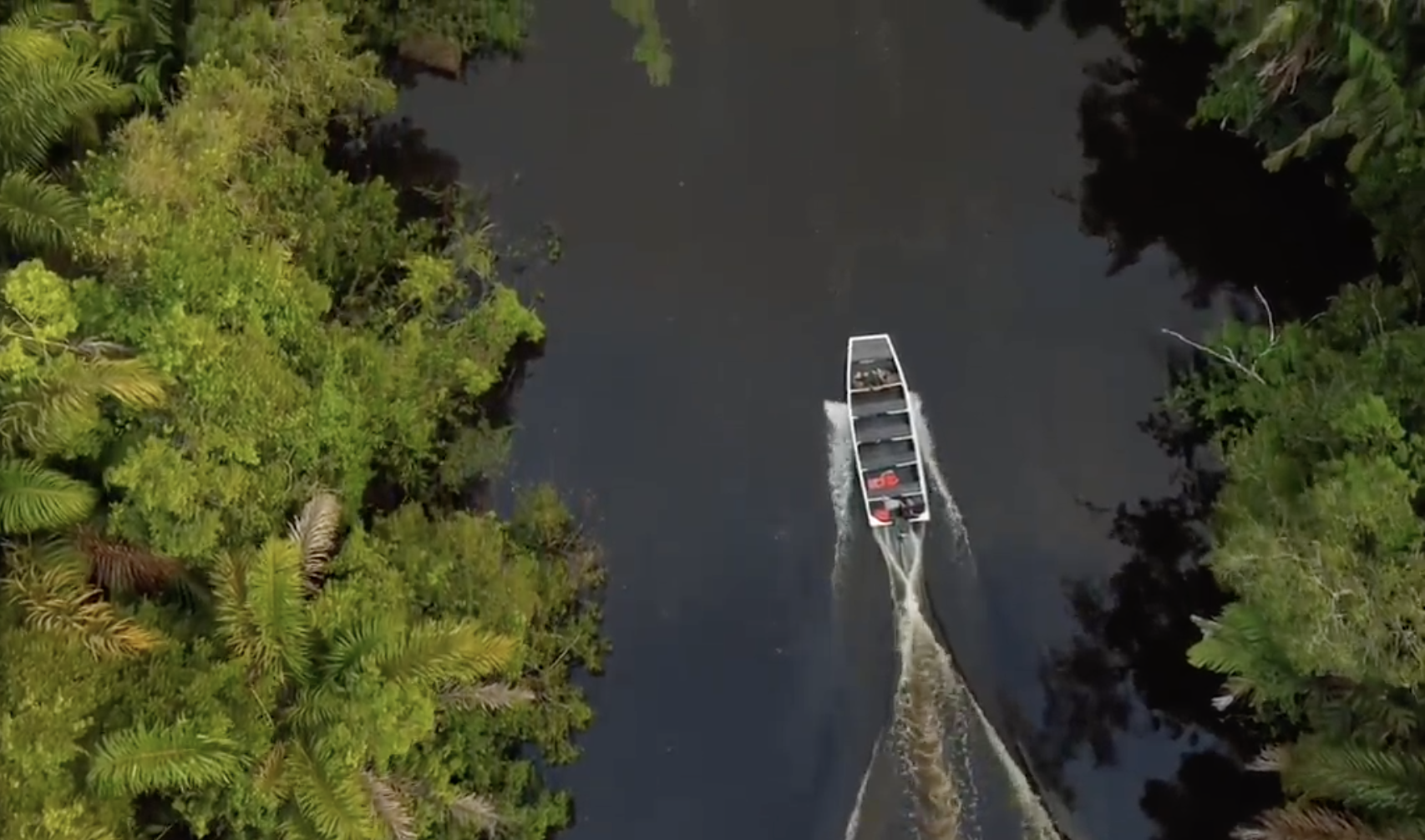 Entering The Wilderness of Tortuguero, One of Costa Rica's Most Biodiverse Zones
It normally rains in May but we woke up this day and it was a beautiful sunny morning. We ate our breakfast and packed our daily bags to spend a day in the water. Reef-safe sunscreen, hat, swimming suit, and ready to go. We took the boat to explore the wetlands of the Tortuguero National Park and arrived at a mesmerizing canal with black waters. The way the organic matter decomposes creates this effect of dark glossy waters that are perfectly reflective creating a mirror effect. The boat left us halfway and we took the kayaks to go further in, where the paths got narrower, and being quiet was a delight to be able to hear the sounds of nature.
The reflection of the trees on the water created a kaleidoscope effect, sometimes it was confusing to see what was up and what was down, much like transiting through no space and no time. Birds, iguanas that walk on the water, caymans, crocodiles, butterflies, monkeys, turtles, and many other species would cross our paths. These wetlands and rainforests are home to thousands of different animal species and countless plant species, making it one of the most biodiverse locations in Costa Rica.
Between laughs and smiles, we docked at the end of the canal, right before it meets the ocean. When the tides are high, the waters meet. This time, we were able to walk on the sandbank. We secured our kayaks and walked to the wild open sea. Although the view of this deserted beach with crashing waves in full force was mesmerizing, looking down below to our feet we found ourselves walking on a sea of plastic.
The currents washed out massive amounts of garbage. Some of the waste generated by humans lives in our oceans, travels the world through the oceanic currents, and at some point, they are spit out on the shores. This is not garbage just from Costa Rica, this could be the water bottle you used 2 years ago and that wasn't properly recycled that ended up here.
We rolled up our sleeves, or the equivalent when you're wearing a swimming suit, grabbed a bag, and did a 5-minute beach clean-up, inspired by the 5 Minute Foundation, a Costa Rican organization run by Carolina Sevilla. We filled an entire bag and it wasn't enough to make a huge difference on this beach. Our gracious hosts at Mawamba Lodge took us here and it was only 6 of us, but if every hotel in the area would do this same thing with every tourist to later dispose properly of this waste, these beaches would slowly recover their pristine nature and those plastics wouldn't go back into the ocean and rivers.
After the beach clean-up, we continued walking towards the house of Caterine, a local farmer. We were welcomed with coconut water from the coconuts, homemade cheese, and tortillas that had the flavor of an authentic hand-made and conscious process. Truly delicious and fresh. Caterine lives here with her husband and kids, although this is not their property. They take care of the land and the animals while the owners live elsewhere. A simple life connected to natural cycles and living out of what nature provides.
We enjoyed a relaxing time, thanked Caterine, and continued on our way.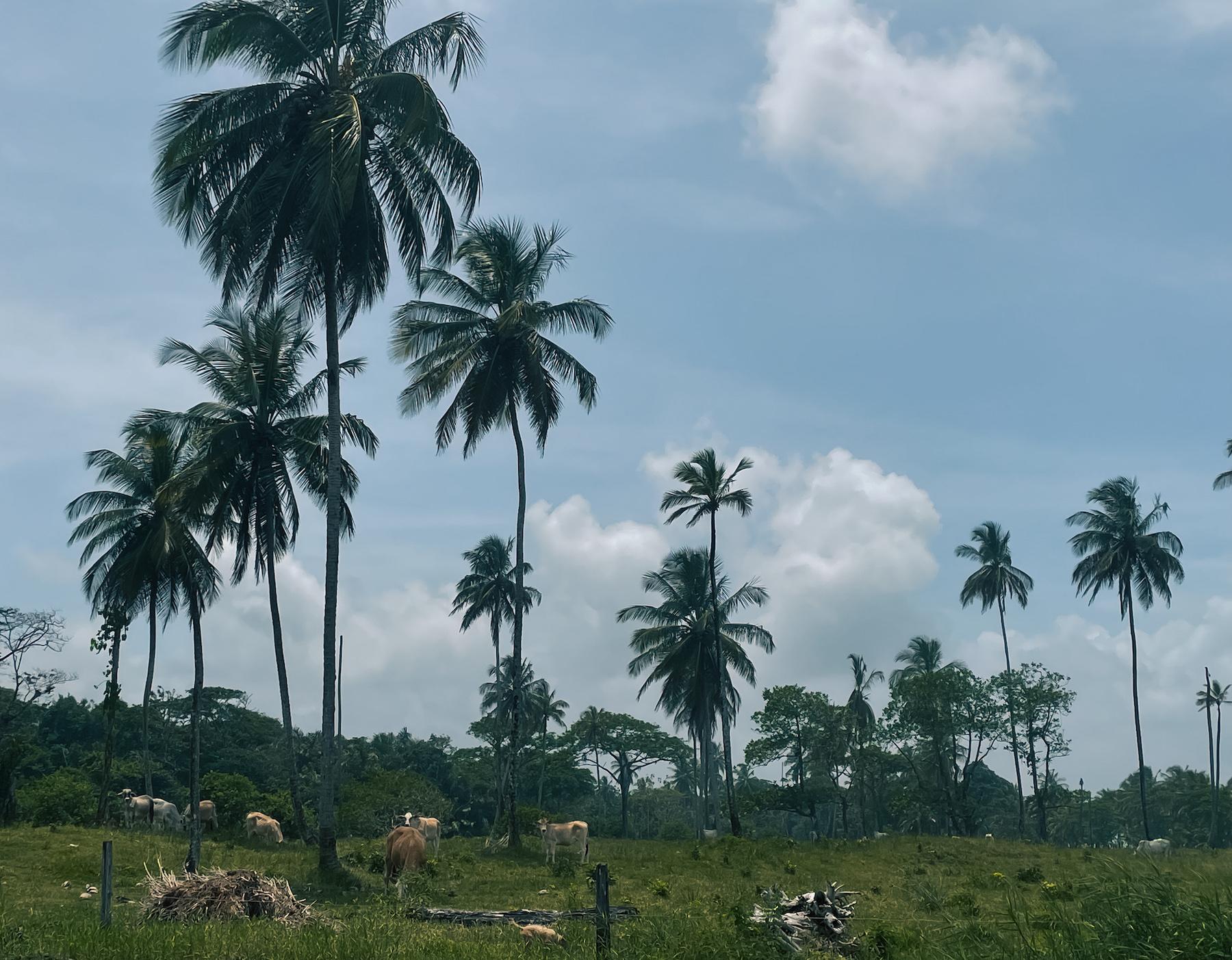 After we boarded the boat again, we returned to the canal to find the way out. As we were about to exit the canal, we were surprised by Katonga de floating restaurant from Mawamba Lodge perfectly stationed outside the canal and waiting to take us on a tour along the river while lunch was being served.
This was an incredible surprise. We thought the day had ended there but we were only halfway through. Cruising through the river we saw sloths, three types of monkeys: cappuccino, spider monkey, and congo; we saw macaws, toucans, many different species of birds, a baby cayman, ducks, herons, and the list continues. We learned as much as we enjoyed and we were mesmerized by the astonishing views.
Right before lunch, we had a stopover in the heart of the jungle. We docked our restaurant and walked into the new spot, following a little path and immersing ourselves in the heart of the jungle. The deeper we went in, the bigger the leaves would get. The sound was intense with the birds, frogs, and monkeys all around. Also snakes, lizards, fireflies, mosquitoes, and the entire ecosystem in its most raw self. The sound was breathtaking. An entire world lived out there, perfectly balanced, pretty healthy, totally independent from the existence of humans.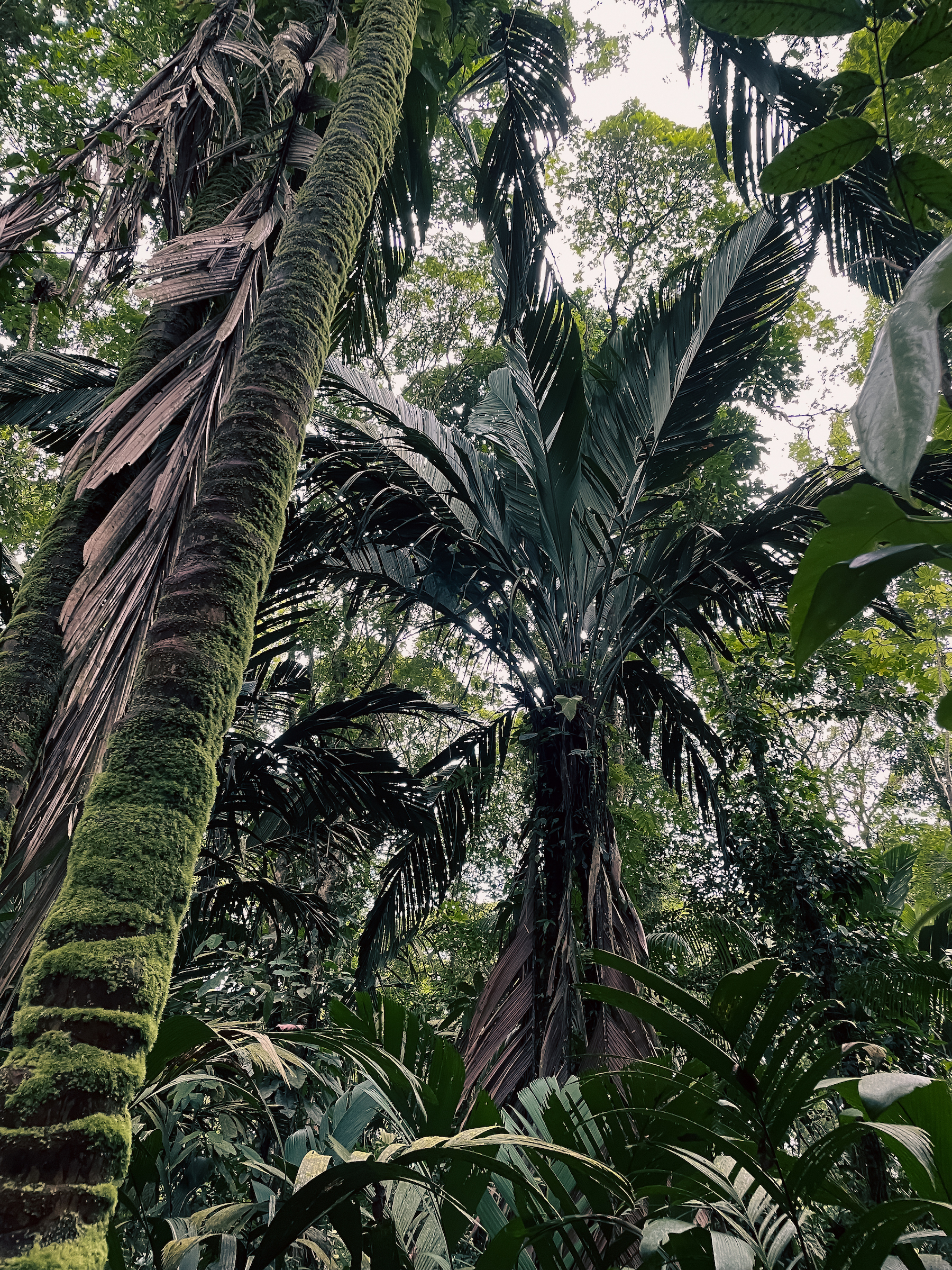 This was a humbling experience. Few words can describe the immensity and vastness of nature we experienced this day. A reminder that we are just another species on the planet, but one that has taken control and has decided over the right of every single other species which whom we share this home. I hope for every human to be able to experience what a world outside of our constructed human-centered bubble looks like, at least once in our lifetime. Maybe this way we might finally remember what role we play on this planet.
Huge thanks to Mawamba Lodge for this incredible experience, an accommodation that has this connection to nature at the heart of what they do.