An Insider's Guide to Toronto
Posted on
29 September, 2014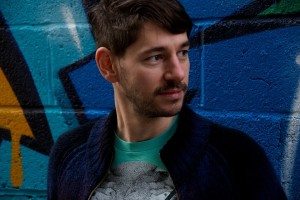 Lee Dale works at Say Yeah, where he designs products that work, like theScore mobile apps, blogTO and Tourism Toronto apps, for both folks who live there and visitors who want to get a better feel for the city. "We're also working on a few health and science related projects now. I think the next wave of technology will really be about people being better connected to themselves, hopefully learning more about how they can be healthier and practicing this on an everyday basis, all driven by a combination of software and devices."
In his spare time, he's working on focusing more on music: he DJs (predominantly house music — check out his latest sets) and also runs the cultural blog I Need Sugar.
We thought Lee would be the perfect person to give advice on Toronto, and here's what he shared with us…
How long have you lived in Toronto?
I was born in the east end of Toronto and then spent a fair amount of my youth in a very small, one-road town north of the city before moving back. I've spent a few summers away, but have otherwise called Toronto home since I was a teenager.
What's your favorite thing about Toronto?
My favorite thing is the shared diversity. Toronto, the city (not so much the suburbs), is probably the most multicultural city in the world and it's much less ghettoized than any other city I've been to. More than even that, there's a desire amongst Torontonians to explore and celebrate other cultures.
On a sunny day where can we find you? 
On a sunny day, I'd head to the beach and lounge in the sand or on the grass, go for a run along the water, or head to a basketball court. I'm also happy grabbing my camera and exploring different neighborhoods in the city.
For what kind of traveler is Toronto best suited? 
One of the great things about being a culturally diverse city is the variety and wealth of events and places to visit in the city. It would be a misnomer to suggest the city is limited to a specific type of traveler or interest group, though it would be fair to say that a willingness to explore in Toronto is always a benefit since there are pockets of interest all over.
I would also say that Toronto is amazing in the summer. There's just so much going on all the time from music, to street festivals, to sports — you name it. Winter, well, it's tough. And we have no good mountains for snowboarding!
What would you recommend to visitors (things to avoid or not to miss, etc.)?
Avoid Dundas Square. An abomination modelled after Times Square. Well, I guess it's good if you like concrete, ads, and malls.
The main thing I'd recommend to visitors is to get to know the city and don't stay within your hotel area. The best ways to do this for new users is to first take a look at the Explore Toronto section of the Tourism Toronto's See Toronto app, where you can find a different set of suggestions based on your interests.
And for more of an insider's view of the city, including by neighbourhood, blogTO is the best app.
What kind of traveler are you? 
I like to explore cities, so that might be everything from art galleries to restaurants. I also like to stay active, unless there's a beach. I'm happy to hang out on a beach for hours at a time.
Here are Lee's recommendations to enjoy Toronto like he does:
Toronto Standards
By Lee Dale
I could name 5 spots you should get to in each Toronto neighbourhood. Instead, these are just my all over favourites.
Tequila Bookworm

By Lee Dale

Great people, unexpectedly good food, loads of local brews. The added charm is the lovely upstairs back patio.

Back of House

By Lee Dale

I love Leslieville for the restaurants, shops, parks, pubs, and quiet family atmosphere. And there's no place that fits its spirit better than this shockingly exceptional food spot.

Ashbridge's Bay Park

By Lee Dale

Head a little further east and you'll find the beach at Ashbridge's Bay, complete with boardwalk, restaurants, and a plethora of beach volleyball nets. Always a good spot on a summer day.

Don Valley Trails

By Lee Dale

Whether you're on bike or foot, hitting the Don Trails is a great option. You can travel from north Toronto all the way down to the lake or stick to the obstacle courses just north of Pottery Road.

Grasslands

By Lee Dale

It's often hard to find fine vegetarian dining. Grasslands delivers. Always a great spot to take a significant other or a gaggle of friends.

Wide Open Bar

By Lee Dale

It's a simple place, in every respect. This downtown hole in the wall sports a long bar with just enough room to squeeze by if someone's seated at it. A great spot for a quick drink with good people.

Bloor Hot Docs Cinema

By Lee Dale

Sure, the theatre is packed during Hot Docs, but you'll find great films here all year long. Even better, you can grab a fantastic falafel next door at Gazale and wine from the concession stand.

Tutti Matti

By Lee Dale

In a city where service is never at a premium, Tutti Matti has always gone above and beyond for me and my guests. Solid food. Great atmosphere.