How To Enjoy A Summer In Rome: Katie Parla's Tips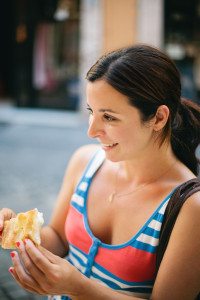 A Rome-based food and travel journalist, Katie Parla knows how to enjoy a summer in Rome. Creator of Parla Food, Katie makes sure she finds the best meals, restaurants and food everywhere she travels. Originally from New Jersey, she moved to Rome in 2003 first attracted by the historical center, but soon discovered all the other experiences this city has to offer.
"I am still captivated by the parts of the city outside the city's 3rd century defensive walls (the area that accounts for the vast majority of the Italian capital) and spend my time navigating and exploring neighborhoods on foot (im a runner!) and by bike. I love the idea of spending a life time in a city and dedicating myself to knowing every facet and every neighborhood and never being able to achieve that goal in such a culturally dense city", she explains.
Hayo Magazine interviewed Katie to learn more about her travel experience and to get some recommendations on how to enjoy Rome in the summer. For more information on restaurants and bars in Rome or other city guides, be sure to check her website and let her now we sent you!
What kind of traveler are you?
I am a gastronomic traveler. I try not to plan all my meals when I travel and to leave some things up to chance, but I do choose destinations based on the food and drinks they have to offer. When I first started traveling, I was sort of split between wanting to visit a million places and wanting to go back to the same places in order to really sink my teeth into them. Over the past decade, I have started leaning more and more towards the second approach. I return again and again to London, New Orleans, Istanbul and Naples. The deeper I enter their cultures, the more I want to learn.
What do you always travel with?
I always travel with my computer (I am always working, writing and researching from the road), my iphone, my camera, jeans, comfortable shoes and lots of white t-shirts which I will inevitably stain with local food specialties. I attempt, and often fail, to also travel with power cords, which I often leave at home.
If you could choose three cities you have visited, which ones would they be?
I am obsessed with New Orleans because of the passion the people of that city have for food. Seemingly everyone is extremely opinionated about where to get the best King Cake, freshly shucked oysters and bbq shrimp po boys. The best part, though, is being able to spend time in the city with friends who live there and just absorb the atmosphere without the pressure of visiting every historic and cultural attraction.
Palermo is another place I love. My great grandfather was born there in 1899 and while sampling spleen sandwiches or strolling through the Ballaro' market or a Baroque square, I enjoy thinking about him and wondering if he had memories of the place he left when he was 6 and surely never imagined his greatgranddaughter would ever see. Unlike most of the cities I am drawn to, Palermo doesn't have much of a restaurant culture. But the street food—especially sandwiches and fried things—is wonderful and so is the dessert selection. And the food markets are amazing.
Istanbul may be my favorite city after Rome and the city's histories are eternally linked thanks to Constantine and the Roman Empire. What's really special to me about Istanbul is the energy of the city and vastness of it all. I try to spend as much time there as I can because I have seen it change for the worse in recent years. Politics aside, the gentrification of vast swaths of land in the city is unsettling and historic districts face certain annihilation. I want to explore their streets before they are gone.
Where do you love to spend your summers?
I love to spend my summers on the Aegean coast of Turkey. The first time I ever traveled to a foreign country and was led around by locals was when I visited Turkey in 2002. College friends hosted me at their places in Bodrum and we swam in these beautiful bays and slept in bougainvillea clad bungalows and it was unforgettable.
What kind of city is Rome?
Rome is so many kinds of cities and the way it is experienced completely depends on where you live and what your resources are. There is the posh center, which visitors mistakenly believe is the "real Rome" (it's only a small fraction), there are elegant 19th century neighborhoods, Fascist era (formerly) public housing projects, there are areas populated mainly by university students and immigrants, there are zones which mix many of the aforementioned elements. Each has their distinct beauty. In sum, defining what kind of city Rome depends on where you are at any given time and what you have gone there to do!
What do you like the most about it?
What I like most is the juxtaposition of ancient archeology with more modern industrial archeology and urban decay in zones like Ostiense. Seeing these co-exist while the contemporary city buzzes around them continues to fascinate me. Also the carbonara.
What do you recommend to enjoy Rome in the summer?
How To Enjoy Rome In The Summer
By Hayo Magazine
A list by Katie Parla, creator of Parla Food, and food and beverages expert, based in Rome.
Ancient stadium excavated beneath Piazza Navona

By Hayo Magazine

From July to October, the ancient stadium excavated beneath Piazza Navona is open nightly from 830pm to midnight.

Beat the heat at Ma Che Siete Venuti a Fa'

By Hayo Magazine

Beat the heat with a cold brew at Ma Che Siete Venuti a Fa', an outstanding craft beer pub

Dine al fresco at Cesare al Casaletto

By Hayo Magazine

The nighttime exhibition at the Forum of Augustus

By Hayo Magazine

Opera at the Baths of Caracalla

By Hayo Magazine
– From July to October, the ancient stadium excavated beneath Piazza Navona is open nightly from 830pm to midnight.
– Beat the heat with a cold brew at Ma Che Siete Venuti a Fa', an outstanding craft beer pub
– Dine al fresco at Cesare al Casaletto
– The nighttime exhibition at the Forum of Augustus
– Opera at the Baths of Caracalla